Arsenal vs. Wolverhampton Wanderers: Preview, Live Stream, Start Time and More
December 22, 2011
Scott Heavey/Getty Images
Arsenal's climb through the English Premier League table will continue the day after Boxing Day when Wolverhampton Wanderers wander in to the Emirates Stadium. The Gunners gunned down Aston Villa at Villa Park on Wednesday behind Robin van Persie's 34th goal of the calendar year and a winning header by Yossi Benayoun.
Wolves, meanwhile, have fallen dangerously close to the relegation zone, with a 2-2 draw against Norwich, keeping them a point ahead of Wigan.
This match was set to be played the day after Christmas but was pushed back on account of a Tube strike.
Where: Emirates Stadium, London, England
When: Tuesday, December 27th, at 10:00 a.m. EST
Watch: Fox Soccer Plus
Live Stream: FoxSoccer.tv
Player to Watch for Arsenal: Robin van Persie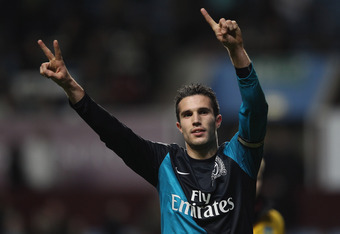 Clive Mason/Getty Images
I'm not going to lie—I'm getting a bit bored of putting Robin van Persie in this spot every time I write up a preview of an Arsenal match.
But, realistically, there's no one else under Arsene Wenger's wing who deserves the spotlight here. Simply put, RVP is enjoying a year for the ages. He has carried his club to within sniffing distance of the Top Four by way of his EPL-best 26 goals and will be "gunning" for the Gunners' record for most goals in a single calendar year.
It's just too bad he was only timely enough to score the 19,999th goal in league history and not the 20,000th.
Player to Watch for Wolves: Steven Fletcher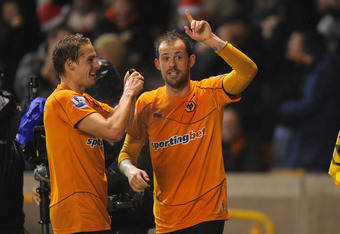 Michael Regan/Getty Images
The crowing of vultures with deep pockets can be heard around Molineaux Stadium these days as they circle over the head of Steven Fletcher. The 24-year-old striker has been sensational for the Wolves this season, putting through six goals in 10 appearances, including five scores in his last six.
Considering the fierce transfer interest in the Scottish international and the lack of scoring across the rest of Wolves' roster, the club's supporters had best drink in as much of Fletcher's youthful exuberance as possible before he gets snatched up by a big-money club.
Key Matchup: RVP vs. Wolves' Rearguard
Scott Heavey/Getty Images
It's not so much a question of if Van Persie will notch another goal against Wolves so much as when he'll do it and with what frequency. Wolves have allowed 32 goals this season, the third-most of any club in the Premiership.
The only way the Gunners don't win this match is if Wolves somehow find a way to slow down RVP, if not neutralize him entirely.
What They're Saying
Not that we haven't talked about RVP enough already, but just in case you were wondering what his secret to success has been this year, he was kind enough to share it with the world.
Hint: It's all about mindset.
"You can tell by the goals I score that some of them come through pure willpower," said Van Persie. "You can tell by my face that the ball has to go in. I don't give a damn how."
"A few years ago I used to weigh up the options, think whether there was a chip, or a back-heel for a beautiful finish or whether someone else was free in front of goal. Now I'm more ruthless, though I can still enjoy a good assist."
Now, if only Gervinho could develop such a killer instinct...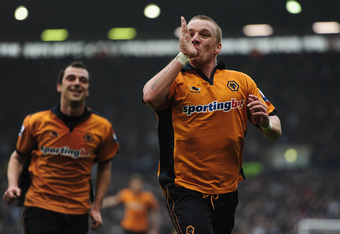 Jamie McDonald/Getty Images
As for the Wolves, they'll miss the presence of midfielder Jamie O'Hara, who will be sidelined for a month after undergoing surgery for a double hernia. Said Wolves head doctor Steve Kemp of O'Hara's injury to the club's website:
Jamie has been complaining of some groin pain for the last couple of months, which we have managed conservatively.

We were able to manage it with treatment and he was able to play, but it got to a stage where a specialist decided that surgery would be needed.

The decision was taken to have the surgery and get Jamie at 100% rather than continue to try to manage him through it. He's had a double hernia repair which was performed yesterday in Manchester and was successful. We hope he will be back in training within four to six weeks' time.
Prediction: Arsenal 2, Wolves 0
Arsenal's back line will enjoy the relative break against Wolves' goal-challenged attack. On the other end, look for RVP to put through at least 11 goals, though only two (at most) will actually count.
Or actually occur at all, for that matter.