MLB Rumors: Atlanta Braves Should Keep Jair Jurrjens and Martin Prado
December 22, 2011
Kevin C. Cox/Getty Images
The Atlanta Braves are a few missing links away from a World Series run, but that doesn't mean they should trade Jair Jurrjens or Martin Prado just to fill other holes. Both players are very vital and extremely talented, which is why it was rather shocking to hear the Braves reportedly offered them both, plus a prospect, to the Baltimore Orioles for center fielder Adam Jones. 
According to the Baltimore Sun, the Orioles declined the offer, which, if true, tells you how much they feel about Jones. Braves general manger Frank Wren declined comment to the Atlanta Journal Constitution, because he "doesn't comment on rumors."
The Orioles could have used all that depth, but it would have come at a financial cost, as Jurrjens and Prado are looking to soon get paid. They're up for arbitration after this coming season, and they've proven the deserve the big bucks. 
This could be the reason the Braves are looking to deal them, but getting rid of both would have a huge impact on the team. Plus, Atlanta doesn't need Jones because it picked up Michael Bourn via trade this past season, and the Braves need to make sure they hang onto him. 
Here's a breakdown of why Atlanta shouldn't get rid of both players. 
Jurrjens 
Atlanta has some of the best pitching prospects in the minor leagues, but Tim Hudson isn't getting any younger, and that is one of the reasons Jurrjens needs to stay. 
He's had his ups and downs, but so has every pitcher. When healthy, Jurrjens' stuff is absolutely incredible. For the first half of this past season, Jurrjens was easily the best pitcher in the National League. 
Jurrjens will soon be 25, and he can definitely have a long career in Atlanta. Pair him up with young guys like Julio Teheran and Brandon Beachy, and the Braves will have dominant rotation for many years to come. 
While Jurrjens may be the Braves' best trade bait, he needs to remain in Atlanta, because his experience will help guide the youthful rotation the Braves are about to have. 
Prado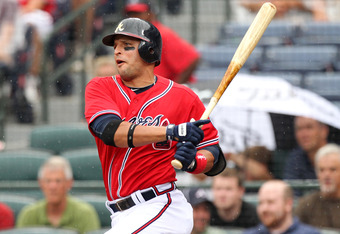 Joe Murphy/Getty Images
Easily the Braves most valuable player in 2010, Prado suffered some injuries and had a bit of a setback in 2011. What's more, he was forced to move from the infield out to left field. 
However, that alone is all the proof you need as to why Prado needs to stay in a Braves uniform. His versatility is so useful, and the best part of it is that he can actually hit the ball well unlike other utility type players. Prado does whatever is asked of him, and the Braves need to hang onto him because of his ability to play virtually anywhere.
Since it's unknown how long Chipper Jones has left or if he'll stay healthy for all of 2012,  Prado is the perfect guy to fill in when needed and to eventually take his place. Sure, the Braves have other guys who can play third, but they're not as well-rounded as Prado. When you have a player as skilled as Prado, you shouldn't let him walk away over money issues. 
Yes, business is business, but when you're trying to build a championship team, you need to hang onto the players that will help you out the most. Prado is definitely that guy, and the Braves would be sorry to let him go. 
The Future 
Atlanta is headed in the right direction, and by adding an additional bat, the Braves can make some noise in the National League.
However, giving up both Jurrjens and Prado would take a toll on Atlanta's roster, and the Braves would suffer in their division.
It's tough enough already with the Philadelphia Phillies become somewhat of a powerhouse, as well as the Miami Marlins and Washington Nationals continuing to spend big money in free agency. Losing Jurrjens and Prado would make matters worse for Atlanta and almost certainly rule them out of contention in the National League East.