HBO 24/7: Philadelphia Flyers-New York Rangers Week 2 Recap
December 22, 2011
Paul Bereswill/Getty Images
HBO's second installment of 24/7 Flyers-Rangers aired last night and gave us another in depth look at life in the NHL. This week's episode featured both teams on road trips and let us see both coaches in action. 
The cameras gave us a glimpse of New York Rangers coach John Tortorella breaking down film with his team. This is something that sports fans expect out of football coaches, so it was nice to see the NHL flavor of it.
Tortorella also was shown given his guys a good ripping after a lackluster first period in St. Louis that left the Rangers down 3-0. He was fired up and challenged his team to play "stiffer," and warned that if they are not "gonna be stiff then you're not going to play."

It seemed to work for a while, as the Rangers came out in the second period and scored a goal to get closer only to end up losing in the end. Seeing an NHL coach giving it to his team was pure gold though. 
As gruff as Tortorella was, we got a glimpse of his softer side as the show followed a young disabled boy that Tortorella befriended. Bound to a wheelchair, young Liam is a diehard Rangers fan and text buddy with the coach. 
HBO showed Liam's excitement as he and his family watched the Rangers play on TV—his story makes any room misty watching it. 
On the Philadelphia Flyers side, we got to see head coach Peter Laviolette watching film on the plane after a game, as well as him going ballistic with the referees in Montreal.  
Unhappy with a non-call on Jaromir Jagr, he let the ref have it. The game was in Montreal and the referee was French Canadian.  
This seemed like too much of a coincidence to Laviolette, who kept yelling, "Typical Montreal," implying that a French ref was favoring the Canadiens. 
There was also a funny moment during practice when he was congratulating Scott Hartnell on scoring his 200th goal, saying "Only 200 more than I did."
The Flyers were in the middle of a winning streak during this episode, and it showed during their practices and in the locker room. They appeared to a be a pretty loose bunch of players, whether it was making fun of Ilya Bryzgalov or having to help each other pick out clothes to wear.  
It became clear that winning is more fun than losing. 
The show again gave us a glimpse of what occurs to a player suffering from a concussion as the Claude Giroux and Chris Pronger situations hit the Flyers. We witnessed Giroux going through some tests with the team doctors, and by the end of the show he was on the ice practicing. 
Considering his monster return to the ice last night, this was great timing. 
Bryzgalov Moment Of The Week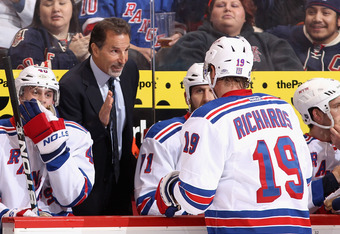 Christian Petersen/Getty Images
After last week's breakout performance, the Flyers players ribbed Bryzgalov a bit, calling him "Universe."

His best moment was during a team breakfast, when he was describing his Siberian Husky and said, "The dog is like blond woman." His confused teammates laughed and asked, "Are you comparing your dog to a woman?"
Seriously, how do we get him his own show? 
Best On-Ice Moment 
During the Flyers-Bruins game last week, Wayne Simmonds took exception to a hit from behind by Milan Lucic. The two got into each other's faces and Simmonds barked, "You know you hit from behind, Luc, you know you did."
It's this kind of action that makes 24/7 so great. We've all wished we could hear what players say to each other during those scrums.