Who Among Top 25 College Basketball Coaches Would Win at Arm Wrestling?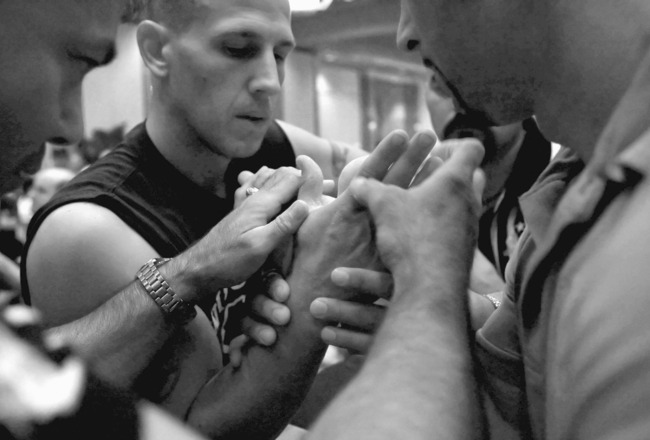 Lisa Blumenfeld/Getty Images
We, at Bleacher Report, have recently become aware of a secret club of ne'er do wells in the ranks of NCAA basketball coaching who band together each year and compete in feats of strength and guile.
A disgruntled losing coach gave us all the dirt, and in an exclusive tell-all, exposed the dark world of underground arm wrestling.
The coaches used their rankings as their seeds and commenced in this test of brawn that would have made Bull Hurley proud.
In the spirit of the moment, with each matchup, we will present some of the great trash-talking videos ever.
OK, it never happened, but if it did, this is how it would have played out, plus it's a good excuse to show great videos.
So, with apologies to Mills Lane…Let's get it on!
No. 1 Jim Boeheim vs. No. 16 John Thompson III

Larry Bird to the X-Man

While a No. 1 seed may help in the NCAA tournament, it doesn't mean squat in this contest.
John Thompson III showed little mercy in snapping Jim Boeheim's arm at the elbow.
An unrepentant Thompson declared, "Jim Boeheim's arm is officially closed!"
No. 2 Thad Matta vs. No. 15 Chris Mack

Clubber Lang

It was a nice effort by Thad Matta, but in the end, the fiercer Chris Mack took this battle of Ohio coaches.
Cincinnati's Mick Cronin defiantly wanted a piece of Mack, but was removed from the arena before Mack had a chance to respond.
No. 3 John Calipari vs. No. 14 Bo Ryan
No amount of squeaky cheese was going to help Bo Ryan in this one. John Calipari sent a message to Ryan and the rest of the coaching world that he would be one to watch in the upcoming rounds.
Ironically, it would be Ryan who was one-and-done.
No. 4 Rick Pitino vs. 13. Jamie Dixon

Reggie v. Spike

This would be one time that Rick Pitino would not have his way on top of a table.
Jamie Dixon proved to be much hungrier in his dismissal of Pitino. Dixon's exodus to the ACC couldn't come sooner for the broken Louisville coach.
No. 5 Mike Krzyzewski vs. 12. Billy Donovan

Ali

The all-time winningest coach in NCAA history, Mike Krzyzewski, looked to be an easy loser to the younger, stronger Billy Donovan, but fate had something different to say about it.
Before stepping up to the podium, in true Gillooly style, Coach K's mentor, Bobby Knight, smashed Donovan across the back with a chair, ensuring a victory for college basketball's version of the Hart Foundation.
No. 6 Roy Williams vs. 11. Bill Self
Unlike in 2003, when Roy Williams Jayhawks fell to Carmelo Anthony's Orange, Kansas would come up big against its former coach, with Bill Self proving to be the better man for Kansas and the better man in general.
Bonnie Bernstien said she wanted Williams next.
No. 7 Scott Drew vs. 10. Buzz Williams

Jules

That Drew family luck was great on the courts, but it ran out against a hungrier and much more physical Buzz Williams.
The lesser known of the Drews, Scott was left to hope that his Baylor team would last longer than he did.
No. 8 Frank Haith vs. No. 9 Jim Calhoun
Closing out the first round was Frank Haith in a slobberknocker.
Haith went through Jim Calhoun like General Sherman went through Georgia.
Let's move on…
No. 16 John Thompson III vs. No. 8 Frank Haith
Still channeling his Hoya pride, Thompson was at it again with a complete dismantling of Haith.
Still chirping after the contest, Thompson remarked to Haith on his first-round victory, saying, "John Thompson III is no Jim Calhoun."
No. 15 Cris Mack vs. No. 10 Buzz Williams
When Buzz Williams sat down in front of Chris Mack and turned his hat around, he said it was like a switch and his body was like a truck…and Mack went down.
On a side note, how has there not been a sequel to Over the Top? Did they think it wouldn't be as believable as the first? I'd like to know the answer to this.
I know this clip isn't trash talking as much as it is awesome, so...you're welcome.
No. 3 John Calipari vs. No. 11 Bill Self
John Calipari figured out a way to dig deep and stole this one away from Bill Self.
The well-rested Calipari credited the lack of free-throw shooting practice as his secret weapon to preserving his wrist.
No. 13 Jamie Dixon vs. No. 5 Mike Krzyzewski
All the home-court foul calls and 20 former point guards banging the floor for inspiration wouldn't get Coach K this victory. Jamie Dixon closes out the second round with a win, to move on the semifinals.
I would also add, wooooooo, Ric Flair is the greatest.
No. 16 John Thompson III vs. No. 10 Buzz Williams
Two of the three Big East coaches in this final four squared off for a spot in the final. A few tacos and some cabbage helped Thompson use his "Backdoor Offense" to get this win, making Pete Carril proud somewhere.
As far as Bruce Lee goes, sometimes the best trash talk is no trash talk.
No. 3 John Calipari vs. No. 13 Jamie Dixon
John Calipari may be a great recruiter, but in the battle of best hair in the NCAA, Dixon's slicked-back, pseudo Pat Riley doo was too mesmerizing for Coach Cal to concentrate.
As far as Rocky IV goes, I have two thoughts:
Was there ever a longer music video than Rocky IV and what the #$%& happened to Brigitte Nielsen? She went from super hot to Flava Flav. What gives?
No. 16 John Thompson III vs. No. 13 Jamie Dixon
It was a nice fight, but in the end, Thompson was just too much for Dixon to handle and the lowest seed turned out the victory.
In honor of the moment, I present for a second time, the greatest trash talker to walk the face of the earth.
Keep Reading