Luis Suarez Is Being Chased Out of the Premier League
December 22, 2011
Scott Heavey/Getty Images
It seems that Luis Suarez is in a bad place right now.
Not since David Beckham returned ashamed from the World Cup in 1998 has a player felt more vilified by the media and the public. Suarez, who is currently appealing an eight-match ban from the FA for alleged racial abuse of Manchester United's Patrice Evra, was met with boos around a sparsely attended DW Stadium every time he touched the ball in a scoreless draw vs. Wigan last night.
The pantomime season was in full-flow, and the 24-year-old from Salto in Uruguay was almost wiping tears from his eyes as he was substituted. It has been an up-and-down year for him.
Initially, he exploded onto the scene. His goals and skills destroyed teams, Manchester United included. As he wriggled free of markers on the touchline, and prodded the ball towards goal. Only to see Kuyt claim the goal from half a yard out.
Since the beginning of this season, he has looked like a more troubled figure. Culminating in the Evra spat, and the gesture towards the Fulham fans. Although he has scored goals, he has not scored anywhere near as much as he first promised.
He has not only had to carry the burden of his own £22 million fee, but also the burden of Carroll not scoring. In addition, the continued absence of Steven Gerrard. 
But the Evra case has been amazing. You can sense twists and intonations in all corners of the media. He's a racist. The FA findings confirm this, and they can get away with it. Except it's completely wrong and unjust. 
Until the FA publishes their full report, there never should have been a statement made. Once that report is held up to the light and scrutinised, then the FA has no right to come out and basically criminalise Suarez. 
Shaun Botterill/Getty Images
Liverpool FC has said that they will fight the FA on this. They have questioned various aspects of their investigation. For a massive club like Liverpool to put their neck on the line to protect a player thought to be racist, well that's a huge statement in itself.
The Liverpool players, notably Glen Johnson, wore a t-shirt to protest Suarez's innocence. Again, a massive statement.
Yet, the media veer towards the sinister. They are fine to label him a racist. To believe 100 percent that the FA are righteous and doing the right thing. That they abide by the rules of the game, and society in general. 
But what if the FA aren't right? Will their retractions remove the tarnish of the "racist" smear? Of course not, not fully. The label of "racist" hangs over Suarez, not just in football, but in every corner of his life. This is why the decision to charge him should have been air-tight before condemning him. 
Suarez has the right to a fair trial. John Terry is now getting a fair trial before magistrates. He will likely not incur a FA fine, or games suspended because the FA will let the magistrates dole out a punishment. Likely to be an £80 fine and a little more.
The only reason the Crown Prosecution Service would entertain the idea of this charge, is because there was actual video evidence to show that it happened.
Whereas in the Suarez case, there has been no evidence. Other than a very flimsy innuendo from Evra given to a French TV crew after the game. It seems that this is enough for the FA to bring down the hand of "justice."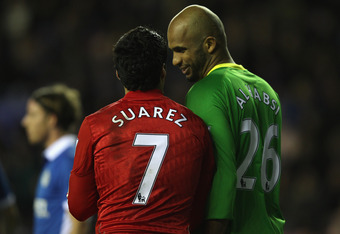 Michael Steele/Getty Images
A lot of black ex-footballers have been vocal on this issue. Many of them are incensed about the accusation, and would like Suarez punished to the full extent. However, there's something more important at stake here than racism. It's the right to a fair trial. 
For this reason, the voices of these dissenters should be ignored. It's too personal and too emotive, that they're going to defend anyone who claims to be called a name. However, where were these people when Emre was accused of racism on three different occasions while playing for Newcastle? 
Amazingly, Emre was cleared of the first count of racism due to a lack of evidence. While the FA couldn't be bothered reaching a conclusion with the other two charges, involving Diouf and Bangura. 
It's clear that the FA has very different ways of dealing with the same charge. One is to reach a conclusion of an eight match ban, despite no evidence other than a statement from a victim.
Another is to clear the person of racism, due to the only evidence being that of the victim. Also, they could pass it off to the CPS, and not give out a ban, even if found guilty by a magistrates court. 
You tell me dear reader. Which is the bigger problem here: racism or the way the FA has dealt with racist allegations historically?
There is a big story here for the media, and it's not accusing a man with a mixed-ethnic family of being racist. There's something horrible going on and it's resulting in a man being booed and called a diving cheat and racist.
The taunts are, in themselves, somewhat labeling a talented South American.  They presume him to be a diver, but is he any more so than Ronaldo, or Gervinho, or Nani, or Mata, or Silva? 
Of course not. There was a moment last night when Martin Tyler asked if Suarez had gone down in his own volition, on the edge of the Wigan penalty-area. The replay clearly showed Suarez being fouled, but did Tyler offer an apology or retraction? 
No, staying silent, he allowed Matt Le Tissier to say what millions of others could clearly see.  I think Liverpool fans across the world are sick of this bullying now. It won't be long before Suarez is snapped up by Barcelona or Real Madrid, as will almost certainly be the case.
Many Liverpool fans are asking the club to boycott the FA Cup, and to pull Johnson and Gerrard from the England squad. It's just one step too far now for many.