2011 BCS Bowls: An Easy Guide to Picking Sides During the BCS Season
December 22, 2011
Steve Dykes/Getty Images
As anticlimactic as early January may seem on paper, what with a rerun headlining five games that vary in appeal, if you look just a little deeper, storylines exist to irrefutably either get behind or stand up against. Let this be your guide:
For -- No Defense in the Orange Bowl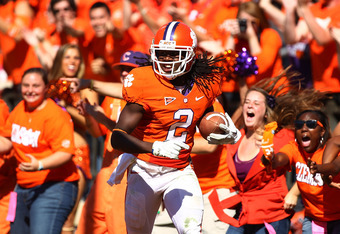 Scott Halleran/Getty Images
Clemson and West Virginia won their respective conferences by outgaining and outscoring teams, particularly in the second halves of games as their opponents tired. There was very little this fall that was more fun to watch than Clemson's balanced third quarter tidal wave or West Virginia's first-year Holgorsen-ian air-raid. Here's to hoping the off-time malaise lasts about as long as anything related to Todd Graham and the word "tenure."
Against -- Virginia Tech in the Sugar Bowl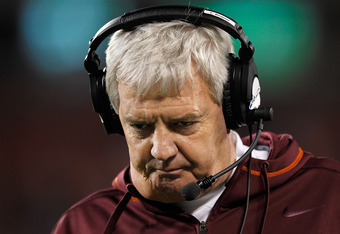 Mike Ehrmann/Getty Images
It really is nothing personal against the Hokies, but a vote against Frank Beamer (and the criminally underrated David Wilson) is simply a vote against the old boy college football network that lets Tech in over more deserving teams such as "all of them ranked between Arkansas and Virginia Tech. Just them.
For -- Brady Hoke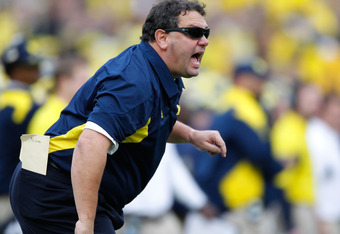 Gregory Shamus/Getty Images
Not that there's anything particularly noble about rooting for college football's all-time winningest program, but Brady Hoke winning double digit games (against an admittedly navigable schedule) in his first season as Ohio State flails about would be gloriously punctuated by a BCS win in New Orleans. Plus, he wears a windbreaker all the time and it's endlessly fun to make jokes about him breaking wind. Also, I'm 12.
Against – Dana Holgorsen's Composure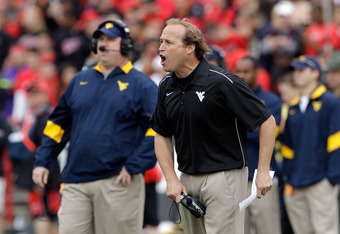 Rob Carr/Getty Images
After seeing their November defensive deficiencies, it's a pretty good bet that, at some point, West Virginia will find an offensive rhythm against the Tigers – let's just hope, for the sake of pure entertainment value, Mountaineer QB Geno Smith makes a bad read or two and we get treated to Dana Holgorsen's sideline shadow boxing clinic. Do it for the kids, Dana, do it for the kids.
For – Russell Wilson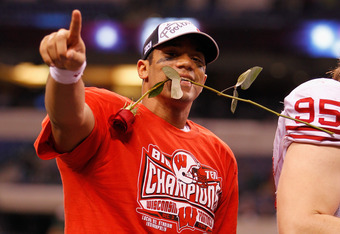 Gregory Shamus/Getty Images
Unless I'm missing a hush-hush story in which Wilson secretly sacrifices cuddly animals before big Wisconsin games, there's very little not to like about the one time NC State transfer. A big game from Wilson would quickly shift the tired (but deserved) narrative away from WISCONSIN BIG WISCONSIN RUN to the generally dynamic offense that Badger OC Paul Chryst has run for a while now. To come in, no matter his general success at NC State, and control games from the get-go has made Russel Wilson and Wisconsin's game through the air one of the better parts of a season lacking consistent excitement at the top.
Against --  Whoever's Usually in Charge of Bowl Turf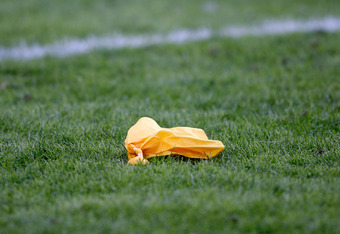 Rob Carr/Getty Images
Not that it ultimately played a huge role, but if the major bowls (looking at you Rose and Fiesta crews) are happy to accept the windfall associated with a largely crooked system, let us at least awake from a month of hibernation and not have to watch players slipping on grass on a sunny day outside of LA or in an indoor facility outside of Phoenix. If Erin Andrews isn't holding up a cleat to describe how a team is combating the grass conditions, it's a win for everyone.
For – Oregon's Running Game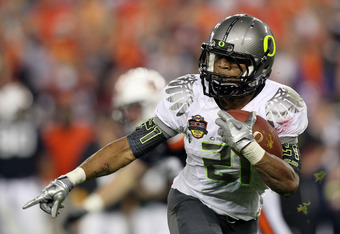 Jonathan Ferrey/Getty Images
Ok, so rooting for the nation's top rushing attack to succeed isn't technically that exciting, but if Oregon's able to move the ball and at least allow the lazier writers and analysts to go a little deeper than CHIP KELLY TIME OFF BAD, when Oregon's trench struggles have come against superior players, not just the vague idea that the Ducks can't win a game with time off. Rhythm and opposing exhaustion certainly plays a part, but Oregon's postseason and opener struggles have come against an Ohio State defense that finished fifth against the run nationally (y/a vs conference) and then Auburn and LSU, the last two teams to beat Alabama.
Against – That Pac-12 Ref with the Glasses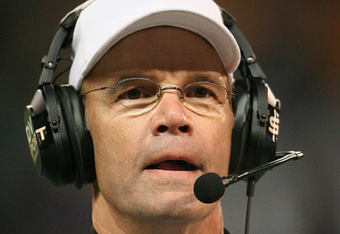 My preliminary research has led me to believe the name of the ref that's universally loathed amongst west coast football fans is named Jay Stricherz. Aside from the super-hip "Z" ending his name, please don't let who we out west call "Glasses Ref" decide a close game. I just don't think we can take any more.
For – Oklahoma State's Defense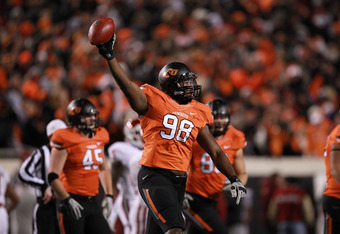 Ronald Martinez/Getty Images
Not that anyone should expect the Pokes to completely shut down Andrew Luck and his impossibly deep roster of tight ends, but part of the smear campaign against Oklahoma State included misleading stats about the Cowboys' ability to play defense, which they actually did pretty well – led the nation in takeaways, 8th nationally in opposing QB rating (vs 5 top 15 QBs, compared to Alabama and LSU playing 1 and 2, respectively), and 51st in yards/play allowed (two behind Arkansas, four behind Stanford, and eight AHEAD of USC -- all AP top ten teams). So … yeah.
Against – Reruns in the National Championship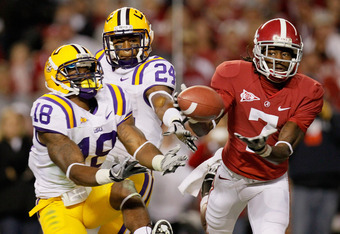 Kevin C. Cox/Getty Images
This is because it's right to be patriotic and want a new game to end the season. You know, for America. 
For a more detailed preview of Alabama/LSU, please click here.
Dan Rubenstein co-hosts The Solid Verbal college football podcast and can be followed on Twitter here.