6 Biggest Incidents of Racism, Illicit Chants & Sexism in Modern Day Soccer
December 22, 2011
Paul Gilham/Getty Images
Few things in the modern football game today remains consistent, few things except one—how the footballing authorities deal with offensive remarks made within the footballing fraternity!
Six recent incidents have made the headlines in recent times, with three in particular in the past week making all the major footballing headlines throughout the world. But have the authorities dealt with them in a fair and consistent manner?
First of all, we have to say that there is "NO" place in society as a whole, let alone football, for any form of offensive remark to go unpunished.
However, if they are instances such as the ones we are about to highlight, there has to be consistency from the people in authority when handing out fines and punishments.
John Terry

December 21st, 2012—The Crown Prosecution Service has announced that there is sufficient evidence to prosecute the Chelsea Captain for alleged comments made to Anton Ferdinand during a match played at Loftus Road on October 23rd, yet the English FA have yet to finalise an inquiry into the incident and have even retained Terry as England national team captain.
Although his court case isn't until February, it would have seemed for the greater good in this instance that Terry be relinquished of his captaincy until the whole situation is resolved, but with the FA dragging their heels over this issue, lack of consistency seems apparent.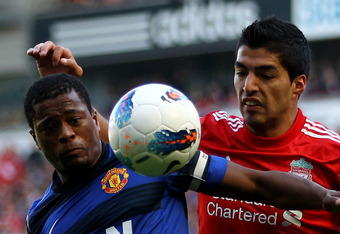 Clive Brunskill/Getty Images
Luis Suarez
On October 15th, Manchester United's Patrice Evra accused the Uruguayan of racially abusing him during their sides clash at Anfield.
An FA independent regulatory commission ruled this week that the Liverpool player was guilty of the claims made against him by Evra, and he was fined £40,000 and banned from playing for eight matches.
Although many claim the punishment steep, the fine may be in the region of only one-third of the player's weekly wage, which doesn't seem like much of a fine for racially motivated comments—a parking ticket perhaps, but definitely not a racially offensive comment. 
Three months' wages and a potential prison term would have been the likely scenario should it have been decided upon Joe Public in the local courtroom!
His eight-match ban also seems to be contentious as he can appeal the length of it, which surely negates the commission that served it. Would Joe Public be able to appeal the length of a driving ban, for example? Unlikely!
There is also the strangely deafening silence coming from the local constabulary. Why is there no police investigation into the incident like the Terry fracas has caused?
Glasgow Celtic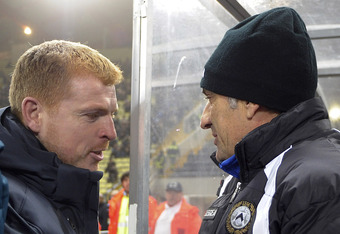 Dino Panato/Getty Images
For the time being, it appears that the Hoops have lost their mantle as having the best support in the world.
After a recent Europa Cup match at home to Rennes in November, the club was brought to dock by UEFA for a section of their supporters singing "illicit and offensive" chants. Namely, Pro IRA ditties.
Despite costing their club nearly £13k in fines and being asked by manager Neil Lennon to cut out the offensive behaviour, the fans went to Udinese in Italy for their final group section match, where a small section unfurled an offensive banner aimed directly at the European governing body itself with the words "F*** UEFA" printed on it.
The club have also been reported for a number of flares being lit by the band of supporters that also unfurled the banner.
UEFA appear to have reacted quickly on this instance and begs the question why they can't react as quickly with the incidents revolving around racism as noted above!
According to ESPNsoccernet, the SPL have also acted quickly to dissolve this situation, changing the definition of "Unacceptable Conduct," which has been extended to include "using words, conduct or displaying any writing or other thing that indicates support, or affiliation to, or celebration of, or opposition to an organisation proscribed in terms of the Terrorism Act 2000."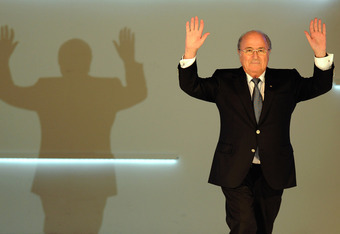 Stanley Chou/Getty Images
Sepp Blatter
It's ironic that in the midst of the recent racist incidents that FIFA boss Sepp Blatter made his own gaffe by downplaying that racism exists within football.
When being interviewed by a CNN reporter, the Sweden denied that racism exists on the pitch and such incidents should simply be settled by a mere handshake at the end of the match.
"There is no racism," he said, "there is maybe one of the players towards another, he has a word or a gesture which is not a correct one, but also the one who is affected by that, he should say that this is a game and at the end of the game, we shake hands."
Weird words from the man in charge, claiming that racism doesn't exist and worse still, stating that the players involved should just shake hands at the end because it's only a game is ridiculous!
But he wouldn't apologise or step down despite the clamouring world FA associations shouting for his demise. 
If the man at the very top doesn't get it right, there may not be much hope for the rest of the footballing world to follow in a correct manner.
Andy Grey & Richard Keys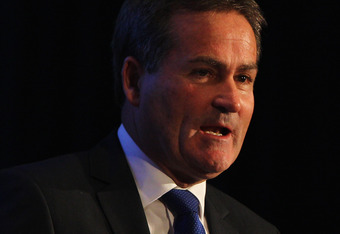 Dean Mouhtaropoulos/Getty Images
As football looks towards new technology and bringing the game into the 21st century, Grey and Keys dragged their knuckles along the street and into the press box when being caught whilst off air with their sexist comments about a female assistant referee.
In a match between Wolves and Liverpool in January 2011, the pair claimed that Sian Massey probably didn't know the offside rule and someone had f***ed up big by appointing a female assistant.
Grey went on to verbally attack Wendy Toms, who became the first female official in the Premier League, saying: "She was f***ing hopeless as well."
Both men were sacked by sports provider SKY sports following their comments, but no police action was taken.
Ron Atkinson
Ron Atkinson was a buffoon in his comments about Marcel Desailly in 2004 when he said, "He's what is known in some schools as a f***ing lazy thick n*****."
These comments were of the stupidest nature and were caught by nearby microphones that were thought to be switched off with the comments heard by several places in the Middle East, including Dubai and Egypt when Atkinson was commentating on a Chelsea Champions League match.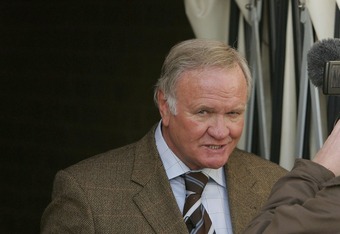 Julian Finney/Getty Images
They were incredibly stupid remarks to be made by the man who managed Manchester United and was also one of the first managers to offer black players the chance to play in the Premier Division.
Atkinson resigned almost immediately from ITV with many anti-racism groups being disappointed by the comments from a man of such stature, but claimed it was the only outcome that would be accepted.
Six days that have shown that racism, sexism and downright stupidity are alive and well in our game, but with varying degrees of authoritative punishments.
One thing is for sure—it consistency doesn't prevail throughout the game's most recent unwanted and unneeded incidents. Integrity of the sport may well go right out the window, but with a figurehead of Sepp Blatter at the helm, there may be no hope for the game of football.
Marc Roseblade is a Contributor for Bleacher Report and acts as PR for Ayr United Football Academy and Galveston Pirate Soccer Club. All quotes are obtained firsthand unless otherwise stated.