Florida Gators Football: 7 Players Who Could Make a Difference in the Gator Bowl
December 22, 2011
Streeter Lecka/Getty Images
Let's put this right out front to start: the TaxSlayer.com Gator Bowl is not where Florida had hoped to conclude the 2011 season.
But because they were on the short end of close losses to Auburn, Georgia, South Carolina and Florida State (and because the Urban Meyer situation creates a deliciously tasty subplot in a game where Ohio State is the opponent), the Gators will play in Jacksonville on Jan. 2, 2012.
So, forget the fact they'd rather be playing in a bigger bowl. This is where they are. Look at it as an opportunity to get a positive jump on the second year of the Will Muschamp Era.
Also, look for several players—whether it be because of favorable matchups, a showcase for the NFL, a new opportunity, etc...—to shine against the Buckeyes.
Here is a look at seven.
1. Andre Debose
If anything has been proven in SEC-Big Ten bowl mismatches through the years, it is that there is a huge difference in speed between the two conferences.
Perhaps the best example was UF's 41-14 palindroming of OSU to win the BCS national championship in January of 2007.
There, once Buckeyes' receiver/return man Ted Ginn, Jr. went down after teammates accidentally, yet foolishly, hurt him in an end-zone celebration seconds into the game, the Buckeyes had no one who could match the Gators' team-wide speed.
Debose has proven he has the burners to get by elite cornerbacks, as Alabama's Dre Kirkpatrick will attest. Look for him to get some looks deep against Ohio State.
2. Jaye Howard
He is not the flashiest of UF's loaded defensive line, but he is, without question, the most consistent player on the front four.
For whatever reason, the senior from the Orlando area isn't being looked at as a likely first or second-round NFL draft pick come next April. But, mark my words, he will play on Sundays. And with Dominique Easley out of the game, look for Howard to play more snaps than usual.
Braxton Miller, watch out. I'm guessing you're going to get to know Mr. Howard quite well on Jan. 2.
3. Chris Rainey & 4. Jeff Demps
I group these two together as probable factors by taking bits from the reasoning behind listing Debose (speed) and Howard (showing off for scouts).
The Buckeyes have a decent defense, but they have not seen players with the jets Demps (the fastest player in college football) and Rainey (quite possibly the second-fastest) have.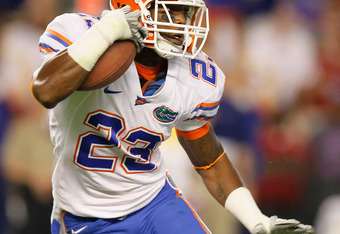 Kevin C. Cox/Getty Images
Defenses like the ones at LSU and Alabama were able to make these two non-factors because they have players with top-level speed who didn't allow Demps and Rainey to find the cracks they needed to bust big ones.
Can OSU shut down both seniors all game? That won't be easy.
5. Mike Gillislee & 6. Hunter Joyer
Gator fans, this may be your starting backfield in 2012.
Gillislee has tantalized UF with glimpses of strong and elusive running, and the Gator Bowl may be the perfect place to allow him to get 10-12 touches to see what he can do.
Carrying three times for 30 yards, Joyer showed against FSU's fast defense that he is more than just a bruising lead blocker. He is skilled and powerful with the ball in his hands, and he may now be the Gators' best goalline rushing option (something it can be argued has been backup quarterback Jacoby Brissett of late).
7. A.C. Leonard
Starting tight end Jordan Reed missed the game against the Seminoles with an injury. Aside from one drop, Leonard, a true freshman, played quite well in Reed's place, catching three passes for a game-high 65 yards.
Reed should be back, and no doubt will be targeted more than Leonard against OSU. I do expect Reed to perform well, perhaps leading Florida in receptions.
But I list Leonard here because he will be playing in his hometown, and I have the sneaking feeling he is going to catch a touchdown pass.