Monta Ellis: Details of Warriors' Star's Sexual Harassment Charge Emerge
December 21, 2011
Elsa/Getty Images
Golden State Warriors star guard Monta Ellis has allegedly committed sexual harassment.
According to an Associated Press report, via the New York Daily News, Ellis and the Warriors are being sued by a former employee, Erika Ross Smith, for sexual harassment.
The report also gives some explicit details of the charge against Ellis:
A former Golden State Warriors employee filed a sexual harassment lawsuit against star guard Monta Ellis on Wednesday, alleging Ellis sent her unwanted texts that included a photo of his genitals...The messages included lines such as, "I want to be with you," and "Hey Sexy," and proposed sexual encounters, according to the lawsuit.
The NBA season tips off in just four days and this will certainly be one of the bigger storylines that will accompany the opening games.
The 26-year-old Ellis is one of the best shooting guards in the game and he is part of one of the best backcourts in basketball alongside Stephen Curry.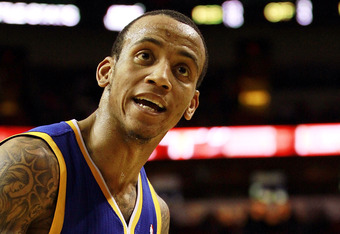 Marc Serota/Getty Images
According to the AP report, the Warriors ultimately fired Smith after "Ellis' wife learned of the texts and complained to team executives."
Smith has worked for NBA teams in the past and claims she was unjustly fired in Golden State. The report claims "the lawsuit alleges retaliation, wrongful termination and intentional infliction of emotional distress and seeks unspecified damages."
It also indicates that Smith refused the advances of Ellis.
The Warriors' leading scorer from a year ago, Ellis would be sorely missed if he was to come under any punishment from this alleged charge.