Auburn Basketball: 5 Takeaways from the Tigers' First 8 Games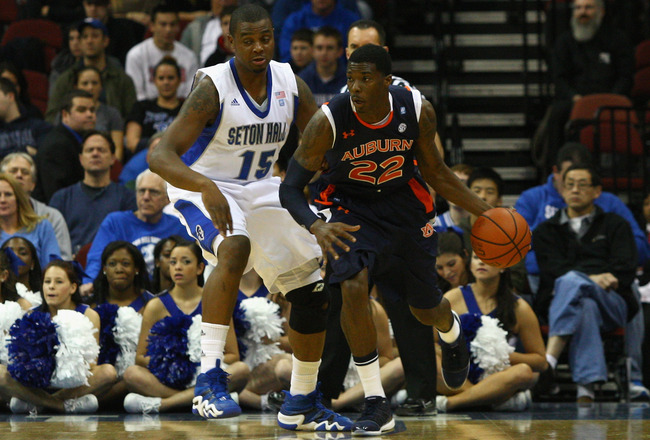 Chris Chambers/Getty Images
A year after finishing 11-20 (4-12 SEC), Auburn's men's basketball coach Tony Barbee has led his team to a 7-1 record through the first eight games of the 2011-12 season.
Despite the Tigers impressive record, Auburn has not pleased Barbee because of the lack of competition they have faced, which features opponents that combine for a 34-52 record.
Without last year's leading scorer Earnest Ross, the addition of lone returning 2009-10 starter Frankie Sullivan, who missed all but six games last season with an ACL injury, and three new starters on the court, Auburn has a different face in 2011.
Let's take a look at what Auburn has shown in the first eight games of the season.
Scoring Points Is Not a Problem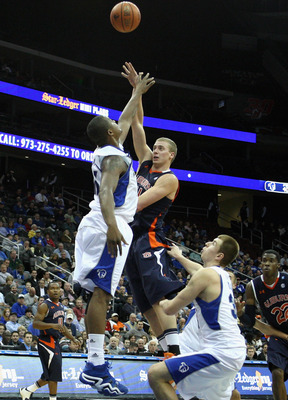 Chris Chambers/Getty Images
After averaging only 62 points per game last year, Auburn has found its touch on the offensive end of the ball. Not only has Auburn topped that average in six games this year, the Tigers average 71.6 points a game.
While Frankie Sullivan leads Auburn in scoring, averaging 13.1 points a game, the offense has become more commanding with guards Chris Denson and Varez Ward.
Denson began playing late last year, scoring a season-high 21 against Georgia in the SEC Tournament. However, Barbee continuously mentions Denson's lack of defensive play.
Ward sat out the entirety of last year after transferring from Texas. Now, as the starting point guard for the Tigers, they have an additional offensive threat, which Josh Wallace, last year's starter, did not provide.
Center Rob Chubb has shown he has superiority on the offensive end of the court over the other two centers on the team, averaging 11.4 points, second best on the team.
While Chubb has racked up points in the paint, forward Kenny Gabriel has pulled down a team-leading 22 offensive rebounds while averaging a relatively-quiet 10.9 points a game.
Tigers Lack a Big Man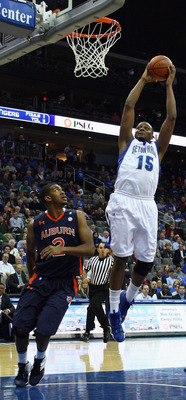 Chris Chambers/Getty Images
Auburn's biggest flaw heading to the Hawaiian Airlines Diamond Head Classic in Hawaii is the lack of an all-around center.
While starter Rob Chubb is the best candidate on offense, Adrian Forbes is the best defensive option. Against North Florida, because of frequent whistles, Barbee was able to substitute Chubb in on offense and Forbes in for defense often late in the game. However, that won't be the case in most games.
Not to mention, the third option for Auburn is freshman Willy Kouassi. Kouassi was named the No. 66 best high school player in the nation and seventh-best center in the country by Rivals.com.
Despite Barbee earlier in the season saying he wants the whole team to play with the same intensity as Kouassi, he also said the freshman is still learning the game, and referred to him as a "blank canvas."
While Auburn has been able to score points in the paint throughout the season, the Tigers have been out rebounded offensively 97-92. Plus, none of the centers average the most per game. That statistic is lead by forward Kenny Gabriel, at 8.8.
With teams like Long Beach State, Clemson and Xavier as possible opponents in Hawaii and SEC play starting in early January, Auburn will struggles substantially if play by all three centers is not improved.
It's a Block Party, Baby!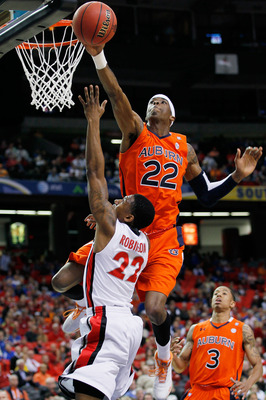 Kevin C. Cox/Getty Images
Auburn is already halfway to topping last year's total of blocked shots at 100.
The Tigers' current total of 59 started slowly, as Auburn only had one in its first game and five in its second. In the third game, against Nicholls State, six players combined for a season-high 17 blocked shots.
In the following game, Arkansas Pine-Bluff, three players combined for a total of 10 blocked shots.
High-flying forward Kenny Gabriel leads the category with 24 blocks on the year, while centers Rob Chubb and Willy Kouassi have 13 and 11, respectively.
Barbee Is Rarely Happy with the Defense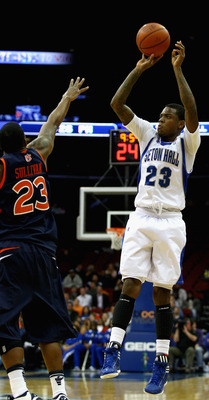 Chris Chambers/Getty Images
Despite Auburn's major scoring improvements, coach Tony Barbee has continued to express disappointment in the year the defense has been playing.
The general understanding Barbee has been sending is he would rather Auburn beat a team in a close, defensive game than a tight, high-scoring affair.
The only game Barbee showed content with the defensive play was the 52-40 win over South Florida.
"You have to win what I call a `grind out' game, and tonight was one of those," Barbee said.
Although, Auburn quickly went back to the old team, playing North Florida and Florida A&M at their opponents competition level, as Barbee puts it.
The problem is Auburn plays lower-leveled opponents at their level, but can't compete with higher-level opponents at their level. That was the case against Seton Hall (9-1). The Pirates blew out Auburn 81-59.
Unless the defense improves, it may only get uglier on Jan. 11 when No. 2 Kentucky travels to Auburn for the Tigers first home SEC game.
Call in the Reinforcements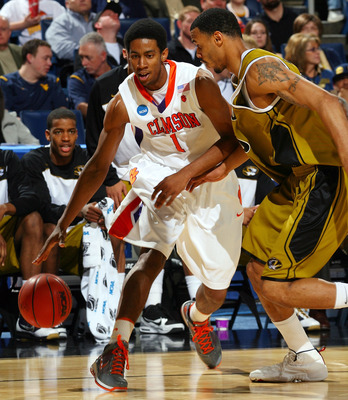 Rick Stewart/Getty Images
News that prized freshman guard Cedrick McAfee and junior forward Noel Johnson wouldn't be allowed to play until the end of the fall school semester wasn't a good way for Auburn to start the season. Then, news that sophomore guard Josh Langford was suspended indefinitely was nothing less than a double whammy.
However, with all three now eligible, Auburn's fans have something to smile about.
Langford, who was named the No. 1 player in the state of Alabama coming out of high school, made an impact last year coming off the bench. He averaged 4.6 points and 2.6 rebounds a game. He also shot 36.4 percent beyond the arch.
Talk lists McAfee as a guard who can play multiple roles and lead a team. He was also ranked as a Top 150 player nationally by Rivals.com after averaged 15.2 points, 4.0 rebounds, 2.4 steals and 1.4 assists as a senior.
McAfee made his debut for the Tigers against Florida A&M Monday. He played for five minutes and pulled down a rebound.
Johnson will have a year and half of eligibility remaining after transferring from Clemson during mid-semester. He averaged 2.9 points and 1.6 rebounds in 13.1 minutes per game in seven games last season at Clemson.
Having Langford back and McAfee and Johnson able to play will not only increase the team's depth, it will also add three players that have proved themselves as contributors in the past.
Keep Reading