6 Kansas City Chiefs That Drove Fans the Most Berserk in 2011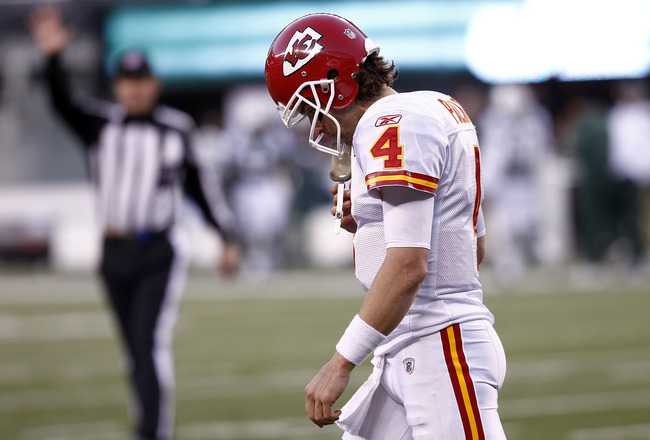 Jeff Zelevansky/Getty Images
The Kansas City Chiefs have had a roller coaster type season in 2011.
Along the way, they have lost two of their best players on offense and defense, as well as their starting quarterback and tight end.
Of course, there are many people to blame for the Chiefs' losing record, but it's obvious that certain players have underperformed this year for KC.
Here are six players that have drove KC fans crazy in 2011.
Tyler Palko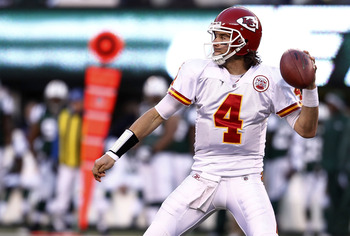 Jeff Zelevansky/Getty Images
Former starting QB Tyler Palko drove Chiefs fans crazy in many different ways this season.
Whether it was his lack of pocket presence, his inability to thrown accurately downfield or his struggles with moving the offense down the field, Palko seemed to struggle in every area at the quarterback position.
In just four starts, he managed to rack up eight turnovers, including seven interceptions, which led to a 1-3 record for KC in those games.
Chiefs fans everywhere can now breath a sigh of relief as Kyle Orton is in at QB, meaning that the Tyler Palko era is likely over for good in Kansas City.
Sabby Piscitelli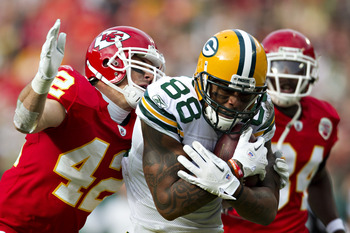 Wesley Hitt/Getty Images
Piscitelli might be one of the worst safeties that this franchise has ever had.
He's terrible in coverage and always seems to get beat several times in each game that he plays.
The ex-Buccaneer struggles with tackling as well and has really been a major liability in the Chiefs' defensive backfield this season.
Pro Bowl safety Eric Berry's likely return next season can't come soon enough for this secondary right now.
Barry Richardson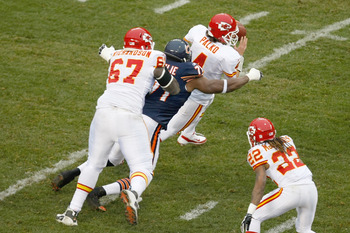 Scott Boehm/Getty Images
When you talk about the worst right tackles in the entire league, Kansas City's Barry Richardson has to be near the top of that list.
He has given up numerous sacks this season, including the one above against the Bears in Week 13.
Richardson has played so bad this season that he has reminded many KC fans of the guy he replaced in Damion McIntosh, and those are not good memories at all.
I wouldn't be surprised at all if the Chiefs decide to draft a right tackle in the early rounds of the draft next year to replace Richardson, since this has been easily their weakest position on their offensive line all year.
Matt Cassel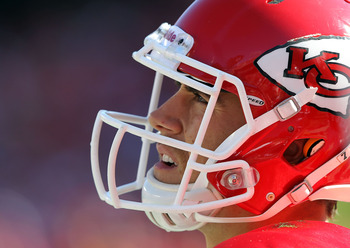 Jamie Squire/Getty Images
Even though Cassel hasn't been the worst signal-caller on the team this season, he has still done enough to drive Chiefs fans crazy in his nine starts at QB.
The ex-Patriot was wildly inconsistent in '11, as he led the team to a couple of their victories but also played timid and struggled in many of Kansas City's loses with him behind center.
With Kyle Orton now in Kansas City, Cassel's chances of being the starting quarterback of this team in 2012 have dropped significantly.
If Orton continues to play well in Kansas City's next two games, the Matt Cassel era in KC could possibly come to a crashing end.
Jalil Brown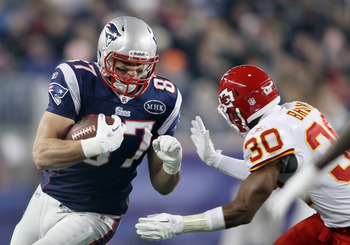 Elsa/Getty Images
Even though it's only his first season in the league, CB Jalil Brown is already looking like a bust.
The former Colorado Buffalo has made several mistakes on special teams and from his cornerback position as well.
Much like another member of this list, Sabby Piscitelli, Brown has been a liability in every facet of the game that he has played in this season.
If he doesn't show any improvement in the next two games, there's a chance that he might be looking for a new job next season.
Leonard Pope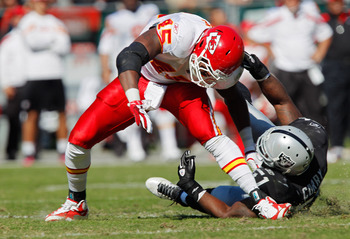 Brian Bahr/Getty Images
I realize that Pope actually played well last week against the Packers, making two big catches that helped spring the Chiefs win in that game.
However, he has played awful in the many games before last Sunday's contest.
He's not the fastest tight end in the world, and he definitely can't block very well for this team.
Pope's ability to rack up inexcusable penalties and non-existent play in many games makes Chiefs fans miss Tony Moeaki that much more.
Keep Reading

Kansas City Chiefs: Like this team?