Juventus Ties Udinese in an Even Match, Falls to Second in Serie A
December 21, 2011
Dino Panato/Getty Images
The Serie A title race has been an extra tight one this year. A.C. Milan, Juventus, Udinese and Lazio have all been battling for first place. Juventus, coincidentally, have beaten both A.C. Milan and Lazio but had been yet to play Udinese, at least until today.
That is why today's game was such an important one. Those of us who follow Calcio now know how Juventus stacks up against Milan and Lazio, and vice versa. However, we did not know how Juventus and Udinese would perform against each other.
Well, now we know. The two teams nullified each other in a 0-0 draw. Juventus were on the offensive for longer, and they held more possession then Udinese—53 percent of possession, to be exact. Indeed, Juventus also put more pressure on the Udinese defense, with 17 shots, five of which were on target.
Just because Juventus held a majority of possession does not mean that they controlled the game. While they may have launched many attacks in Udinese's territory, Udinese frequently shot right back with a counter-attack. Juventus had more chances, but Udinese had better chances. The statistics show this: 44 percent of Udinese's shots were on target. The percentage for Juventus? Twenty-nine.
Part of the reason for the weak quality of Juve's attacks was Juventus manager Antonio Conte's player selection. He had his team playing a 3-5-2, with Stephan Lichtsteiner pushing up on the right side, while Marcelo Estigarribia played back so that he, too, was in the middle of the pitch. Filling out the five midfielders was Andrea Pirlo, who was playing in central midfield as opposed to his usual deep lying role.
Up top, Simone Pepe and Alessandro Matri were playing as strikers. Pepe was a bit more fluid in terms of positioning, but nonetheless his objective was that of a forward. Matri played his usual poaching role. This is where Conte made his error.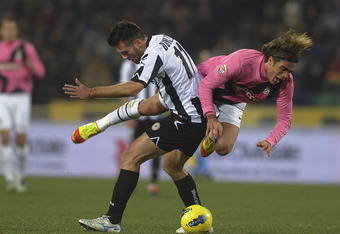 Dino Panato/Getty Images
Matri is a poacher, and he needs to be fed good passes to score. He's pretty clinical in terms of finishing when he has a good chance. But he's not that good at creating chances himself. Several times today he had possession in Udinese's box, but he would be dispossessed after failing to lose his marker.
In the context of today's game, Matri was sometimes trying to be a creator for Pepe and other attacking players. This is not a good role for him, and his performance was mediocre. Eventually, Conte subbed on Fabio Quagliarella for Matri. While Pepe was still being played out of position, this was still a good substitution by Conte. Quagliarella can play as a trequartista of sorts, laying back and playing passes to his teammates. He can also pounce on balls just outside of the box. He showed that last season.
Quagliarella quickly began to contribute to the Juventus effort. He had a nice effort on goal just moments after coming on. Still, he failed to score. This is not his fault, as there were not many good chances for him to pounce on.
Later, Conte put Alessandro Del Piero on for Simone Pepe. This was another good substitution, and Del Piero's vision and playmaking served as spurs for the Juventus attack. Specifically, there was one play where Del Piero had the ball on the left side of Udinese's box. He was dribbling and holding the Udinese defense's attention. Meanwhile, there was tons of space available in the right side of the box. Stephan Lichtsteiner made a run into the space, and Del Piero played a fantastic pass to the Swiss right back. Sadly, Lichsteiner skied it over the box, wasting the pass.
It's worth noting that, even though they were penetrated by Udinese counter attacks a few times, the Juventus defense had a solid game. Giorgio Chiellini did make a mistake early on, one reminiscent of his struggles earlier this season getting accustomed to playing left back.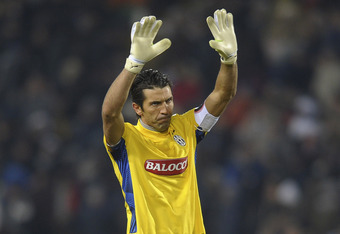 Dino Panato/Getty Images
Chiellini was covering Udinese's Mauricio Isla, and Udinese star Antonio Di Natale played a cross to Isla. Chiellini went up to head the cross away, but instead he deflected it right to Isla's feet. Isla broke away from Chiellini and made a threatening run inside the box, but Gianluigi Buffon did an excellent job of coming off his line to make the save.
Aside from that, Chiellini and his partners in the center of defense, Leonardo Bonucci and Andrea Barzagli, had a solid game. Buffon made several important plays, like when he made up for Chiellini's error. Barzagli is a contender for man of the match, as his play was consistently solid.
One other area of frustration today was the offensive play of Marcelo Estigarribia. Estigarribia was playing deeper than he's used to this season, playing as a wide midfielder instead of a winger. He certainly didn't have trouble with the extra defensive duties, in fact he was at his best today while defending.
Surprisingly, he was much worse while attacking than he was while defending. His poor offensive performance is directly linked to Matri's disappointing performance. One particular play involving Estigarribia that irked me happened late in the second half.
The game was looking more and more certain to finish 0-0, but I was holding out hope that Juventus would score. Estigarribia was at the left end of the penalty box (similar to where Del Piero was when he made the great pass to Lichtsteiner) and Andrea Pirlo was a bit behind Estigarribia, to the right. Pirlo lost his man and started to make a run into the box. Estigarribia saw this and attempted a pass.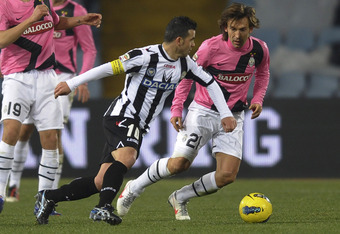 Dino Panato/Getty Images
The keyword there is that Estigarribia attempted a pass, since it was easily intercepted by Udinese and cleared away. This in turn led to a very dangerous Udinese counter-attack, but luckily it ended in a goal kick for Juventus.
I said earlier that Estigarribia had a good game defensively but was poor offensively. Well in that scenario, Estigarribia was so bad on offense that it actually hurt his defensive game. After all, his play almost led to a goal. Hopefully the young Peruvian will recover from his lackluster play today, and we will see the talented Estigarribia that we have become accustomed to.
There's no reason to be upset about drawing Udinese at their stadium. They are one of the top teams in Italy. In fact, I would say that Juventus and Udinese are the best two teams in Italy so far. So for Juventus to go to Udinese's stadium (where they have been playing very well) and come back with a point is admirable.
Still, there were chances for Juventus to take control of this match. Claudio Marchisio had four relatively close shots, two being very close to scoring and two being mildly close. If Juventus had been able to create more dangerous chances like that, perhaps they could have scored a goal and taken all three points.
This result leaves Juventus in second place, behind first-place A.C. Milan. Juventus and Milan have the same amount of points, but Milan are atop on goal differential. Udinese lay in third place, two points behind.
That is how the top of the table will look through the winter break. Luckily for Juventus, their fixture list during January and the first half of February is not too threatening. Until their February 26th match against A.C. Milan, Juventus only plays two teams in the top half of the table. Granted, one of those teams is Udinese (who were originally supposed to play Juventus on the first gameday of the season, but the players' strike postponed that game until today), but the game will be at Juventus stadium.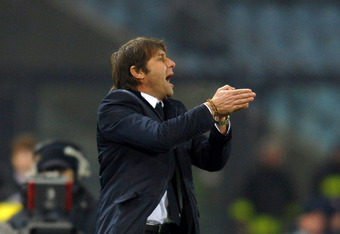 Dino Panato/Getty Images
Aside from Udinese, Juventus plays the following teams: Lecce, Cagliari, Atalanta, Parma, Siena, Bologna and Catania. Catania is the other team in the top half of the table, currently in sixth place. After that, Parma is the highest ranked team, in 12th place. Remember, Parma is the team that was demolished by Juventus, 4-1, in the first game of the season.
So, while Juventus has temporarily lost their status as Serie A leaders, they have a great opportunity to pick up points after the winter break.
They start the 2012 portion of their season away against Lecce, the last-place team in Serie A. Somehow, I think Juventus will take the three points in this game. Of course, the first game after the winter break last season was disastrous and precipitated a huge fall in Juve's fortunes.
But last year's Juventus was not an Antonio Conte team. Look for these boys to continue their good form when Serie A play resumes.
Until then, we will have to wait almost three weeks to see our beloved Juventus. There is one thing to look forward to: my end-of-the-year review article. That, and the start to the January transfer mercato. We will fill our brains with endless transfer rumors until January 8th, when we can once again fill our heads with Juventus.
You can follow David Tenenbaum on Twitter: @DTenenbaum