Aldon Smith: Making the San Francisco 49er's Case for Rookie of the Year
December 21, 2011
Thearon W. Henderson/Getty Images
Coming out of high school as a 3-star recruit, Aldon Smith has been underappreciated since his earliest days as a football prospect.
After he recorded 2.5 sacks on national television and Monday Night Football, many are becoming familiar with Smith's ascent to the top tier of NFL pass rushers.
Since being a slightly above-average defensive end out of high school, Smith is now a hot contender for Rookie of the Year. He has my vote.
The San Francisco 49er was a tight end/defensive end coming out of Raytown High School in Missouri. This year, Raytown finished 5-5 under Kevin Page, a team still in the shadow of Smith's overwhelming success at higher levels.
As a high schooler, Smith never experienced much in the way of winning.
He was a star, no doubt, racking up 60 tackles, 12 sacks and seven forced fumbles on defense and catching 37 passes for 540 yards and four touchdowns on offense as a senior. However, in Smith's senior season, the Bluejays failed to even finish near the .500 mark.
Moving on up the ranks of football, Smith took his talents to Missouri. Despite his low rank as a 3-star prospect (on a fivee-star scale), the young defensive end was heavily recruited by big-time D-I universities like Missouri, Nebraska, Kansas State and Kansas.
Smith chose Missouri and built a legacy there as a top-notch pass rusher.
Fast-forwarding to the NFL Draft, some doubted that Smith had the size, technique or awareness to be an effective pass rusher in the NFL. I count myself among those who thought that this Missouri graduate would be another Vernon Gholston or Aaron Maybin (note: Maybin has been playing well this year).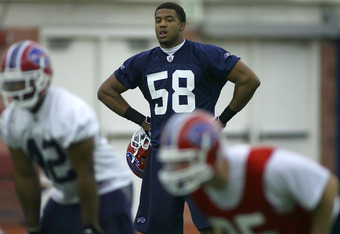 Rick Stewart/Getty Images
Jim Harbaugh expended the seventh overall pick on Smith and the boos rained down.
He wasn't big enough. He wasn't aware enough. He didn't have the physical skill set to succeed past the college level.
I don't know how many people watched the Monday Night game or how many people are aware that Smith is just 1.5 sacks away from the rookie record, but this rush linebacker has made a name for himself as one of the most talented pass rushers in the NFL.
He has superior technique, showing just how hard he's worked to get where he is today. As an NFL fan, watching Smith play reminds many of talented ends like Dwight Freeney or Jared Allen going to work.
He's not huge, with long arms and amazing athleticism, but he's just good.
Other rookies have played well, but no one has dominated at their craft like Smith has.
Smith's 13 sacks are unprecedented, and show just how game-changing a player he is.
Many will make the argument for Von Miller or Patrick Peterson; heck, even Marcell Dareus will get a vote or three. No one, though, can match what Smith has done this year.
Miller had it made from the moment he walked into an NFL practice facility. Smith had to work hard to get where he is today, and it's payed dividends.
Said Mel Kiper of Smith before the draft, "[He's] only a third-year sophomore coming out early—reminds me of Aaron Maybin."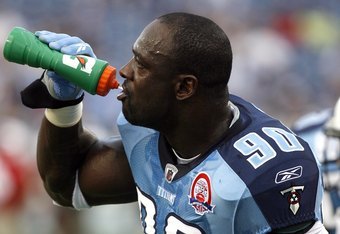 Joe Murphy/Getty Images
Buying into Jim Harbaugh's system, Smith has worked his tail off to develop top-level moves and become a big-time NFL pass rusher.
What Smith has done this year eclipses just a Rookie of the Year trophy. He's about to set a record for most sacks by a rookie...of all time.
Think about the guys he's next to on the list. Smith will be mentioned in the same breath as Jevon Kearse and Dwight Freeney.
I like Miller and think he's a great player, and I respect the body of work that Patrick Peterson has put forth this season, but Smith has been out of this world.
He's worked his way through tough losing seasons in high school and became a star as a sophomore in college despite being a 3-star recruit. Now, Smith is lighting the NFL on fire.
I know the arguments will come that Miller has to also worry about the run, but I am not sure that Miller's contributions in the run game could outdo what Smith has accomplished as a sack artist.
From Raytown High to Missouri to San Francisco, the next step in Smith's journey is the Defensive Rookie of the Year trophy.