Chicago Cubs Wisely Trade Sean Marshall to Cincinnati Reds for Travis Wood
December 22, 2011
Jeff Gross/Getty Images
Divisional trade stigma be damned.
The Chicago Cubs and Cincinnati Reds agreed Wednesday to a trade that will send left-handed setup man extraordinaire Sean Marchall to the Reds, in return for left-handed starting pitcher Travis Wood. The Cubs will also receive two minor-league players in the deal.
Too often, front offices get bogged down in a fully illusory aversion to intradivisional trades. Usually it applies chiefly to elite players who come on the block, but even in this case, there were those who questioned the wisdom of the Cubs' dealing Marshall to a divisional rival.
"You can argue the Cubs shouldn't be trading within their division, as the Reds are going for the jugular after a disappointing 2011," wrote Phil Rogers of the Chicago Tribune.
That sort of mentality often stops perfectly good trades from happening. For years, the notion has been that trades within one's division can come back to roost at the worst possible moment, and out of fear of losing a trade with a top rival, many front offices avoid such deals.
This is folly for two reasons:
A GM should not be making a trade in which they haven't full confidence. Assuming that an executive always undertakes a thorough process of analysis and risk-reward assessment before pulling the trigger on a deal, it should not matter who is on the other end of said transaction. In fact, so much the better to trade with a divisional foe, if the organization has proper confidence in getting the better end of it.
Teams can have diametrically opposed interests and still have complementary needs. The Cubs are looking to rebuild in 2012 and beyond, and Marshall is under team control for just that one more season. In essence, since Theo Epstein and company do not intend to contend in 2012, Marshall has no utility to them.

The Reds, meanwhile, mean to move Aroldis Chapman into the starting rotation, and along with the acquisition of Mat Latos this month, that made Wood fully expendable as a starter. The Reds feel 2012 could be their year, and they are not wrong, so dealing even a relatively valuable asset or two to get more immediate value at the back end of their bullpen made sense.
Ultimately, this deal made too much sense to be prevented by the illogic of divisional deals.
Wood will almost certainly hold down a spot in the back half of the Cubs' rotation for the next five years, during which time he will be under team control and have his earning potential capped by the arbitration system's stratification. Fourth and fifth starters do not make big money through that process.
The Right (Left) Fit
Wood is also left-handed. That makes him a good fit for Wrigley Field in the eyes of Epstein and GM Jed Hoyer, who have gone about rebuilding this team around left-handed players on both sides of the ball.
Last season, the park was about 17 percent friendlier to left-handed batters than to righties when it came to home runs, according to Stat Corner.
Wood called Great American Ballpark home the past two seasons. That park inflated homers by all batters much more than did Wrigley in 2011, and yet, Wood has allowed only 19 homers in 208 innings of big-league work.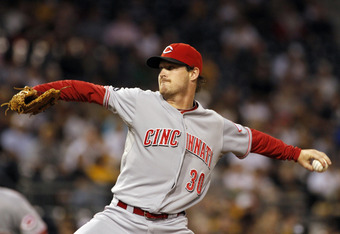 Justin K. Aller/Getty Images
He may not become elite, but he stands to gain from this move, and the Cubs' front office clearly feels he fits their environs well.
Do You Trust Me?
At this point, it's worth noting that a pattern is developing in Chicago.
Wood becomes the third substantial acquisition under the new Epstein-Hoyer regime, and in addition the aforementioned left-handedness, the trio shares another trait in common—they each had utterly miserable 2011 seasons.
Wood posted a 4.84 ERA and 4.61 xFIP, and was twice demoted to Triple-A by the frustrated Reds. He made only 22 MLB appearances, and four of those were in relief.
At least Wood hit a home run, though. Ian Stewart could not manage any of those while playing for the Colorado Rockies and was shuttled back to the minors to get himself straightened out.
Stewart will enter spring training as the team's projected regular third baseman. Meanwhile, new right fielder David DeJesus posted a career-worst .699 OPS and .309 wOBA at age 31 in Oakland.
That's not to say those were not astute acquisitions. "If you see a good player coming off an unusually bad year, that's the time you get him,'' said Epstein in the wake of the trade that brought Stewart, and he is right.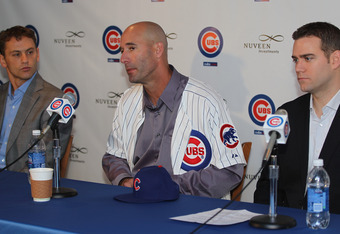 Jonathan Daniel/Getty Images
It's fascinating, though, to see such creative front-office men work with the knowledge that they will be given a huge benefit of any doubt during this first winter in Wrigleyville.
What's Next?
Now that Marshall has been dealt, speculation is bound to crop up about which Cubs will go where, and when. Matt Garza, Marlon Byrd, Geovany Soto and possibly Ryan Dempster or Carlos Marmol are good candidates for that honor. Alfonso Soriano is a less likely option.
When the team signed Reed Johnson to a one-year deal Wednesday, it seemed to make a Byrd or Soriano deal a bit more imminent. When David Kaplan, a sports-talk personality in Chicago, reported a pending overhaul, it may have nudged some toward an expectation that Garza will go.
He probably will. When the Reds included Yonder Alonso in their deal for Latos with the San Diego Padres, San Diego first-base prospect Anthony Rizzo became available.
The Cubs are reportedly already in the Padres' ear about Rizzo, which makes sense, since the last two GMs to acquire Rizzo were Epstein and Hoyer. A Rizzo-plus package would satisfy the Cubs nicely, and adding Wood allows them to feel a bit better about trading a starting pitcher.
Still, it will be interesting to see what (if anything) becomes of Byrd, Soto and Marmol. Each has trade value. None has much utility to the Cubs, since their contracts (or in Soto's case, his term of arbitration eligibility) each expire within the next two seasons.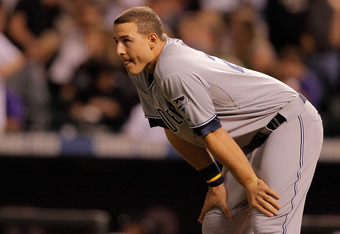 Justin Edmonds/Getty Images
It's clear, fire-sale or not, that the new regime intends to be very aggressive.
Red Storm Rising
Marshall, meanwhile, becomes the de facto relief ace in Cincinnati, for the moment.
The team may well look to re-sign Francisco Cordero or otherwise add a closer, but at the moment, Marshall is their best bullpen arm. He will come in very handy if and when Cincinnati needs to get tough left-handed batters out in a playoff matchup with the Philadelphia Phillies or Atlanta Braves.
It's hard to say whether the Reds are now NL Central favorites or not. If Carlos Beltran lands with the St. Louis Cardinals this winter, the defending World Series champions would look like a fair bet to return to the playoffs in 2012.
If not, though, or if Cincinnati can supplement this trade with another pickup to improve their left-field situation, then GM Walt Jocketty will not have given away Wood or his farm depth in vain. Either way, for both teams, this deal was worth bending the unwritten rules.
Matt Trueblood is a Loyola University Chicago graduate with a degree in journalism, and a Bleacher Report Featured Columnist. Follow him on Twitter.