Charlotte Bobcats: How Good (or Bad) Are They Going to Be This Season?
December 21, 2011
Mike Stobe/Getty Images
The NBA is finally back. I've gotten pretty tired already of watching college basketball (35-second shot clocks are just too long), and I'm ready for professional basketball.
Unfortunately, proximity dictates that I have to like the Charlotte Bobcats, and I think we all know how much success the Bobcats have had since joining the league in 2004.
Virtually none.
The Bobcats have had a few good players here and there over the years. Emeka Okafor got his start with the Bobcats back in 2004, Tyson Chandler had a brief (albeit underwhelming) stay with Charlotte, and Stephen Jackson and Gerald Wallace were two dynamic players that graced the hardwood of Time Warner Cable Arena.
For some reason though, the Bobcats always seem to trade genuine talent away for players who just aren't good. I'm not sure what it is with this team—perhaps it's the desire to keep payroll amongst the lowest in the league, the desire to be the punchline to every NBA joke or the desire to draw fans to games to watch the opposing teams pummel them into next week.
I know that I, as a pretty dedicated Bobcats fan, am getting pretty sick of watching them flop around in the puddle that is absolute mediocrity. 
Michael Jordan was supposed to inject some energy into this franchise—how could the greatest basketball player of all-time (and quite possibly the greatest athlete of all-time) watch the team he owns be consistently dull?
He's only owned the team for a short time, but his first full offseason as the owner of this team has been pretty lackluster, to put it mildly (and since we're talking about the Bobcats, mild fits perfectly).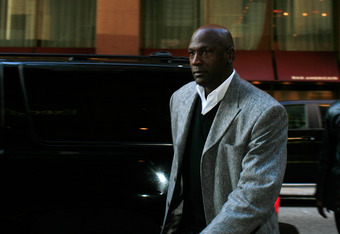 Patrick McDermott/Getty Images
The Bobcats drafted and signed two players in the top 10 of the 2011 NBA Draft.
Bismack Biyombo is a tenacious defender with a ridiculous wingspan and vertical leap that should garner him comparisons to Ben Wallace as his career progresses. He can't shoot the ball, but he wasn't drafted to score—he was drafted to stop the other team from scoring.
Kemba Walker is a winner at the college level with a driven attitude that will suit him well in the NBA. What he lacks in size, he makes up for in determination and skill. He is a player that a team could potentially build around.
After that though, there's not much to brag about. Corey Maggette will score around 15 PPG, Boris Diaw as an undersized center will score 10-15 PPG and get six-to-eight RPG, and D.J. Augustin will score 15 PPG.
A whole lot of 15's, and not a lot of star power. No one stands out. Everyone is just average.
Imagine that, another average Bobcats season.
Charlotte isn't going to be "bad" this year—I've read a lot of articles that seem to think that they are going to be the absolute basement floor in the East, but I don't really know about that. I think they have enough talent to win some games. A few. Maybe.
Unfortunately, however, this is, at best, a .500 team.
Jordan is going to have to answer the call of sensibility and realize that boring teams aren't going to put butts in the seats or eyes on the television. Charlotte management seems to be of the mindset that if they come, then we'll build it. That won't work.
Trading the best players and hoping for a youth revival in the draft every year is never going to cut it. If they desire success, GOOD trades will have to be made, and money will have to be spent on free agency. 
Getting average players who are at the end of their career needs to stop.
Management always puts the Bobcats into a rebuilding phase just when things seem to be looking up. Accordingly, what the Bobcats are doing right now can not be called rebuilding. Rebuilding is getting worse for the sake of eventually getting better, and Charlotte just gets worse because they're afraid to spend a little money.
Hopefully this season wakes this team up, because I sure am tired of being bored.