Maryland Football: Three Things Terrapins Need to Turn Around in 2012
December 21, 2011
Rob Carr/Getty Images
Randy Edsall's dream job looked like it was going to get off to a fun start in the season opening win against Miami, but as time went by the Terrapins quickly returned to being a recurring joke that never changed the punchline during the 2011 season. In fact, Maryland was more of a punching bag than a punchline.
Maryland won just one game the rest of the year and finished with two wins, seven fewer than the year before in Ralph Friedgen's final year on the sidelines in College Park. Maryland, suggesting they needed a coach that could take the program to the next level, forced Friedgen out the door and welcomed in Edsall, fresh off taking Connecticut to the BCS with a mediocre record. What the administration may not have realized was that the next level was actual a level (or two or three) in the wrong direction.
With the season over, players are transferring left and right it seems and Maryland is making more headlines for hiring the disgraced Mike Locksley as an assistant coach than anything. So, as the majority of the college football world continues through bowl season, Maryland needs to orchestrate a game plan to change things within their football program for a better 2012.
Here are three quick tips for Maryland football, in no particular order.
1. Form a program around Danny O'Brien
The good news for Maryland is that there is some talent and key pieces to build around. Quarterback Danny O'Brien is the obvious player to build an offense around. While seven players have transferred, O'Brien has stayed and will prepare for his third season under center for the Terrapins.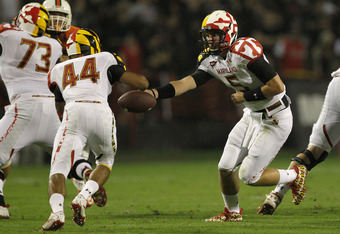 Rob Carr/Getty Images
O'Brien's importance for Maryland in 2012 cannot be emphasized enough. His season ended prematurely with a broken arm but he is said to be focusing on his recovery and there is no word that he will transfer out of the program. It will be up to Edsall to ensure O'Brien feels comfortable in the program moving forward and make sure he realizes his value to the offense.
The former ACC Rookie of the Year will be a developed junior and will be among the best in the ACC in all likelihood. 
2. Find your identity and stick with it
Too many times Maryland tried to create an identity by emulating what Oregon has done so well with their uniform combinations. The only problem is Maryland didn't have the duds to pull it off, for the most part. Oregon is the exception to this rule, but a program that has been around for as long as Maryland and for one that is the flag-carrying program of the state should find their identity and stick with it.
Take these programs for example. Texas. Penn State. Ohio State. Oklahoma. West Virginia. These schools all have a clear identity and carry the namesake of their home state in their name. With a couple of minor exceptions, their look is never changing and is as much of their identity as anything else.
Maryland should not try to create buzz with their uniforms and focus more on the actual team and game plan than anything else. Take pride in who you are and the respect will follow. Don't try to be the Oregon of the east coast. Maybe kids love it, but the national reputation tanks as a result.
3. Randy Edsall needs a reality check
Perhaps Edsall bought into himself too much following the 2010 season, which ended with his UConn Huskies playing in a BCS bowl game for the first time in program history. If he thought he could achieve the same level of success in a deeper conference with better overall talent, he was sorely mistaken.
While it may be difficult to think it right now, Edsall is not a complete moron. He'll take notes from his first season on the job and do what he can to learn from the experience. This is a man who kept plugging away with Connecticut leading them in to the Big East. While he may have gotten carried away with trying too hard to impress people, he needs to realize that the only thing that will impress anyone at this point is winning games, little by little.
Kevin McGuire is a featured columnist for Bleacher Report. Follow him on Twitter, like him on Facebook and add him to your Google+ circle.