College Basketball: Iona Hits Top Ten RPI, but Still No AP/Coaches Top 25 Votes
December 21, 2011
What does a mid-major college basketball team ranked in the Top 10 in the country by RealTimeRPI.com have to do to attract even one AP or Coaches poll vote? 
This week the Iona Gaels advanced to a nine ranking of 344 Division One College basketball teams while still not mentioned among 42 teams receiving votes in the Top 25 Associated Press poll.  In the ESPN/USA Today Top 25 Coaches Poll, Iona was not among the 41 schools receiving votes.
In this week's CollegeInsider.com Mid-Major Top 25 poll, Iona placed fifth behind Creighton, Murray State, Harvard and Cleveland State.
The Gaels have played what is the strategy for small arena, mid-major teams looking to succeed: play in major tournaments on neutral sites and then play as many quality opponents on the road as you can find.
The Iona Gaels (9-2) from New Rochelle, NY play their eighth straight December road game Wednesday in Virginia at William and Mary, looking for their seventh win of the month.  The road stretch began with solid wins at Metro Atlantic Athletic Conference rivals, Niagara 98-62, and Canisius 69-57. 
Then came the big trip to Colorado and a thrilling come from behind win 80-78 in overtime over an up-and-coming Denver Pioneer team.
Travel and an aggressive Marshall team caught up with the Gaels when they ventured to the Appalachians to play the Thundering Herd in Huntington, WV, resulting in a forgetable loss.  Then the Gaels went to Richmond and dominated the Spiders last Wednesday 88-79.  
Richmond made the NCAA "Sweet Sixteen" last year.  Days later, the Gaels headed in the opposite direction to play in the snow belt of Burlington, Vermont against the Catamounts, a team with 2010 NCAA experience. 
After trailing most of the way, Iona held onto a one-point victory.
To start the season, Iona represented the MAAC in the Five Hour Energy Puerto Rico Tip Off where they lost the opening game of the year by one to 2011 NCAA participant Purdue in a back and forth game.  The Gaels finished the event with wins over Western Michigan 94-88 and 89-63 against Maryland of the Atlantic Coast Conference.  The Gaels have won their two home games at their cozy Hynes Center gym against St. Joesph's 104-99 in double overtime and Long Island 100-84. 
Signature wins for the Gaels? Dominating Maryland and the close win over the St. Joe's Hawks, to start.  Walking into the Denver Pioneers $70 million basketball/hockey arena presented quite a challenge—the Gaels trailed by 11 in the last ten minutes, came back to tie and won in overtime. 
The Gaels five December wins against notable opponents calculated to a No. 9 ranking in the RealTimeRPI.com ranking.  Last week's back-to-back road wins were achieved over Richmond, who reached the NCAA "Sweet 16" last spring and Vermont, who played in the 2010 NCAA tournament.
The Gaels' opponent Wednesday is William & Mary of the Colonial Athletic Conference. 
The Tribe (2-9) has struggled so far this year with wins over Liberty and Division II Wesley College.  Freshman guard Marcus Thornton averages 10.2 points per game, as does senior forward Quinn McDowell.  Sophomore forward Tim Rusthaven averages 10 even. 
Iona junior forward Kyle Smyth is described as "Day to Day" by Iona SID Brian Beyrer.  Smyth missed the Vermont game after starting nine of the Gaels' first ten games.  He averages 8.9 points per game and is known as a strong defensive player. 
If Smyth does not start, expect to see smooth shooting sophomore Sean Armand at the three spot.  Armand averages 6.3 points and is the best three-point shooter on the team, averaging 43.2 percent of his shots from beyond the arc.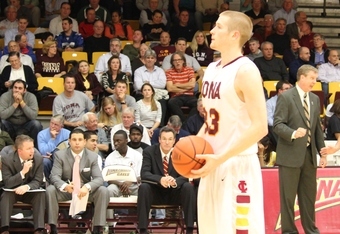 Superlatives abound for Iona's big three veteran starters: senior power forward Mike Glover, senior point guard Scott Machado and two guard junior Lamont "Momo' Jones—the transfer from Arizona.
Glover has picked up where he left off last season—averaging 19.3 points per game and grabbing 8.3 rebounds.  He continues to plant himself under the offensive boards often being double or triple teamed.  The Bronx native looks for passes from Machado and completes his shots 68 percent of the time, often from dunks or layups. 
He ranks third in the NCAA with 87 field goals made in 11 games.
Scott Machado has raised the level of his game this year playing with a noticeable increase in confidence while directing Iona's plays.  Machado averages 10.5 assists per game leading the entire NCAA in this mark of the playmaker. 
In three games, Machado has 15 assists.  Iona is second in the NCAA with 20.09 assists per game just behind Creighton and ahead of North Carolina, Pittsburgh and Marquette.  When taking the long shoot himself, Machado is the second-best three-point shooter, hitting 41.9 percent of the time.
Lamont "Momo" Jones now appears comfortable with the Iona offense, averaging 14.9 points per game and 3.2 assists.   The transfer from last year's Arizona "Elite Eight" team provides a great option for Machado's passes and creates a considerable challenge for the defense trying to collapse on Glover in the paint. 
Junior college transfer Taaj Ridley starts at the four position in what is often a three-guard offense.  Ridley averages 8.6 a game and is third on the team in rebounds with four per game.  Junior Kyle Smyth is the third Gael hitting three's over 40 percent of the time, and is third on the team in steals with 11.  Smyth,  known as a physical player, leads the team with six charges drawn.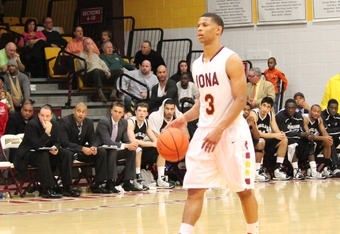 Sophomore Sean Armand has provided instance offense for the Gaels—averaging 6.2 points per game and often hitting threes from the corner.  Jermel Jenkins has been streaky this year (as he was last season), scoring 17 points against Canisius and 13 twice, but has gone scoreless in the last three games.
Randy Dezouvre and RaShad James have each been averaging over ten minutes a game for Head Coach Tim Cluess.  The Gaels have been able to run and keep up full-court pressure by ebbing able to play nine or more players in games.  Dezouvre made a career shot in overtime at the buzzer to beat Denver.
So if the Gaels keep winning, will they will attract votes or even a position in the Top 25 polls? 
It could happen. 
Their challenge is to keep winning and hope the better teams they have beaten—such as Maryland and St. joseph's—have good seasons.  The bane of the mid-major is that of all their remaining opponents: only Fairfield at 60 has an RPI below 100.  Loyola of Maryland is at 131, Manhattan is 136, Hofstra who Iona play's next week is 292 and Siena 302.  
Ken Kraetzer covers Iona basketball and West Point football for WVOX 1460 AM and Sons of the American legion Radio.  His twitter address is http://twitter.com/SAL50NYRadio