Florida Panthers: Brian Campbell Having a Lot of Fun in Florida
December 20, 2011
It's not sun, sand and surf that have Brian Campbell raving about life and hockey in Florida. For one of hockey's most smooth-skating defenceman, it's all about feeling good every time he laces up his skates.
Campbell came into the 2011-12 season after appearing in 626 NHL regular season games. He drew a deep breath when asked why the NHL 2011-12 season has brought out the best in him.
"You know what?" asked Campbell, in a recent chat with NHLPA.com. "I'm having a lot of fun playing these days. People might connect the weather to being the reason you love to play in Florida, but that's not it for me. I'm having fun. We all are."
While a playoff berth for the Panthers might have been a long shot at the start of the campaign, the Eastern Conference squad is by no means an outsider as the season draws closer to the mid-way mark.
He has 90 games of NHL playoff experience, and believes it will get only better. A big part of the success can be traced back to Campbell, who could eclipse his NHL career-best 62 points he recorded in 2007-08 with Buffalo and San Jose.
"It's been great," said Campbell, in reference to the 2011 Draft Day deal that brought him to the Panthers in exchange for Rostislav Olesz.
"We might have struggled in preseason because there were so many new guys in the mix, but once we got to know one another, the system and what we could do, we started to respond," he added.
Campbell was the 156th overall selection of the Buffalo Sabres in the 1997 NHL Entry Draft. His contributions at both ends of the rink have gone a long way in putting the Panthers in the top eight of the Eastern Conference.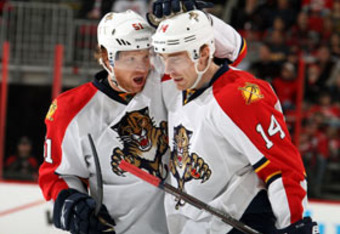 But it's not seeing his number on the score sheet that has Campbell feeling good about his game.
"One thing I've been very proud of is the chance I've been given to be out on the ice against the other team's top line," he said. "That's a challenge anyone would want and I'm really happy that I've been able to be put in those situations."
Campbell has confidence not only in his game, but as a group. It is continuing to grow for an eager group of players.
"At the start, you need to know more about one another on the ice and what everyone can do," said Campbell.
"Then things start to click and everyone is on the same page. You look at a guy like Tomas Fleischmann, who is having a huge year. I don't remember playing a lot against him, but you see how strong he is on the puck, how determined he is and how much he wants to win.
Everyone wants that same success. We realize that we can compete with the so-called top teams in our conference," continued the 32-year-old native of Strathroy, Ontario.
While the lure of sunny days and warm nights are enticing for any athlete, Campbell, who won the Red Tilson Trophy as the OHL's Most Outstanding Player, along with the Max Kaminsky Trophy as the OHL's Defenceman of the Year, the William Hanley Trophy as the OHL's Most Gentlemanly Player in 1998-99, the Canadian Hockey League player of the year honours in 1999, and the Stanley Cup with Chicago in 2010, has other reasons for being thrilled to be in Florida.
All of which is why Campbell isn't asking for much this Christmas.
"I don't think I'll be getting a tan any time soon, so I'll think I'll settle for a long skateboard," he said.
A trip to the playoffs in his first year as a Panther wouldn't be too bad, either.
Visit NHLPA.com for more player news and videos.
Unless otherwise noted, all quotes were obtained first-hand.