NASCAR: Best Buy to Sponsor Matt Kenseth and Carl Edwards Part-Time in 2012
December 20, 2011
Jared C. Tilton/Getty Images
Matt Kenseth will have Best Buy as a primary sponsor for nine races and Carl Edwards for two races in 2012. 
Best Buy released a statement with the news on their website.
"Best Buy is thrilled to announce this new NASCAR sponsorship deal with Roush Fenway Racing," said Drew Panayiotou, senior vice president of marketing for Best Buy. "Roush Fenway Racing is a great fit for Best Buy Racing. NASCAR continues to be a relevant way for us to connect with our customers.  Our goal is to reach our target audiences in a meaningful way, while maximizing the value of our marketing and sponsorship investments."
"We are extremely pleased to announce this partnership with Best Buy," said Roush Fenway co-owner Jack Roush.  "Best Buy is an industry leader and a top brand globally.  They do a great deal to market and support their teams and we are pleased to be working with an organization that is as enthusiastic about racing as Best Buy. We feel it is a great fit with our organization and we look forward to a great partnership together."
This is important news for both drivers.  Matt Kenseth lost primary sponsor Crown Royal at the end of the 2011 season.  Jack Roush did pledge to race the No. 17 car if no sponsors were found for the 2012 season.
Best Buy has been the sponsor of the No. 43 Richard Petty Motorsports car driven by A.J. Allmendinger.
The electronics retail store chain was rumored to be looking around for a new team to sponsor.  RPM was looking at replacing Allmendinger with Kurt Busch to keep the company support on the legendary No. 43 car.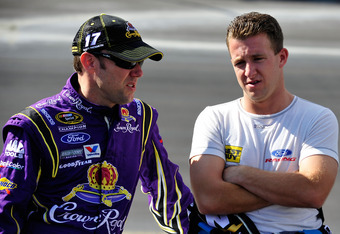 Rainier Ehrhardt/Getty Images
Richard Petty, co-owner of Richard Petty Motorsports, said in a statement, "We have had a successful and rewarding relationship with Best Buy for the past few years and appreciate all they have done for us.  Although it is very disappointing that Best Buy is changing directions at this late date, we wish all of our friends there the best in their future endeavors."
"Our plan has always been to run a two-car team in the Sprint Cup Series in 2012 and we are continuing down that path," Petty added. "We have several partners that remain committed to the No. 43 team. We will move forward and explore all of our options in regard to the No. 43 program in the coming weeks."
This is tough news for RPM who now have the challenging task of finding a new primary sponsor to fill in 26 races next season.  
Both Kenseth and Edwards are still seeking sponsors for Sprint Cup races.
This is just another example of how the economy is hurting NASCAR.