MAACO Bowl Las Vegas: A Matchup That Could Give the Broncos Trouble
December 20, 2011
Ethan Miller/Getty Images
The 2011 MAACO Bowl Las Vegas is just a couple of days away. Most experts, fans, and even casual observers believe Boise State will dominate Arizona State and win going away.
Currently the line on this game sits at Boise State -14.
It is the largest spread on the board, and it shows the confidence and respect that most have in BSU's ability to handle this contest.
The large point spread over an even less-than-stellar Pac-12 team, demonstrates how far this program has journeyed over the last decade.
Being favored by one point over a team from a major conference would have been unheard of before the Chris-Petersen era.  It is, in itself, an accomplishment.
However, before anyone writes this game off, or gives the MAACO Bowl trophy to the Broncos prior to the on-the-field action, it might be wise to look closer at some key match-ups.
This Arizona State team is better than some might think.
Remember, this is the same team that started the season 6-2 with key wins then-No.21 Missouri, then-No.23 USC, and played Oregon strong until the Ducks pulled away in the fourth quarter.
In the first half of the season, the Sun Devils held every opponent, except one, to under 24 points.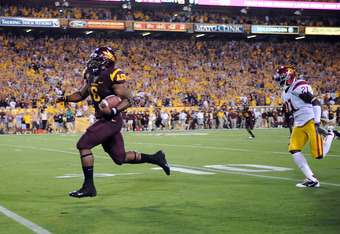 Norm Hall/Getty Images
They looked strong, and they were certainly in line for the Pac-12 title.
Fast forward to the end of the season.
You realize that key injuries, some poor coaching decisions, and a few bad breaks brought Arizona State to a very disappointing conclusion.
But, a win over the Broncos would sure be a nice way to end a season on a high note, especially after several weeks of disappointments and let downs.
Dennis Erickson has nothing to lose, and he is familiar with the Broncos.
As you probably know, Dennis Erickson is on his way out as head coach of the Sun Devils. He has already been given his proverbial walking papers, but he has been allowed to coach this one last game.
It will most likely be his last game ever as a head coach.
You can bet that Erickson will go all-in while playing in Vegas. This could be his last stand.
Expect things you wouldn't otherwise witness—going for it on fourth down, trick plays, maybe a fake punt or field goal, all out blitzing, you name it—Erickson is probably going to try it.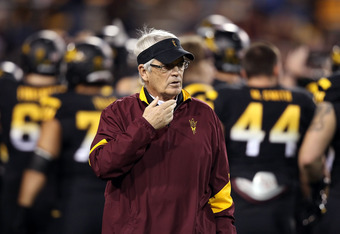 Christian Petersen/Getty Images
Why not?
Not only that, but Dennis Erickson is familiar with Boise State.
He of course, was the head coach at Idaho two different times, from 1982-1985 and again in 2006.  He was also the offensive coordinator for the Vandals from 1974-1975.
He is very familiar with the Boise State program, and don't think for a second he doesn't still harbor that rivalry spirit as a former Vandal coach.
To say beating Boise State in his last hurrah would be a nice way to end his career is like saying one of the Kardashian sisters would like to have their picture taken.
Perhaps, the most important thing is the key match-up.
Here is where the nightmare of being upset by the Sun Devil's gets some traction.
If you watched the TCU/Boise State game, you witnessed a monumental collapse in the secondary of the Bronco defense.
On that day, the BSU secondary was lit up for 473 yards. The Horned Frogs had 506 yards total offense. to say it was the passing game that beat the Broncos would be a huge understatement.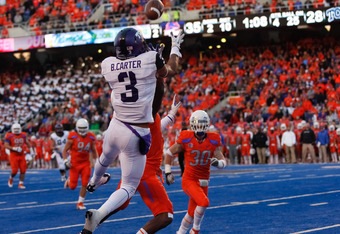 Otto Kitsinger III/Getty Images
Of course, we know that this had a great deal to with the fact that key Boise State players were injured, some out for the season.  TCU knew that, and they hit the Broncos where it hurt.
Fast forward to the MAACO Bowl.  
Has the Bronco defense made the right adjustments?
The secondary has been a huge challenge for Petersen and his Broncos this year. They have started seven players at cornerback because of injuries and because of backups failing to do their job.
In the last part of the season, the coaching staff moved George Iloka from free safety to cornerback and they put Travis Stanaway in Iloka's spot at safety.
Did it work?  
Sure, against the likes of Wyoming and New Mexico. But will these adjustments stand up under the test of the ASU offense?
Here is where it gets a little scary for Bronco Nation. 
Arizona State is ranked No.11 in the nation for passing offense. They average just over 310 yards per game. Their quarterback, Brock Osweiler, is an old-fashioned gun-slinger. He had 3,641 passing yards and 24 touchdowns this season.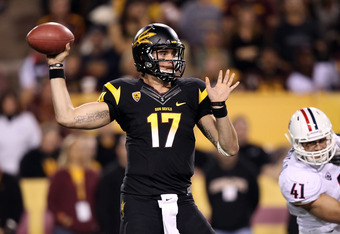 Christian Petersen/Getty Images
ASU runs a pretty effective spread offense that features four wide receivers. Osweiler likes to spread the ball around, and he has done so effectively.
He has passed to 14 different receivers on the year and eight different individuals have caught touchdowns from him.
Gerell Robinson leads the core of receivers with 1,156 yards on 64 receptions and averages 18.1 yards per grab.
For the Broncos to make this game turn out the way many think it should, they are going to have to keep the passing game of ASU in check—and that won't be easy.
Not only that, but Arizona State has a pretty good running back, as well.
Cameron Marshall has over 1,000 yards on the ground this year, which means that the Broncos won't be able just to play the pass all night.
BSU has been very effective against the run this year, but the dual-threat nature of this ASU offense makes this game far more challenging than many know.
Overall, the match-up in the secondary will be key.
ASU has scored at least 27 points in every game this year except a strange game against Illinois early on in the year. In that game they turned the ball over three times and got completely out of rhythm on offense.
This is the key for BSU.  
They will have to force turnovers and keep Osweiler and the potent offense from getting into sync.
If the Broncos fail to do that, it will be a long night.  Sure, Kellen Moore and the boys can score too, but a shoot-out is probably not what Coach Petersen wants.
Those kind of games usually come down to who has the ball last and who has an effective field goal kicker.
That wouldn't be good for the Broncos.
So before any of you think that Boise State is simply going to walk into Vegas and pick up a trophy, you might want to reevaluate.
This game has the ingredients to be tense, tough, and entertaining.
It's Las Vegas; look for both teams to go all-in.