Dallas Mavericks Without a LeBron James Villain: Shawn Marion Still Wants Love
December 20, 2011
Shawn Marion wants your attention right now, and he's wanted it for a long time. 
This is what he said back in 2005 to Jack McCallum when Marion was a Sun: "I mean, damn, I'm doing things in this league nobody else is doing. Come on, now. Give me my respect."
You don't have to just go to page 57 of McCallum's Seven Seconds or Less to find quotes like that from Marion. Marion's woebegone sentiment appears at a lot of turns in that fascinating work.
Marion wanted to be respected for the versatility that he brought to the game: How he could guard agile wing men on one trip down the floor and then play lock down post-defense on a big guy during the next transition. 
Marion's most famous moniker is "The Matrix" because he once had freakishly fluid hang time. So, even his nickname is a distraction from his multiple-position prowess. He is the Rodney Dangerfield of denial defense.
It is understandable why Marion has perennially battled the lack of respect bug. If we are being honest, and only if Shawn Marion is nowhere within earshot, his shooting motion has all the maturity and grace of a toddler heaving a Nerf ball into a cardboard box.
Still, when you pick up an NBA Championship, shouldn't you earn enough credit to be able to shoot granny shots for free throws if you want?  Maybe if Marion did that, he would at least get some people looking Dallas' way out of sheer curiosity.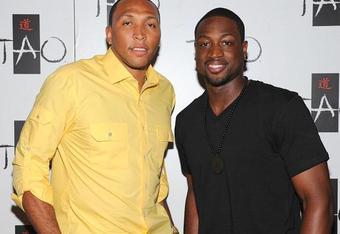 Right now, not a whole lot of people are wondering about the Mavs, and that is getting on Marion's last 33-year-old nerve.
"We've gotten to the point where everybody started overlooking us and talking about everybody else, and I kind of got [mad] about it. Y'all trying to take something away from us that we've worked hard for and we took."  
Marion is right; there hasn't been a whole lot of chatter about a potential repeat in Dallas. Does anyone outside of that big pocket of the huge state of Texas care about these guys?
There might be some reasons not to. 
The Mavs are owned by billionaire Mark Cuban.  Making crazy cash before you are 40 is not the best path to most likable and relatable status.  Cuban has mellowed with time (and more money), but his historically frantic macho bravado made him less than an endearing figure for fans around the league for many years, and those memories of on-court tantrums may linger.
 To find a more heavy drain on potential Mav fandom this year, though, you need to go southeast to South Beach, where Lebron James no longer self-identifies as a villain.  He wants to play nice, because playing angry last year took him to another place: a land far, far away from fourth quarter excellence.
With dissipating Lebron hate, can the Mavs still muster some love outside of Dallas?  In the championships last year, they picked up a lot of fans who were still in an "anyone-but-Lebron campaign," but they have had an entire lockout for their fury to fizzle.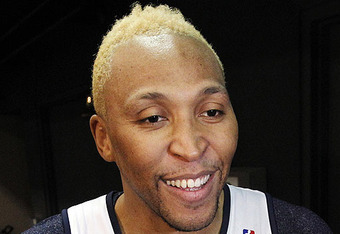 Lebron and the average NBA fan may be less burdened with anger, but Marion is ticked.  And that is intriguing.
So what does Shawn Marion have to do to get your attention?  Dye his hair peroxide blond like he is some kind of 2011 remix of a '90s Dennis Rodman?  Well, guess what?  He did that.
So where is your excuse now, casual NBA fan or diehard with a team you already follow outside of Dallas?  Why aren't the Mavs on your radar to win it all again?
Shawn Marion thinks the Mavs will repeat this year, and he has good reason to believe that.
For years, Marion has been scurrying around the perimeter chasing one of the most versatile players in the league, Lamar Odom.  Now Marion and Odom are together.  Although they technically play the same position, coach Rick Carlisle can get creative with this crew.  
Watch what happens when Odom, Marion, and Nowitzki end up on the same side of the floor on offense. More often than not, opponents will be scrambling as that trio finds and exploits a mismatch.
It is bound to happen because these three are misfits. 
Nowitzki is a seven footer who drains threes like a shooting guard. Odom has a nice handle for a 6'10 power forward, and can either drive to the hoop or pull up for his own long range jumpers. Marion doesn't have the shooting touch of the other two, but he can play in the post with his back to the basket or on the perimeter, where he can surprise defenders with a quick drive and flick floater.  
That's why Marion wants your attention. 
Pay attention to the game against the Heat on Christmas Day and you will see the nascent development of the triple threat of Odom, Marion, and Nowitzki. 
By playoff time, they will be more than a threat. Even the occasional presence of those three together on the floor will be deadly against opponents. . 
If the Mavs repeat, then, it will have a lot to do with Shawn Marion and how cohesively he gels with his new teammate. 
And even if no one else realizes that, Shawn Marion does.  Lamar Odom has been on his radar for a long time.
And that's why Marion wants the Mavs to be on yours.