Steelers vs 49ers: 5 Things We Learned from Pittsburgh's 20-3 Loss
Thearon W. Henderson/Getty Images
To borrow from the slang of today. This was an "epic fail" by the Pittsburgh Steelers.
The offense couldn't move the ball. The defense couldn't stop the 49ers consistently. The Steelers reverted to their turnover-prone, leaky defending ways of Week 1.
And they lost. They deserved to lose the game. With so much on the line, the Steelers simply withered.
Hurt quarterback or no, this was a game they simply needed to win. Now, they'll almost certainly go on the road in the playoffs. They haven't been a very good road team either, with three of their four losses there.
Let's take a look at the lessons. I'll warn you now, it's not pretty at all.
I will make one comment on the officials right up front: You know it's a badly officiated game when the announcers analyze every penalty as a bad call.
Mortality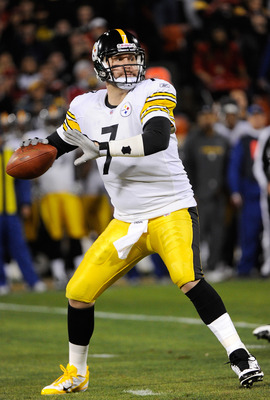 Thearon W. Henderson/Getty Images
Lesson
Win or lose, this was not Ben Roethlisberger's best night. It wasn't going to be. The Steelers got a good look at what mortality looks like, however.
Analysis
He played. Whether you think he should have or not is now immaterial.
Ben Roethlisberger gutted it out, but he looked rough at times. I was impressed regardless of the numbers. Playing with a high ankle sprain is no easy business.
Still, the Steelers got a look at why they need a healthy Ben Roethlisberger.
You can't tell me he throws both of those first-half interceptions if he's healthy (or at least as healthy as he was two weeks ago). Maybe one. The first one looked like a bad play period. The second was a bad decision and a bad throw.
The Steelers need a healthy Roethlisberger. In a weird way, that's why he played this week—to give the team a shot at a bye week to get healthy.
Kudos to him for playing, but a great lesson learned for a team that's starting to realize just what MVP means.
Soft-Zone Woes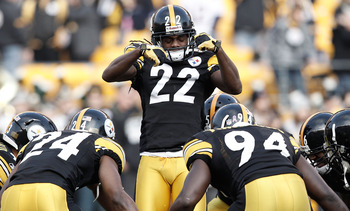 Jared Wickerham/Getty Images
Lesson
The soft zone played by the Pittsburgh corners absolutely needs to be scrapped.
Analysis
How much game film is Dick LeBeau watching, and what does he see in the Pittsburgh pass coverage that I don't?
I'll tell you what I don't see. Effective coverage. Period.
Screens worked all night. Short passes worked all night. The Steelers kept getting sucked into the same mistakes.
The soft zone doesn't work. These corners play better in man coverage. They were amazing against the Patriots and were good against every other team where they bothered to line up in the face of opposing receivers.
That's what cost the points in this game. Not the turnovers. The defense simply couldn't end San Francisco drives. Alex Smith had time to throw and receivers kept coming open. That cannot keep happening. There are no chump teams in the playoffs. They all have good receivers.
Third-Down Defense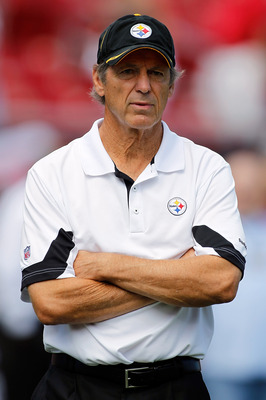 J. Meric/Getty Images
Lesson
Same old story on third downs. The defense still cannot get off the field.
Analysis
We've seen this so many times. First down, the defense stops them. Second down, the defense stuffs them. Third down, the defense gives up a big play.
This is a product of a weird inability to play the same defense on third down that they play on first and second down.
I'm not sure what the issue is. Part of me says it has to be schematic. Part of me thinks its something else.
I do know that it's a big reason the 49ers had a 6-0 lead early. The team that was 31st in the league on third-down percentage coming into the game and was nearly unstoppable after routinely struggling on first and second down.
Dick LeBeau hasn't had a good year when it comes to consistency. His defense has given up a lot of big plays at the wrong times, and it's taken them a very long time to get to even a shadow of the defense we saw throughout 2010.
Lack of Creativity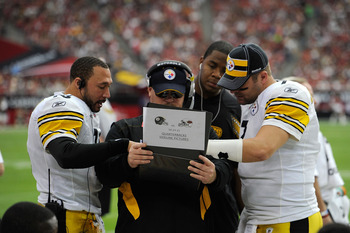 Karl Walter/Getty Images
Lesson
Hurt quarterback or not, the worst thing that could happen was for the Pittsburgh offense to get predictable. Well, the worst happened.
Analysis
It took until near the end of the third quarter for the Steelers to use the no-huddle. There was a lot of running on first and second down. There were no tricks, no efforts to disguise the elephant in the room (Ben's injury).
What about Hines Ward throwing a pass or two? What about some of those end-around plays with the speedy receivers?
Anything at all would have sufficed.
Bruce Arians doesn't have it.
I know Ben Roethlisberger is hurt, but becoming a predictable offense isn't the answer. Roethlisberger threw the ball well after he shook off some early struggles. The Steelers needed to capitalize on that, but they didn't.
If they're going to survive while Big Ben recovers his mobility, they're going to have to get a little bit more creative than they usually are (which isn't much). Otherwise, teams are going to start teeing off on a guy who's now a pocket passer.
No Guts, No Glory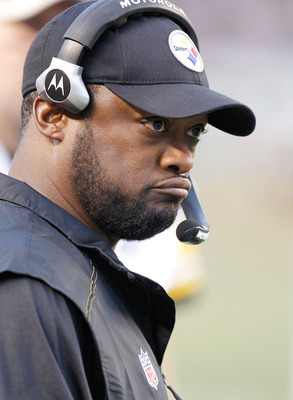 Gregory Shamus/Getty Images
Lesson
The title says it all. The Steelers don't take any risks under Mike Tomlin.
Analysis
There was one drive during the game that made me angry.
It was the drive that ended with Shaun Suisham's 50-yard field goal.
I understand the premise that some points are better than no points. But the defense needed to be off the field, and the offense was clicking (until some more timely run-run-pass sequences slowed them up). That's when you take some chances.
The Steelers opted for a low-percentage field goal attempt (which worked) instead of trying to pick up a short first down and keep the drive going for a potential touchdown.
The 49ers responded by driving down the field and scoring a touchdown. The Steelers responded to that by driving in and missing a 48-yard kick.
No risk, no reward. Mike Tomlin, it's time to take the training wheels off and try to WIN games instead of just SURVIVING them. Survival in the NFL equates to playing not to lose.
When you do that, you lose an awful lot of winnable games.
Keep Reading

Pittsburgh Steelers: Like this team?