Notre Dame Fighting Irish Hoops: Has Mike Brey Really Earned a Free Pass?
December 20, 2011
Jamie Squire/Getty Images
The Notre Dame Men's basketball team missed their final chance for a marquee non-conference win on Saturday when they were bested by the Indiana Hoosiers 69-58.
After the game, Irish head coach Mike Brey spoke glowingly of the opposition.  
They're a great example of a group that's been together and they've been kicked around," Brey said. "They've got great kids, and Tom (Crean) has done a great job leading them through tough times. Now it's time to deliver, and they're ready to do it."
One gets the feeling that Brey was alluding to his own team, a squad that has been kicked around plenty in non-conference play. The problem is that Notre Dame will never be Indiana in basketball the same as the Hoosiers will never be the football school that Notre Dame is.  
Irish fans who are sitting back and waiting for Brey to bring them an Indiana-style national championship team better have a nice comfortable reclining chair. 
Last season, Notre Dame had more wins in the modern era than any Irish team before them with 27. With the team ranked fifth nationally, visions of the Final Four danced inside the heads of the Purcell Pavilion faithful.
If not Houston, then at least the Elite Eight and definitely the Sweet 16. But instead the Irish were erased in the round of 32 by a pedestrian Florida State team, leaving the Blue and Gold faithful to hearken, "If not now, when?"  
"When" will certainly not be this year as an Irish team burdened by bad breaks and freak injuries will struggle just to keep their heads above water in the ultra-competitive Big East.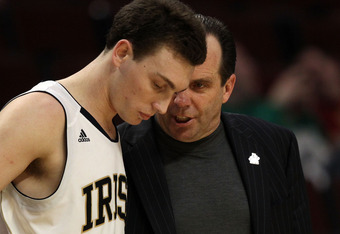 Jonathan Daniel/Getty Images
Even as the Irish wiped out Sacred Heart College 106-65 Monday night, they found themselves wondering when and where their next victory will come from. 
For there are no patsies like Sacred Heart in the Big East, and the young Irish will be baptized by fire on January 27th when they take on Pittsburgh in a suicide mission at Purcell Pavilion.  
It really is hard to find even five or six wins left on the Notre Dame schedule, since the Irish have not been competitive in any game against a non-conference major, except for maybe the Indiana game.
One could also argue that the Hoosiers were flat and ripe for an upset after coming off an epic victory over top-ranked Kentucky. Still, Brey and the Irish did not deliver.
Or maybe against Georgia, when the Irish were out-hustled down the stretch in a 61-57 loss. Plus, in that game they even had star forward Tim Abromaitis, who has since been lost for the season with a knee injury. 
Brey has never had a losing season at Notre Dame in this his 12th year at the helm. If he does, will disgruntled fans start calling for his head? It has happened before and each time Brey has responded by kicking the wolves back out the door. 
In 2004-05, Brey's Fighting Irish finished 17-12, despite having a talented team that featured former Indiana Mr. Basketball Chris Thomas. The year ended with five losses in six games, including an embarrassing home ouster from the NIT by an unheralded Holy Cross outfit.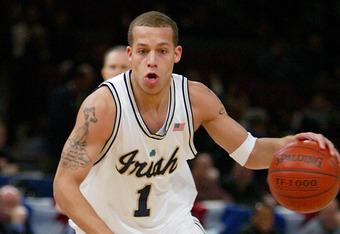 Al Bello/Getty Images
In 2005-06, an Irish team that was snake bitten by an almost unbelievable string of last-second overtime and one-point losses finished 16-14. They already had the platter—all they needed was Brey's head on it. 
But Brey fought back.
An Irish team that was expected to do little the next year finished 24-8.
Still, there was the specter of performing poorly in the NCAA Tournament as the Irish vanished in the very first round, having been foiled by a Winthrop team that had previously been 0-6 in the Big Dance.
But again, the next year Notre Dame finished 25-8 and came in a surprising second in the Big East after going 14-4 in conference play.
Luke Harangody emerged as a major star and when the Irish disposed of George Mason in the first round of the NCAAs, this was viewed as progress and for the second straight season, Brey was named Big East Coach of the Year.
In 2008-09, however, the Irish returned with virtually everyone from that same team—only to struggle through a seven-game losing streak and finish out of the money, exiled to the NIT and a disappointing 21-15 record.  
Again, people were calling for Brey's scalp before the emergence of transfer/psycho/superstar Ben Hansbrough. After two straight NCAA Tournament berths, Brey again sidestepped the bullet.
There seemed to be a lot of interest in Brey from the Maryland program once Gary Williams stepped down, and many Irish fans secretly hoped that he would be courted away by the Terrapins. But the job eventually went to Mark Turgeon, and Brey was back for better or worse.
Well, "worse" has arrived under the Golden Dome and it doesn't look like the Fighting Irish will see the forest for the trees, at least not for this season and maybe not even the next.
And if things get bad enough, then I guess we'll find out if Brey has done enough in his tenure to weather what is sure to be a violent storm.