College Bowl Predictions: Coaches on the Hot Seat Need a Win
December 19, 2011
Ezra Shaw/Getty Images
The job security of the following coaches is riding on their team's performances in upcoming bowl games. These guys may or may not lose their job at the conclusion of this season, but they will definitely be starting next season on the hot seat if they lose.
Brian Kelly, Notre Dame
Since Lou Holtz left in 1996, Notre Dame has gone through four coaches. The three coaches preceding Kelly in that span lasted between three and five seasons. Kelly will be entering his third season next year.
He won't lose his job before next year, but he will be starting that season with a burning hot seat if he can't coach the Irish to a victory in the Champs Sports Bowl against Florida State.
A loss would drop Notre Dame to their second consecutive 8-5 season. And the powers at Notre Dame will at least want to see some signs of progress.
The Irish flashed some real potential this year, and they turned things around after an 0-2 start. However, they played an exceptionally weak schedule. They ended with just three games against BCS ranked opponents and they lost two of them. Throw in USC, who is not eligible for the BCS, and they lost three of four games against ranked opponents.
Their win against Michigan State was the only quality win of the season. The other seven wins were against teams they should easily beat. Kelly needs to prove he can beat top tier competition.
Paul Johnson, Georgia Tech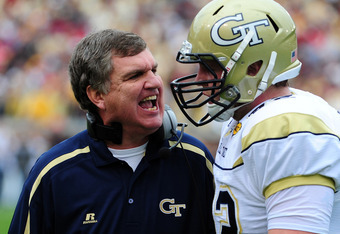 Scott Cunningham/Getty Images
Paul Johnson is in his fourth year at Georgia Tech. While he is not in jeopardy of losing his job this season—he is in danger of being in a position to lose it next year.
Johnson had his best season with the Yellow Jackets in 2009 when he went 11-3. He followed that up by going 6-7 the following season and then 8-4 this year.
That 8-4 mark is solid, but it is the way that Georgia Tech finished the year that has his seat warming up. They lost four of their last six games, and his one-dimensional offense looked completely overmatched.
They will be playing a Utah team they should be able to handle easily in the Sun Bowl. It will raise some serious eyebrows if he can't coach his team to victory there.
Jim Grobe, Wake Forest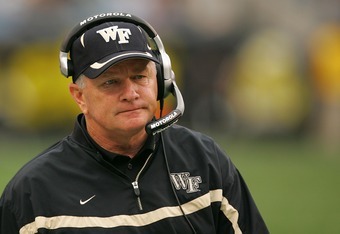 Streeter Lecka/Getty Images
Grobe is in his 11th season as the head man at Wake Forest. He hit is high point in 2006 when the Demon Deacons went 11-3 and he was named the ACC Coach of the Year.
It has been a steady decline since then. His win totals dropped in the following years, from nine wins in 2007 to just three in 2010.
Grobe and Wake Forest slowed that trend by posting six wins and qualifying for a bowl game this year, but the way they ended the season is not going to inspire any job security.
They lost five of their last seven games, and looked completely uninterested in their finale losing to Vanderbilt 41-7.
They are now headed to the Music City Bowl to take on Mississippi State, and Grobe needs to coach his team to a far better effort than the ones they displayed at the end of the season if he wants to hold onto his job.