James Starks Injury: Updates on Packers RB's Week 16 Status and Fantasy Value
December 19, 2011
Matthew Stockman/Getty Images
The Green Bay Packers are gearing up for the playoffs as some of their offensive weapons hit the sidelines with injuries. We have all the information you need on star running back James Starks and his ankle injury. 
Starks has missed the Packers' last two games with a lingering ankle issue that the Packers hope will get better by the time the games that really matter roll around. Here is the latest on that nagging injury.
UPDATE: Friday, December 23rd, 2:30 p.m. EST
According to Rotoworld, James Starks is probable for Sunday's game against the Chicago Bears. Even though he will likely play this week, there is no way he should be started on your fantasy football team especially with a league title on the line.
The Bears run defense only allows 98.7 yards on the ground per game. 
UPDATED: Monday, December, 19th, 4:55 p.m. EST
CBS Sports reported Starks was ready and willing to play in the Packers' eventual loss to the Kansas City Chiefs. Instead, the team placed him on the inactive list. 
It's clear the team and player have differences of opinion on how that ankle is doing. The Packers now face a team that is just as banged up as they are on offense in the Chicago Bears. 
With the Bears having issues scoring sans Jay Cutler and Matt Forte, the Packers may once again err on the side of caution.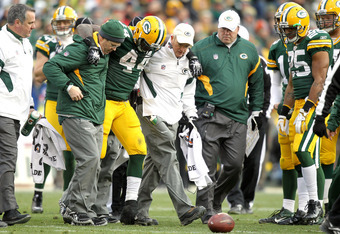 Matthew Stockman/Getty Images
This will have to be monitored all week. After a couple of crucial practices, we will know if this is the week that Starks comes back to the Packers backfield. 
Going into week 16, I would prepare to start Ryan Grant once again for owners that have him. If you still have Starks, get ready to sit him once again. Even if he is game-ready, the best-case scenario is limited touches. 
The Packers are not about to risk another key injury headed into the playoffs.