The 25 Craziest Moments in MMA History
Nothing is ever set in stone.
In a drop of a dime or a matter of seconds, an individual's world can change for the better or for the worse.
The sport of mixed martial arts is no different as it has become the home to some of the most bizarre, unbelievable and craziest finishes known to mankind.
What sets MMA apart from the rest of the sports world is the uncertainty which lies before each fighter before they step inside the ring or Octagon.
This has held true since the sport was first established and will remain until the sport is no longer around.
But, it's the craziest moments that have helped define the sport of MMA and transform it into what it is today.
So, the following slides display the 25 craziest moments in MMA history.
Begin Slideshow

»
At the Ultimate Fighter Season 4 Finale, Scott Smith found himself in a world of trouble as Pete Sell connected on a grueling body shot.
Smith, all but finished off, found himself being entered in on by Sell.
Amazingly, at the jaws of defeat, Smith managed to throw just one blow before all was said and done that would drop Sell to his back and allow him to be declared victorious in one of the craziest bouts of all time.
It was UFC 95 when the heavy favorite Josh Koscheck began to hunt down his opponent Paulo Thiago in a welterweight matchup.
Thiago, constantly backpedaling, appeared to be on the verge of defeat as he had no answer for Koscheck's stand-up or vicious attack.
Then, out of nowhere, Thiago countered with a huge left hook that would finish Koscheck in a crazy turn of events.
After Jake Shields' biggest and most surprising win of his career over Dan Henderson at Strikeforce: Nashville, things got out of hand.
First there was Jason "Mayhem" Miller, then Nick Diaz.
Followed by a Gilbert Melendez appearance and, of course, the Gracie brothers.
Absolutely nuts.
Even in the lowest moments of his career, Anderson Silva still manages to overcome adversity.
In an absolutely dominating performance, Silva found himself on his back with fellow middleweight Chael Sonnen unloading through power punches and elbows.
With just a little under two minutes remaining before a new 185-pound champion was established, Silva connected on a triangle choke which allowed him to remain supreme.
In one of the most exciting fights of all time, Terry Martin found himself in an all-out slugfest with Chris "The Crippler" Leben.
It was the third and final round of action as Martin and Leben looked to cap off a spectacular night full of heavy hitting.
With time ticking away, Martin stood a few feet away from Leben and taunted his opponent. Leben responded with a huge blow that finished Martin off for good.
Gilbert Yvel is like a box of chocolates: You never know what you're going to get.
And, the referee of Yvel's match apparently had no idea what was about to unfold when he was sucker-punched by the angry Yvel.
Not surprising, but by all means crazy.
In a one-sided affair at the Ultimate Fighter Season 6 Finale, Roger Huerta found himself one round away from defeat as he was being dominated by Clay Guida.
When the two met in the center of the Octagon for the third and final round, it was Huerta who shocked the world by sending Guida to the ground.
Huerta pounced on his opponent and secured a rear-naked choke, giving him a crazy come-from-behind victory.
Somehow, someway, Mike Russow managed to overcome two rounds of brutal striking from his opponent Todd Duffee.
The third round finally came to be as it was Russow who would take the cake just minutes before the fight would go to the judges' scorecards.
A huge right sent Duffee packing his bags as Russow was announced victorious by way of knockout.
It was Pride Critical Countdown 2004 when Ricardo Arona entered the ring to take on world-class striker Quinton "Rampage" Jackson.
However, it wasn't Jackson's striking that will be remembered from their historical bout.
After picking up Arona and throwing him over his head, Jackson slammed his opponent to the ground for an immediate knockout.
Fighting for one six-figure contract, Forrest Griffin met Stephan Bonnar in what would go down as arguably the craziest showdown of all time.
In an all-out-war, Griffin and Bonnar exchanged strikes for three consecutive rounds before the bout was stopped by the final bell.
Griffin would win the fight but Bonnar was also awarded a contract by UFC president Dana White.
In one for the ages, Dan Henderson was just seconds away from finishing off his opponent Mauricio "Shogun" Rua.
After three rounds of failing to finish "Shogun," the tides turned towards Rua as he began pounding away on the once-dominant light heavyweight.
However, Rua couldn't finish either as the bout headed to the judges' scorecards for a decision, allowing Henderson to prevail by the slimmest margin.
Chuck Liddell may have been on the final stretch of his UFC career but it didn't stop him from putting on one of the craziest performances of all time against Wanderlei Silva at UFC 79.
Liddell and Silva met in the center of the Octagon and began teeing off on one another for 15 straight minutes.
Neither could finish the other as Liddell would eventually be declared the victor by unanimous decision.
Fedor Emelianenko entered Strikeforce: Fedor vs. Werdum in what was supposed to be just another fight.
Little did he know it would change his career and legacy forever as Fedor found himself in a world of trouble in the very first round.
Then, Werdum connected on a triangle armbar that would cap off the biggest win of his career and the first Fedor loss in nearly 10 years.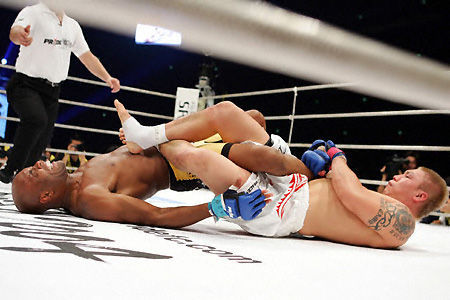 To think Anderson Silva and the word "defeat" would ever go hand in hand would be politically incorrect.
But, it happened.
Not only did Silva fall to defeat against Ryo Chonan but he was a victim of one of the craziest submissions of all time.
The flying heel hook.
No one gave Matt Serra a chance heading into his championship bout with Georges St-Pierre at UFC 69, and rightfully so.
However, Serra didn't need anyone to believe in him other than himself as he rocked St-Pierre early in the first frame and finished him as mouths in every part of the world dropped in amazement.
Craziness.
There has been a fair share of broken bones throughout the years of mixed martial arts.
However, few can compare to Corey Hill's leg that was broken in a bout against Dale Hartt.
Ouch.
Leading up to the biggest fight of his MMA career, Nick Diaz was nowhere to be found.
In a mandatory press conference to advertise his championship fight with Georges St-Pierre, Diaz blew off not one, but two events in Las Vegas and Canada.
As a result, Diaz was removed from the fight card only to be added back on and eventually become the main event of the evening.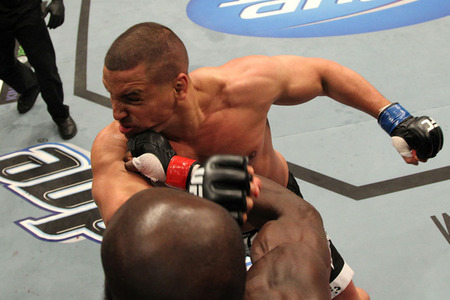 It a fight that wouldn't make it out of the first round, Cheick Kongo met Pat Barry for the main event of UFC Live on Versus over the summer of 2011.
Pat Barry pushed Kongo up against the cage and began to unload as it appeared Kongo was just one strike away from defeat.
Then, out of nowhere, Kongo connected on a blow that sent Barry unconscious.
Emmanuel Yarborough, the largest man to have participated in any sport, took on Daiju Takase at Pride 3 in 1998.
Takase found himself in the hands of his opponent as those in attendance waited for the 6'8'', 600-pound Yarborough to crush the body on Takase.
Unexpectedly, it was reversed as the little Takase began teeing off on Yarborough's head as the giant tapped out.
Let's get one thing straight: Kimo Leopoldo isn't Jesus and never will be.
But, that didn't stop him from role-playing as he carried an enormous cross on his back on his way to the Octagon.
No explanation needs to be given.
Strange, weird, crazy and all of the above.
If you haven't heard this one before, well, you're in for a treat.
Kevin Randleman was set to take on Pedro Rizzo at UFC 24 in hopes of successfully defending his heavyweight championship.
Unfortunately for Randleman, that never happened.
Randleman was backstage before the fight began only to slip on a pile of pipes which sent him to the floor, knocking himself senseless.
It was the first fight of Tank Abbott's MMA career when he met Jon Matua at UFC 6 in 1995.
Fortunately for Abbott, his bout lasted a whopping 18 seconds as he knocked out Matua in memorable fashion.
Arms up, legs up, boom.
In the first-ever UFC event, Teila Tuli entered the Octagon with one mission in mind: defeat Gerard Gordeau.
Another mission for Tuli should have been to leave the Octagon with all his teeth in place but that didn't happen either.
After a huge leg kick that connected to the mouth of Tuli, fans and those in attendance saw something that's hardly ever happened before.
Tuli's teeth went flying out of his mouth. Just one, but still crazy.
If you can't beat them inside the Octagon, well, then beat them in the hospital.
Or so thought Nick Diaz, who began a brawl with Joe Riggs following his loss at UFC 57.
This is just another crazy event that's occurred from a direct result of Diaz's actions.
Tom Lawlor didn't literally bring dogs with him to his bout against C.B. Dollaway at UFC 100 but pretty close.
Instead, Lawlor walked in teammate Seth Petruzelli on a leash as his entrance music blared, "Who Let the Dogs Out."
Now that is crazy.