Atlanta Falcons: Why Fan Criticism Means Future Success
December 19, 2011
Kevin C. Cox/Getty Images
Expectations for Falcons' football in Atlanta has rarely been high during the team's 44-year history. One can count single, successful seasons on one hand.
1980. 1991. 1998. 2002. 2004. 2008. 2009. 2010. 
Okay, so maybe not on one hand. But still, the Falcons history has been a laughable one. During the past four decades, fans have learned to not invest too much in the team's output. Losing seasons were okay. Winning seasons were nearly cause for riots.
You will notice, from the list of winning seasons posted above, that the right side is pretty clumped. General manager Thomas Dimitroff, owner Arthur Blank, head coach Mike Smith and quarterback Matt Ryan have completely flip-flopped the football culture in Atlanta.
Smith has compiled 42 wins in four seasons of coaching and the Falcons still have two games—and potential playoff games—to win before the 2011 campaign is complete.
At 9-5, the Falcons, albeit quietly, have had another uncharacteristically successful season. Thursday night's win against the Jacksonville Jaguars sealed the franchise's fourth-straight winning season. Although you were probably already aware, the team had not had back-to-back winning seasons in franchise history before 2009.
Fans aren't too happy. They've been sitting on their hands, shaking their heads and questioning the apparent schizophrenia of the roster and coordinating staff.
So, maybe last year's magical 13-3 season spoiled Falcons fans a little bit? Maybe fans should be basking in the moment right now.
I certainly think they should. The reason is simple, yet also reflective of what pundits claim to be irrelevant: stats.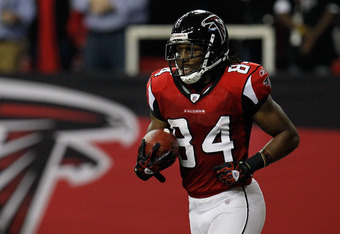 Kevin C. Cox/Getty Images
Atlanta's key position players all are putting up outstanding statistics, yet fans have been griping all year. Check this out.
Matt Ryan has completed 60.8-percent of his passes for 3,698 yards. He has 26 touchdown passes, 12 interceptions and a quarterback rating of 90.5. Tough year, huh?
Michael Turner, who has been criticized for plopping down the second he hits the line, has rushed for 1,129 yards and nine touchdowns. 
Roddy White, who has had what many would call a "down year," has 85 catches for 1,100 yards and eight touchdowns.
Tony Gonzalez has 74 catches for 826 yards and seven touchdowns.
All four of these guys are performing at the highest level. Atlanta has elite talent. Let's not forget they have one of the top run defenses in the league, as well. Having a dominant run defense is considered a key trait of a Super Bowl caliber team.
And, even though fan's expectations render all of these statistics as an "underachievement," the Falcons are soaring high and heating up just in time for January. 
There has not been a time in Falcons history where a possible 10 or 11 win season, with two games left, was considered a disappointment. Additionally, there has not been a time when great offensive statistics have been taken with a grain of salt by the fanbase.
Even during Atlanta's rise to the top during the time Jim Mora and Michael Vick were at the helm, dominating statistics and evidence of a balanced and potent offense were hard to find.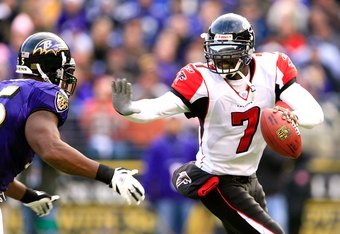 Jamie Squire/Getty Images
Michael Vick, for his entire stint in a Falcons' uniform, struggled to complete 50-percent of his passes and never reached a 3,000 yard passing season. Falcons' fans salivated and dreamt, hopelessly, of a year when Vick could prove to be a solid quarterback.
Receivers at that time—including Roddy White—were struggling to eclipse 50 catches on a season. Alge Crumpler was the only reliable target on offense. 
Warrick Dunn was probably the most consistent performer and even he had some down years.
But, fans were going bananas over that team and their successes. The 9-6-1 season in 2002 made the Falcons the talk of the town. The Falcons were even the talk of the NFL that year. Vick's presence was felt within the first 10 minutes of SportsCenter every day.
But this year, with the team projected to finish 10-6 or 11-5, enthusiasm is at a lull. SportsCenter is hard pressed to find talking points or segments that feature any type of "magic" happening in Atlanta.
Yet, the fanbase doesn't feel as unstable. In fact, the fanbase here feels very stable. You are starting to see Falcons flags, Falcons hats and Falcons bumper stickers in heaps. In excess, sometimes.
There's a calm, committed and loving support of this team that had not existed before. That support includes some tough love. The fans finally expect the best.
Falcons fans are no longer becoming inebriated by the novelty of 1,000 yard receivers or 3,500 yard passers. They aren't even having ecstatic fits when the team reaches a winning season.
Fans are expecting a Super Bowl run and they are seeing a team that has actually underachieved, yet still shows up as potent on the stat sheets.
That's a formula for a team that every NFL franchise needs to be scared of for years to come, if not during this year's playoffs.