Toronto Maple Leafs: 10 Reasons Ron Wilson Doesn't Deserve a Contract Extension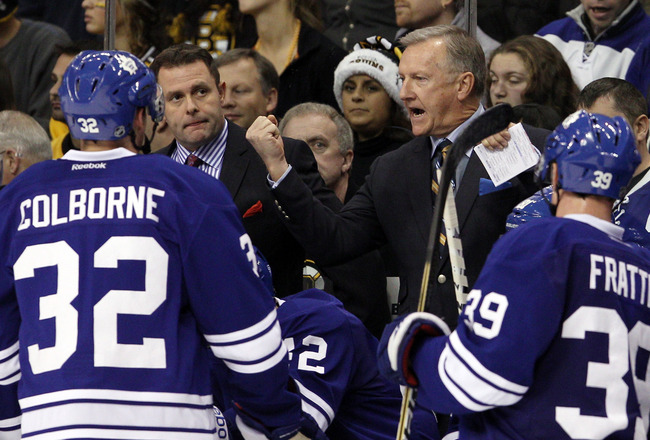 Elsa/Getty Images
The Leafs began the 2011-12 season in fine style and sat atop of Northeast Division for some time. As the schedule got harder, so did the ability to win games.
After losing starting goaltender James Reimer to concussion-like symptoms for almost six weeks, the Leafs really started to look like a sieve defensively, giving up copious amounts of goals.
As of December 19th, 2011, the Leafs have scored the eighth-most goals in the NHL at 100. However, they have also given up fifth most goals against at 105. No real balance there, and because of that, the Leafs have plummeted in the standings, falling to seventh, one point away from the ninth spot and two points from 12th in the Eastern Conference.
There have been many problems with the Leafs this season, but the main problem of course has been their atrocious specialty teams, where the main focus is their penalty kill. The Leafs are probably considering calling the entire Marlies team up to kill the penalties for them.
Before this recent swoon, the Leafs were talking extension with Ron Wilson. My question is, why? In this slideshow, I'll break down 10 reasons why Ron Wilson should be not given the contract extension and should eventually be axed.
1. Nazem Kadri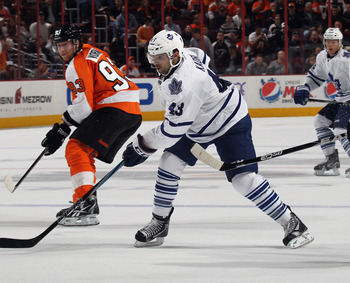 Bruce Bennett/Getty Images
Nazem Kadri, for what its worth, should be on the Leafs' roster today. Kadri averaged nearly a point per game as a rookie in the AHL last season and was demoted back to the AHL in favor of Matt Frattin this season.
While in the AHL, Kadri is back again to his point-per-game pace with 22 points in 22 games with the Baby Buds.
The main reason why Kadri is not up with the big club is because of his supposed lack of defensive ability in his game. He needed to learn the game and a play a 200-foot game, according to Ron Wilson.
The big question for me is, if your team gives up the fifth-most goals without Kadri, what's the harm in putting a player in there who creates offence out of nothing.
If anything, Kadri's presence could strengthen the offensive output of the second or third lines, both of which are struggling mightily this season to score with any consistency.
It's over 32 games into the season and we've seen Kadri for a measly two games this season.
Taken seventh overall in the 2009 draft, Kadri, along with Stars RW Scott Glennie, who was taken right after Kadri, are the only members of that draft to have not played a season in the NHL, or are playing in the NHL right now. Magnus Paarjarvi has played a season in the NHL, but he currently plays in Oklahoma in the AHL this season.
2. Providence College Boys Club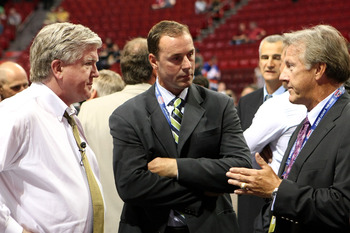 Bruce Bennett/Getty Images
This is a club only two people are a part of. The obvious members of this club are Brian Burke and Ron Wilson.
With their time spent back in the good old days, when the two were college teammates with Providence College in the mid-'70s, it seems Burke's friendship with Wilson may be clouding his judgement in how well Wilson is, or is not doing his job.
Burke has always said, "Who else is out there that has a better career than Ron Wilson?" For me, you don't necessarily need the best coach with the most wins to guide your team; maybe you just need a coach that fits your team?
The Raptors, for example, hired Lenny Wilkens to coach the team. This was back when he was the most prolific winning coach in the NBA. However, his lax style really didn't help the team and they essentially rode the back of Vince Carter to the conference semifinals one season. Did I also mention Wilkens also held the NBA record for most career losses by a coach in the NBA?
But I digress.
3. When Coaches Are Fired, the Teams Usually Play Better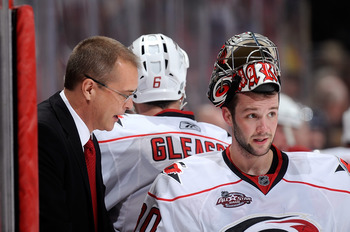 Greg Fiume/Getty Images
Before the start of this season, there were 10 coaches fired midseason, and for the most part their teams did much better after the coach left.
Only three teams—the Canadiens (Guy Carbonneau fired for Bob Gainey), Lightning (Barry Melrose fired for rick Tocchet) and Flyers (John Stevens fired for Peter Laviolette)—did not see a dramatic increase in what Charlie Sheen would refer to as "Winning."
Not only will firing Ron Wilson likely better this team, but not having his negative Nancy attitude towards his players with the media could actually do wonders for a young team like the Leafs.
For a full breakdown of those 10 teams, please visit this webpage.
4. Patrick Marleau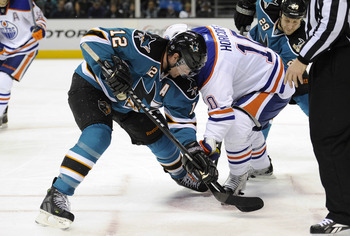 Thearon W. Henderson/Getty Images
Why am I listing a San Jose Sharks player in a Leafs article? You'll see where I'm going with this in a few seconds.
In Ron Wilson's last year with the Sharks, the team had yet another failed playoff run with him at the helm. To make matters worse, one of their better offensive players had a terrible season.
With only 19 goals and 29 assists in 78 games that season, along with a minus-19 rating, Marleau had one of his worst seasons as an NHL player. Once the Sharks fired Wilson, Marleau scored 38, 44 and 37 times, passing his Wilson-era career high of 34 goals each year.
If there's one player to compare Nazem Kadri to, it's this guy. He is the one player who got more of an unfair shake in one season than Marleau did. Pretty amazing stat: For his first five seasons in the NHL, Marleau only eclipsed the 50-point mark once. Since then, only the 2007-08 season in which Wilson got fired was the last time Marleau did not pass the 50-point mark.
5. If the Leafs Extend Wilson and Miss the Playoffs, Does That Make Sense?
Elsa/Getty Images
Since arriving in Toronto, Wilson hasn't won anything. The closest the Leafs have come to the playoffs was last season when the Leafs made a valiant effort but fell short.
The Leafs started out strong this season and some people were calling for an extension for the coach. I said to myself, "Why give a coach an extension after 15 games against some of the worst the NHL can offer?"
Since then, the Leafs have struggled terribly, and the results are being shown in the standings. Giving a coach an extension all the while the Leafs haven't made the playoffs under his guidance makes about as much sense as trying to juggle knives covered in canola oil.
6. There Are Better Options out There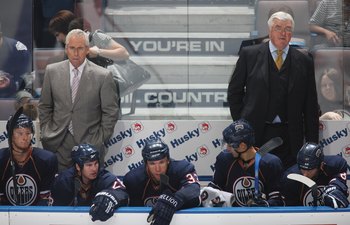 Dale MacMillan/Getty Images
With former coaches like Pat Quinn, Dallas Eakins, Andy Murray, Michel Therrien and Bob Boughner still out there, and the Leafs struggling in many facets of the game, a coaching change would make sense.
Quinn, although he struggled with the Edmonton Oilers, is obviously the most decorated coach still left on the market, and the one with the most wins. After winning World Junior Gold in 2009, he proved to me he can coach a young team and guide them to greatness.
Eakins currently has the Marlies playing some stellar defensive hockey, although they're now struggling to score goals and have been losing games 3-2, 2-1, 2-0, 1-0, etc. He currently has the Marlies' penalty kill as one of the best in the AHL.
Murray took over with the Blues when they were a 15th-ranked team in the Western Conference. Since his arrival there, the young Blues improved greatly and pushed for a playoff spot and falling short.
Therrien is a different story. In his first season with Montreal, he guided the team to a 16-point increase from the previous season. Also, in his first few years with the Penguins, he guided the former league-worst team to a playoff spot and helped develop such stars as Sidney Crosby and Evgeni Malkin.
As for Boughner, he guided a star-studded Windsor Spitfires team to back-to-back Memorial Cup Championships. He's one of those flyer picks that will likely be scrutinized for years to come if he was selected as the replacement for Wilson.
The recently fired Randy Carlyle might be the best option, however, for the Leafs. He has experience winning under Brian Burke, and he actually has coached a team in the Brian Burke mold (top six, bottom six, strong starting goalie) to a Stanley Cup. Carlyle would likely be the least scrutinized move the Leafs could make.
7. New Owners, New Attitude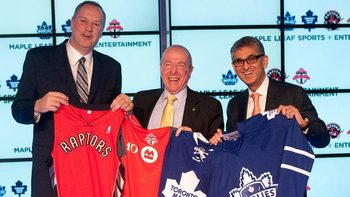 When MLSE was majority owned by the Ontario Teachers Pension Fund, it seemed as if they were fine with the status quo. We were making money and didn't really have to spend money to make more.
Under new owners Rogers Communications and Bell Canada, there's some talk that they aren't willing to really wait for Wilson to get his act together with the Leafs. The Leafs are the most valuable franchise in the NHL at a cool $521 million dollars, according to Forbes, but they still need to make the playoffs to really cement themselves as a serious player in the NHL.
After the Jays made some radical changes to their coaching staff and upstairs, the franchise is back on track and is rising quickly. The Raptors have loads of cap space for the 2012 season, they will likely have two high first-round picks entering the fold next season and they'll probably have a big free agent or two that will join the team. By all accounts, the Raptors will arrive back in the NBA in the 2012-13 season.
That leaves the Maple Leafs sitting in what I like to call a treadmill. You're moving, but are you really getting anywhere?
Armed with tons of good prospects like Nazem Kadri, Joe Colborne, Stuart Percy, Tyler Biggs, Gregg McKegg, Keith Aulie, Brad Ross and so on, the Leafs will need to either trade some of these guys or trade away some roster players to make room for these guys. After all, you build dynasties from within, not from buying your way to the top.
How long will the owners let Wilson lose games?
8. Wilson Is Just Not the Right Coach for This Team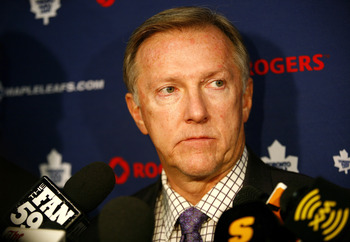 Phillip MacCallum/Getty Images
I've said this before and I'll say this again. Ron Wilson is not a young players' coach. He does much better with a veteran team that can understand what he wants out of a team.
The Leafs struggle defensively in all situations—they struggle clearing the puck, they struggles handling the puck and they have a hard time not turning it over. The Leafs struggle with puck possession in the offensive zone as well.
Honestly, I can go on.
With new assistant coaches this season, its been the same results for the Leafs this season: terrible defense yet again despite honestly having some of the better depth in the NHL at that position. The Leafs can go 10 deep with quality NHL defenceman, yet they continue to struggle to keep pucks out of the net.
Is it time for a change? I think so.
9. The Penalty Kill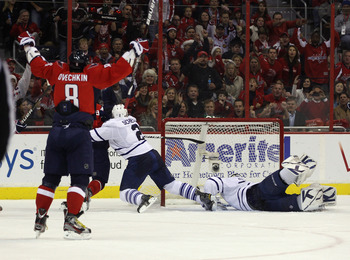 Bruce Bennett/Getty Images
The Leafs have 13 losses this season, and for the most part they have lost because of a rather lackluster penalty kill.
Under Wilson, though, the Leafs have never been better than 27th in the NHL in penalty-kill proficiency, and this season they sit dead last at 73 percent.
From what I can recall, Wilson has had three or four different sets of forwards to kill penalties, six to 10 NHL-caliber defenders and of course six goalies to stop the pucks (Vesa Toskala, Jonas Gustavsson, JS Giguere, Ben Scrivens, Martin Gerber and James Reimer).
Although none of the names other than Giguere and Reimer really jump out at you, the fact remains that Wilson seems as though he can't get anything out of his penalty kill here in Toronto.
In San Jose, he had one of the better penalty kills; in Toronto, he has one of the worst. Something's got to give.
10. Does Keeping Wilson Jeopardize Burke's Chances of Staying Here Long Term?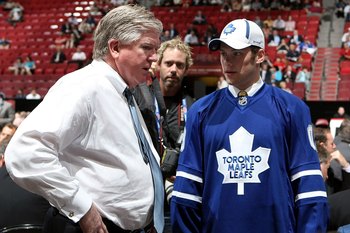 Bruce Bennett/Getty Images
Brian Burke, minus a questionable Phil Kessel deal, has put the Leafs back on the NHL map. Some savvy trades only Brian Burke can make has really set the franchise back in the right direction.
A few include:
Joffrey Lupul and Jake Gardiner for Francois Beauchemin.
JS Giguere (contract expiring turned into Tim Connolly and a re-signed Clarke MacArthur) for Jason Blake and Vesa Toskala.
Keith Aulie, Dion Phaneuf and Freddie Sjostrom for Matt Stajan, Niklas Hagman, Jamal Mayers and Ian White.
Matt Lombardi and Cody Franson for Brett Lebda and Robert Slaney
Joe Colborne, first-round pick (Stuart Percy) and 2012 second-round pick (traded for John Michael Liles) for Tomas Kaberle.
Kris Versteeg and Bill Sweatt for Viktor Stalberg, Chris Didomenico and Philippe Paradis. This eventually turned into Versteeg for Tyler Biggs and Josh Leivo. Versteeg has since went on to lead the Panthers in scoring and is top 10 in the NHL in scoring.
Those are just a small sampling, but the fact remains that Burke knows his stuff when it comes to deal making. He has the ability to get a lot without giving up much. When he gives up a lot, he usually gets a lot in return.
If he does decide to re-sign Wilson and let him guide the Leafs possibly to another missed playoff berth, it could be the beginning of the end of Burke in Toronto. His loyalty towards Wilson might end up getting both of them canned if there aren't results in the next year or so.
Keep Reading

Toronto Maple Leafs: Like this team?