Oregon Football Debate: To Expand or Not to Expand Autzen Stadium
December 19, 2011
College football's arms race has been long underway for quite a number of years. A tour of football complexes from Austin to Tuscaloosa to Eugene has led numerous NFL scouts to claim college football's facilities rather nicer than many NFL headquarters.
Oregon has been a catalyst, certainly west of the Mississippi, in beefing up its football facilities to entice recruits and coaches alike, to make a home in Eugene and build up the brand of Oregon football and its athletic department in general.
Oregon's Autzen Stadium is regarded as one of the loudest stadiums in football, and in recent years has seen the likes of Oklahoma and Michigan fall in its friendly confines. Additionally, it's considered one of the best game day atmospheres, as well as any college football game day experience, and because it's been sold out 79 straight games since the late 1990s, many fans and those in the athletic department are eyeballing a way to expand Autzen Stadium.
An $80 million renovation in 2002 pushed seating capacity to 54,000, though Oregon's home games attendance regularly is in the 59,000 range and has even surpassed 60,000 a handful of games. (Attendance at Autzen was 60,055 on Oct. 15, when the Ducks beat the Arizona State, 41-27. This is the largest crowd for a sporting event in the state of Oregon.)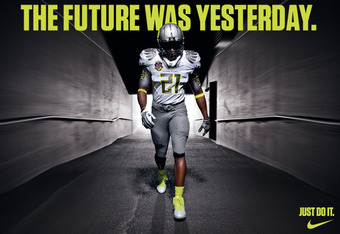 The expansion project is on the table for Oregon's athletic department; however, the vibe is Oregon's Phil and Penny Knight (Oregon's biggest financial supporters) would like to see an indoor track and field stadium for the Oregon track team.
Not to mention, Oregon is in the process of completing a 130,000-square-foot expansion of the athletics department's primary facility, included in that will be the focus of a six story football facility, and the new complex will house Oregon's women's lacrosse and soccer programs.
It must be kept in mind Oregon just completed 11 months ago it's palace of a basketball arena, the Matthew Knight Arena, completed with a $227 million price tag.
A few questions must be asked in order to realistically approach the goal of completing Autzen's North End expansion, and push seating capacity into the 60,000s or even 70,000s:
(a) Can Oregon muster the will of donors to raise an additional $100-$200 million in this economy, and does Oregon have the political will in a state so broken by an ongoing economic depression? Even if Oregon were to raise every penny from private donors, would Salem and Eugene politicians give their blessing? (Anyone who knows Oregon's state and local politics knows that it's not the deep SEC south, and that this would certainly create a firestorm.)
(b) Can Oregon sustain its supply and demand if it increases its stadium capacity by a significant amount? Seventy-nine straight sellouts are impressive. Oregon's overall population could be squarely squeezed into Los Angeles; i.e. there is not a huge urban population to draw from.
Can the Ducks sustain success and still be a draw for residents in Portland and away from Lane County to make long drives on those late Saturday night games or weekday night games for the mighty T.V. networks? Just take a peek up north on I-5 and look how Oregon State has struggled to sell out games regularly, as OSU's athletic department clearly misjudged its supply and demand figures for ticket demand.
(c) Does Oregon expand with a blend of seating and suites or simply add more seating? Is there a big enough demand for corporate and private suite demand, which bring in the biggest revenue to fill athletic department coffers? Oregon is not USC or Washington, where very large urban areas are in the university's backyard with large corporate sponsorships.
Can Oregon continue to keep pricing at a threshold that the average Oregon fan can continue to bring a family of four and not pay through the roof for game tickets, parking, concessions, and everything involved in making the fan experience still exceptional?
The Oregon athletic department has done some remarkable things through the years, no doubt led by the generosity and vision of Phil and Penny Knight, and now athletic director Rob Mullens. There is no timetable for the expansion of Autzen Stadium, however, I have to believe that the sooner than later would greatly benefit the football program.
My reasons why they should expand right after the completion of the new football complex (target date is summer of 2013) are: added revenue for the athletic department, strengthening Oregon's game day fan experience, and continuing to push Oregon's football brand into the forefront nationally to compete with the Texases, Alabamas, Ohio States and LSUs of the college football landscape.
For Oregon to gain entrance into the penthouse of college football, expanding the north side of Autzen Stadium is a critical component in moving Oregon's football program further along and as well to strengthen the athletic department's bottom line for sustained on the field success and fiscal strength.