Premier League: The Loser of Blackburn vs. Bolton Deserves the Sack
December 19, 2011
Clive Brunskill/Getty Images
The bottom of the Premier League has been awful this season through 16 matches, with both Blackburn and Bolton registering a comically bad 19 combined points through the 32 Premier League matches that both sides have participated in this season.
Both Blackburn and Bolton have been embarrassed, trampled on and neither looks fit enough to survive in the Premier League for another season.
Tomorrow, both sides will face each other at Ewood Park in what will be the most important fixture for each side to date.
So far in this campaign, both sides have been able to put up some impressive results. Blackburn were able to defeat a weakened Arsenal side 4-3 in one of the most exciting fixtures of this campaign, while Bolton defeated Stoke 5-0.
Another similarity that these two sides share comes in the form of some strong goalscoring numbers.
Blackburn have scored 23 times this year, the most of any side in the bottom of the table. They have gotten the most goals at home of any side in the bottom three quarters of the league table with 12. And they also have Yakubu, who is currently sixth in goals scored with nine.
Bolton have scored 20 times this season, the second most of any side in the bottom half of the table. Amazingly, that is as many times goals as Liverpool have scored in this campaign.
Despite these goal-scoring stats, both sides have struggled to make ends meet defensively.
Blackburn have conceded 36 times, including 19 times in just eight matches away from Ewood Park. Bolton have been even worse, giving up a Premier League-worst 38 tallies through 16 matches this season.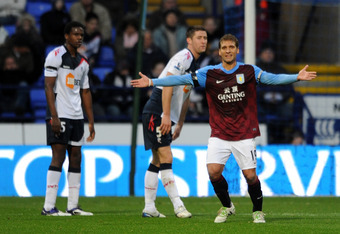 Chris Brunskill/Getty Images
Obviously, both sides have not benefited from an open style of play this year, but it appears that neither side can figure out a way to slow down their opposition this season.
Blackburn have been a side that has struggled since December of 2010, when their manager Sam Allardyce was inexplicably sacked despite a strong start for the Rovers. In the months following Allardyce's departure, new manager Steve Kean was given a three-year contract by Blackburn's owners.
Kean went on to struggle throughout the first half of 2011 that barely saw the Rovers avoid the drop zone. Kean was able to keep his job, but it certainly is a surprise that he still is employed considering how poor Blackburn have been this year.
Meanwhile, Bolton's Owen Coyle came to the club in a cloud of smoke early in 2010 after leaving a struggling Burnley squad in the middle of winter.
Coyle's move helped to keep Bolton up during that campaign and nearly allowed the Wanderers to finish in the top half of the table last season.
However, an awful start to this season has certainly put Coyle's job in jeopardy, with tomorrow's match possibly being the final one for the Irishman.
Considering how weak both of these sides have been this season and the fact that these owners have not put enough of a defensive mindset on their clubs, don't be surprised if there is another offensive explosion at Ewood Park.
No matter who wins this match, both managers will leave knowing that their own job will be in jeopardy. After all, both sides are likely not going to be in top flight once next August comes.
Follow me on Twitter @Andrew_Jordan