The 50 Biggest Sports Stories of 2011
As we look back on the year that was, we remember significant power shifts, disturbing controversy and surprising retirements.
While there were many promising performances in 2011, the sports world also dealt with plenty of chilling drama.
From upset victories to financial chaos, this past year's resume reeked of excitement.
Here are the biggest stories in sports of 2011.
Enjoy.
Begin Slideshow

»
While some believe he was robbed of a chance to rep the yellow and purple by misguided owner David Stern, prolific point guard Chris Paul seemingly found a welcoming home for his services.
The unexpected Clippers jumped in with a deal that sent guard Eric Gordon, center Chris Kaman, forward Al-Farouq Aminu and Minnesota's unprotected 2012 first-round pick to the Hornets for Paul (the Clippers also received two future second-round picks).
With Blake Griffin finishing precise alley-oops, Caron Butler draining three-pointers and Chauncey Billups exerting expected leadership, the Clippers seem set to battle their big brother for the spotlight.
With underdog victories over the Philadelphia Phillies in the NLDS and the Milwaukee Brewers in the NLCS, the fiery Cards made it to the Fall Classic with momentum swaying their way.
After being down twice to the Texas Rangers in the World Series and one pitch away from elimination, series MVP David Freese carried the team on his back en route to a Game 7.
In one of the most memorable postseasons in recent memory, the relentless Cardinals defeated the potent Rangers for the latter's second straight World Series loss.
Gregory Shamus/Getty Images

While he is known as the only quarterback in NFL history to throw for more than 70,000 yards, 500 touchdowns, 300 interceptions and 10,000 pass attempts, Favre's recent roller-coaster ride with retirement has seemingly clouded his stellar resume.
Having tricked us before, we don't know whether to take his January retirement seriously.
However, with Tyler Palko, Caleb Hanie and T.J. Yates starting, it's safe to say teams aren't interested.
Following a 4-1 start and a short-lived lead in the AFC East, the Buffalo Bills were garnering real respect.
With former Harvard brainiac Ryan Fitzpatrick firing accurate rockets, Fred Jackson having a career year at the running back position and Stevie Johnson showing his promise, the playoffs seemed certain.
Everything that went right for the team took a turn for the worst, and at 5-9, the sunken ship is now wondering what could have been.
After signing an honorable five-year, $90 million contract in July—and blatantly stating he didn't need to be the highest-paid player in the NFL—things seemingly went completely downhill for star quarterback Peyton Manning.
When his recovery from a neck surgery dealt a significant setback, Manning was ruled out for the start of the season.
Following another surgery in September and a winless start to the Colts' season, Indianapolis fans and the team's brass undoubtedly questioned a future with their franchise man.
With his career in doubt, let's appreciate a legendary career.
Pool/Getty Images

While he completely denies taking any kind of performance-enhancing drugs (claiming medication led to a dirty test), the baseball world is undoubtedly questioning the authenticity behind Ryan Braun's 2011 MVP season.
However, 33 home runs seems like just enough for us to respect his prowess, but not enough to question his training regimen.
With a nine-game lead over the Tampa Bay Rays in the AL Wild Card race on Sept. 4, the postseason seemed to be a given with a World Series title as the ultimate goal.
After going 7-19 in their first 26 games in September, a historic collapse was seemingly right around the corner, and career paths were forever altered.
After sustaining a concussion as a result of hits to the head in back-to-back games last season, the Pittsburgh Penguins were undoubtedly worried about Sid the Kid.
Out for more than 10 months (and only playing in eight games this season), Sidney Crosby now finds himself on the injured list.
The NHL continues to worry about player safety.
Doug Pensinger/Getty Images

The 2010 second-round pick seemingly came out of nowhere this year to break a number of records, including most receiving touchdowns in a single season by a tight end (15).
With Tom Brady tossing the massive tight end the pigskin, the man they call "Gronk" is seemingly destined for a promising career.
Rob Gronkowski is undoubtedly the grownup version of Spike from Little Giants.
While he did average 21.8 points, 6.5 assists and three rebounds during his short stay with Besiktas, it was a bit comical to see Deron Williams have his jersey retired after only 15 games in Turkey.
The former Illinois guard is clearly beloved by all who watch his game.
After years of drama and adultery, the marriage between these two lovebirds is finally over.
While Vanessa Bryant certainly stood by her husband during all his escapades, the sexy former dancer clearly couldn't take it anymore.
Following the nixed trade of Chris Paul to the Lakers and the completed move of Lamar Odom to the Mavericks, Kobe Bryant's supporting cast continues to dwindle.
Ronald Martinez/Getty Images

Known for being the all-time goal-scoring and points leader among American-born players in the NHL—as well as his sexy wife—Dallas Stars legend Mike Modano finally decided to end his career after 21 seasons.
He'll certainly be missed.
Ronald Martinez/Getty Images

With 3,722 yards, 17 touchdowns and a rating of 82.3, first overall pick Cam Newton continues to excite Carolina fans and impress the NFL world, despite his team's unimpressive 5-9 record.
Andy Dalton and his 18 touchdowns have kept the feisty Bengals in the playoff hunt, and Christian Ponder and his 13 touchdowns in only nine games have given Minnesota fans hope for the future.
Blaine Gabbert and Jake Locker are still finding their spots in this potent class.
After he failed to reach the finals in the Slopestyle, Shaun White dominated the Superpipe.
By landing his illustrious Double McTwist 1260 and finishing with a score of 97.33, the red-headed snowboarder claimed his fourth straight gold in the Winter X Games.
While it wasn't the first time he completed the trick, it was certainly impressive.
It was a matchup with high expectations: The illustrious Big Three against the sweet-shooting 7'0" German and his pack of stellar sidekicks.
With a 4-2 win in the NBA Finals, series MVP Dirk Nowitzki and his team continue to stand tall.
Jared C. Tilton/Getty Images

After beginning his career racing go-karts at the age of five, Trevor Bayne seemed destined for greatness.
Bayne won this year's Daytona 500, becoming—at 20 years old—the youngest driver to win the race and shocking the NASCAR world.
Rob Carr/Getty Images

...but with the Jets.
After helping the New York Giants win the Super Bowl several years back, the lanky wide receiver spent time in prison for accidentally shooting himself.
Many fans expected him to reignite his career with Big Blue, but apparently Plaxico Burress didn't feel wanted.
With 521 yards and eight touchdowns, the controversial athlete is paving a nice path back to immortality with the Gang Green as they cling to playoff hopes.
Having not won a Stanley Cup since 1972, the physical Boston Bruins beat the Vancouver Canucks in seven games to bring home the trophy last season.
As everyone celebrated, 6'9" defenseman Zdeno Chara naturally towered overhead.
While the 28-year-old injury-prone shortstop is coming off his best year ever in which he hit .337 and won the batting title, only the Miami Marlins were willing to give Jose Reyes the six-year, $106 million deal he yearned.
Many may believe the New York Mets have lost all hope, but in reality, the risk behind signing Reyes to a massive deal was too significant.
We wish him well, but also expect a steady decline.
With the Texas A&M Aggies moving from the Big 12 to the SEC, West Virginia joining the Big 12, Missouri going to the SEC, and Syracuse and Pittsburgh both leaving the Big East for the ACC in 2012, the college world continues to shake.
Len Redkoles/Getty Images

The former NHL enforcer may have had an average career, but his death was far from routine.
Found dead in a condo in Toronto, Wade Belak was thought to have possibly committed suicide, although later reports counter that notion.
Belak is the third hockey player to pass away since May. Derek Boogaard of the New York Rangers allegedly overdosed on a combination of alcohol and oxycodone toxicity, while Winnipeg Jets forward Rick Rypien was found dead in his Alberta home.
While we can't truly blame Floyd Mayweather for "defending" himself, we'd love to call his hit a dirty poke at domination.
After getting cheap-shotted by an over-eager Victor Ortiz, the pompous boxer took matters into his own hands. Many fans were slightly disappointed with the resulting couple of cheap shots that ended the fight.
With ex-booster and Ponzi scheme artist Nevin Shapiro at the core of the chaos, it seems as if the University of Miami is going to fall hard.
While Shapiro allegedly provided illegal benefits to former and current Hurricanes players from 2002 to 2010, it is was his role in a $930 million Ponzi scheme that earned him time in prison and curious eyes.
With the benefits including prostitutes, cars and paid vacations, it's easy to see why 73 athletes were mentioned in the report.
Peter Macdiarmid/Getty Images

While this 22-year-old Northern Irish golfer is revered for winning the European Tour in 2009 and the PGA Tour in 2010, his first major win was the most impressive.
Finishing with a record score of 16 under par as the youngest winner of the U.S. Open since Bobby Jones in 1923, Rory McIlroy moved himself to No. 4 in the Official World Golf Ranking.
He is quickly stealing the spotlight from a now-deprived Tiger Woods.
While British racing driver Dan Wheldon was known as the 2005 Indy Racing League IndyCar Series champion and winner of the Indianapolis 500 in both 2005 and 2011, his recent accident has fans searching for an answer.
Following a collision at the 2011 IZOD IndyCar World Championship at Las Vegas Motor Speedway in October, Wheldon died of blunt force trauma to the head after hitting a pole.
A sad end to a promising career.
Al Bello/Getty Images

While she has won more career prize money than any other female athlete in history, Serena Williams' recent suffering has seemingly clouded her career as of late.
In March, the former World No. 1 tennis player confirmed that she had suffered a hematoma and a pulmonary embolism, and is recovering.
Nothing can stop this fearless legend.
While he did become the 15th pitcher in history to make 1,000 appearances (the first to do so with a single team), Mariano Rivera will remember 2011 for breaking Trevor Hoffman's saves record of 601.
The future Hall-of-Fame closer for the Pinstripes broke the record Sept. 19 at Yankee Stadium, before receiving a congratulatory call from the President of Panama, Ricardo Martinelli.
After finishing the season with a 1.91 ERA, 0.90 WHIP and 44 saves, it became clear this Panamanian star is far from finished.
After eight years of allegations regarding the all-time home run champion's alleged steroid use, the matter is finally over.
Barry Bonds was sentenced to two years probation and 30 days of house arrest, seemingly getting off easy for misleading jurors.
With J.R. Hildebrand set to become the first rookie since Helio Castroneves in 2001 to drink the milk at the illustrious 100th anniversary of the Indy500, a memorable finish seemed close.
However, after a heartbreaking crash on the final corner, the promising rookie was robbed of victory by Dan Wheldon (R.I.P.).
While the moment certainly speaks for itself, Derek Jeter seemingly completed his quest for a Hall of Fame bid—as if it was ever in doubt.
The steady Pinstripes shortstop continues to produce for and captain one of the best offenses in baseball.
He may be slowing down, but Jeter is far from done.
Following an independent investigation into campaign contributions and executive compensation, Fiesta Bowl Chief Executive Officer John Junker was fired.
It seems as if the entire college sports world needs some fine-tuning.
J. Meric/Getty Images

After being informed of another violation regarding drug policy, Manny Ramirez retired from baseball in April rather than facing a possible 100-game suspension.
The 555-home run slugger asked for reinstatement from MLB and was reinstated on Dec. 10 with the requirement that he serve a 50-game suspension.
Guided by an unstoppable Kemba Walker, UConn won five consecutive games in five nights to earn the Big East Tournament in New York.
The Huskies then beat Butler 53-41 to win their third National Championship and complete an inspirational run through the NCAA tournament.
Elsa/Getty Images

While it did end at 53 games, Kevin Love now holds the longest streak for consecutive games with a double-double since the merger between the ABA and the NBA.
The promising Timberwolves power forward brought his sweet stroke from UCLA to the NBA and hasn't looked back since being chosen with the fifth overall pick in the 2008 NBA Draft.
Doug Pensinger/Getty Images

A seven-time Tour de France winner, 39-year-old cyclist Lance Armstrong finally called it quits in February.
At the center of a federal investigation into doping in cycling, Armstrong is now set to ride parenthood for a while.
After a strenuous decade of losing basketball, it seems as if New York fans can once again smile.
With Carmelo Anthony coming from the Nuggets last season, Tyson Chandler signing as a free agent this offseason and Baron Davis joining the group, Amar'e Stoudemire has plenty of help.
The Big Apple is ready for a promising championship run.
With players from the 2001 National Championship Game such as Jeremy Shockey and Clinton Portis entering the NFL, an impressive streak took form in Week 15 of the 2002 season.
One hundred forty-nine weeks later, with 323-pound defensive tackle Vince Wilfork left as the only former Hurricane who could continue the touchdown streak, the consecutive touchdowns scored by a Miami player in the NFL record has seemingly coming to an end.
A prolific run it was.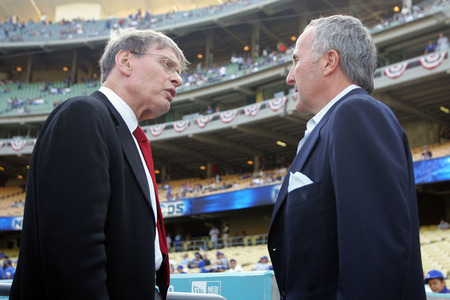 After financial troubles began to show for the Dodgers and owner Frank McCourt in 2010, the league and MLB commissioner Bud Selig decided to step in and take over the day-to-day operations of the team.
Apparently the team couldn't crawl back from financial trouble, filing for bankruptcy in June.
The Dodgers were sold in October.
Following the 72-day marriage of Kris Humphries and Kim Kardashian, many fans are naturally wondering how real Keeping up with the Kardashians truly is.
While we hope fans treat the show as the unnecessarily chaotic business endeavor that it is, it's safe to say many followers had big ideas for this once-illustrious couple.
At least the journeyman baller made some good money while he took a break from basketball.
Stephen Dunn/Getty Images

With World Series victories in 2006 and 2011, Albert Pujols undoubtedly believed he had done all he could for St. Louis.
Apparently 10 years and $254 million was enough to persuade him to leave his beloved home and bring his talents to Los Angeles.
The American League saw the the scale tilt just a bit more to their side.
Kevork Djansezian/Getty Images

Following 19 seasons that featured four rings, 28,596 points and a plethora of entertaining nicknames, Shaq Diesel called it quits.
While the colorfully-hilarious 7'0" center seems destined for the Hall of Fame, he likely couldn't sustain any more strenuous seasons on the hardwood.
With a league-high 13 league championships, the Packers are steadily maintaining their winning past.
After sneaking into the playoffs as the No. 6 seed last year with a 10-6 record, Green Bay shocked the NFL world with their potent run to the Super Bowl.
The experienced Pittsburgh Steelers couldn't possibly contain game MVP Aaron Rodgers and his 24-of-39 passing for 304 yards and three touchdowns.
Following allegations that promising signal-caller Terrelle Pryor and others sold signed memorabilia and legendary head coach Jim Tressel did nothing to stop it, the Buckeyes' coach resigned and their quarterback left for the NFL's supplemental draft rather than serve his suspension honorably.
As he warms the Oakland Raiders bench, Pryor gets to watch exciting freshman Braxton Miller garner Ohio State love.
With an epic victory over Brazil in the quarterfinal of the 2011 Women's World Cup in Germany, the United States Women's National Team was victorious, 5-3, in penalty kicks.
However, their battle for the World Cup title fell short against Japan when the Hope Solo-led Americans lost in a memorable penalty shootout.
Kevin C. Cox/Getty Images

Led by Heisman winner Cam Newton and a potent defense, undefeated Auburn won its second National Championship last season.
The Tigers defeated the Oregon Ducks 22-19 with a last-second field goal to close out a magical season.
Justin Edmonds/Getty Images

For NFL fans, the name Tim Tebow continues to ring loudly.
From passionate SportsCenter obsessions to a religious following, this strangely unique quarterback has garnered quite the superfluous amount of attention.
We've had enough Tebowing for one lifetime.
While he was known as the owner of the Oakland Raiders from 1970 to 2011, Al Davis left an imprint on the game of football that will never be forgotten.
The AFL's Coach of the Year in 1963, a Hall of Fame inductee in 1992 and three Super Bowl victories complete a stellar resume.
Echos of "Just win, baby" continue to approach our ears.
While Smokin' Joe was known for his epic rivalry with a playful Muhammad Ali, the former heavyweight champion is now sorely missed after passing away from liver cancer.
The legendary boxer will forever remain entrenched in boxing lore.
With the NBA season finally getting started, fans can exhale.
After dealing with a strenuous NFL lockout since March, sports fans then had to watch greedy owners and free-spending ballers battle it out for an extra dollar.
Mario Tama/Getty Images

While former assistant Jerry Sandusky is the name behind the disturbing child abuse scandal at Penn State, having been charged with 40 counts of sexual abuse of young boys over a 15-year period, it was legendary coach Joe Paterno who seemingly garnered the most negative press.
With fans and media members believing that the man who coached the Nittany Lions for 46 seasons knew about his assistant's atrocities and did nothing, JoePa's reputation now seems forever tainted.