Jimmy Butler Could Be Vital for the Chicago Bulls' Run to the NBA Finals
December 19, 2011
Nick Laham/Getty Images
Jimmy Butler's first jump shot of the Chicago Bulls' preseason game against the Indiana Pacers told the story. His shot off of the glass was full of nerves. Welcome to the NBA rookie! After that, Butler settled down by hitting all of his shots and played stellar defense.
In a preseason game what does it all mean? Can Butler crack the Bulls' rotation?
Consider Jimmy Butler's story...
Thrown out into the street at the age of 13 by his mother, Butler has known what it is to fend for himself. While most of his peers could focus on school, his focus was making sure that he had a place to sleep every night. Early on all Jimmy Butler knew was how to survive.
Many life-learned lessons have prepared Butler for what was next to come. His sole form of refuge was the basketball court.
Jimmy Butler was making a name for himself in Tomball, Texas around the time that he met local two-sport phenom Jordan Leslie.  It was that meeting which changed the fortunes for the 30th pick in the draft for the Chicago Bulls.  The rest is something that we may see in the movies.
Throughout his time at Marquette University Butler has defied the odds. Defying the criticisms about not being athletic enough to make it in the rigorous Big East, let alone the NBA, it all changed once he banked in his first shot.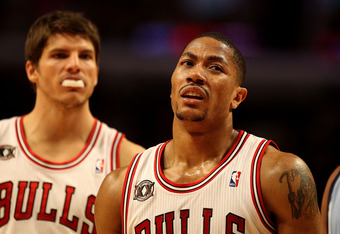 Jonathan Daniel/Getty Images
What Butler provides for the Chicago Bulls will be key this season. With the NBA lockout taking away 16 games, teams will be forced to use their depth. Thus far, the only changes that the Bulls have made have been signing SG Richard Hamilton and waiving SG Keith Bogans.  Adding Jimmy Butler to spell Luol Deng during certain stretches will pay huge dividends.
Also, Butler has a better than average defensive I.Q. He seems to understand the defensive rotations as well as anyone on the Bulls and he could earn coach Tom Thibodeau's trust if he continues to pick things up. 
Maybe it was the offseason time that he has spent with Derrick Rose, but there seems to be some chemistry between the two. If the reigning NBA MVP believes in your ability to contribute, that can go a long way.
While I do not believe that Jimmy Butler will crack the rotation early on, it is his tough upbringing and tireless work ethic that will earn him some valuable playing time. His defying-the-odds attitude will prove vital to the Chicago Bulls' run to the NBA finals.