Green Bay Packers Have Prime Opportunity to Bounce Back Against Bears
December 19, 2011
Matthew Stockman/Getty Images
After 19 straight victories, an ugly loss to the lowly Kansas City Chiefs certainly left a disgusting taste in the mouths of everyone associated with the Green Bay Packers.
I'd like to be one of the optimists who say that the streak's sour ending is actually a wonderful thing for the team, but in reality, it's simply a shame.
The Packers had an opportunity to beat down the last-place Chiefs and secure home-field advantage throughout the playoffs, all while keeping their historic undefeated season alive. However, they utterly blew it.
Penalties, drops and the failure to execute offensively resulted in an embarrassing defeat on the road and a lot to think about on the plane ride home.
But, like whenever anything unfortunate occurs in life, the only thing you can do is learn from it and move on, and that is exactly what the Packers will do.
I refuse to say that this loss was the best thing that could have happened, but it does have its bright spots and silver linings.The Packers will no longer be burdened by the possibility of a perfect season, they can rest their best players, and ultimately prepare for a playoff push.
Although this doesn't mean that they can now take the remainder of the year off. The Pack must bounce back or they will continue to spiral downward and their repeat hopes will be blown into oblivion as well.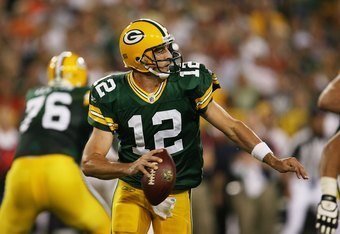 Jonathan Daniel/Getty Images
Fortunately, Green Bay will have a great opportunity to renew its winning ways. A victory against the struggling Chicago Bears on Christmas will be all the team needs to refocus and refuel morale.
A blowout in front of the hometown fans and on national television will be all it takes to prove that the Packers are still moving forward and have no intentions of an early playoff exit.
It won't be easy to for Aaron Rodgers to get the offense going again after its worst performance all season, especially against Chicago, but I fully expect this squad to come back from their loss with a vengeance.The defense should also be able to put things together against an injury-ravaged Bears' offense.
The Pack must put their first loss behind them and forget about what might have been. The best way they can do that is to take it to their biggest rival on Christmas night at Lambeau Field.