Alistair Overeem Is Upbeat after Recent Drug Test Misunderstanding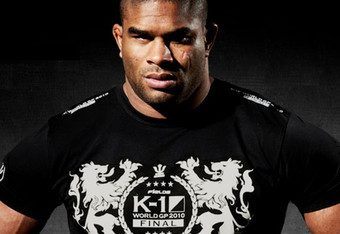 Former Strikeforce heavyweight champion and new UFC (Ultimate Fighting Championship) employee Alistair Overeem is taking his recent drug testing mix-up all in his stride. He wrote in a Yahoo Sports article:
"I always try—and sometimes you can't—but 99 percent of the time I manage to mentally turn things around to a positive," Overeem recently wrote on his Yahoo Sports. "And on the positive side of all of this, I now know that if I train in Holland for a UFC fight again, I will need to go to England to do a test because the medical rules in Holland are too different to those in Nevada. It also helps me make my mind up to train in the US for my next UFC fight as long as I don't have the same family issues to consider like I do right now."

"Another positive is that I'm now the most tested fighter in the sport," he continued. "I will be tested four times in three weeks, and then at least twice more in the next six months in addition to any testing for my next fight."
This was with regards to "The Demolition Man's" failure to supply a urine sample to the NSAC (Nevada State Athletic Commission) ahead of his Dec 30th clash with Brock Lesnar at UFC 141.
The confusion arose due to an supposed miscommunication between the NSAC and Overeem—the latter stating that he had no prior knowledge of the obligatory prerequisites (urine samples) before heading back to Holland to finish up his training camp and take care of his sick mother.
He did, however, submit a blood sample which came back negative, but at the same time, it failed to meet the NSAC's requisite of a urine sample.
Apropos the frequent drug testing undergone by the Dutch mixed martial artist—he perceives it as a means of proving to his naysayers that his massive bulk is down to hard work in the gym rather than the use of AAS (anabolic-androgen steroids).
"I have had people—I will politely call them 'haters'—accuse me of taking steroids since I was a 185-pound kickboxer at the age of 17," Overeem began. "When I was 20, I've fought at a weight of 222 lbs. I am now aged 31 and weigh 35 lbs more. I don't think 35 lbs is too much to grow in 11 years from a 20-year-old to 31-year-old."

"Facts are, I have been tested with the commission numerous times before when I fought in the U.S. and got tested in Japan. I always passed any testing, so hopefully now with these next tests coming and the fact of me being the most tested fighter in the sport, the critics may be satisfied. And if not, well, that's not my problem, that is their problem."
At present, the former K-1 and Dream heavyweight champion is awaiting the results of the urine tests that the commission had initially required, and thus, has been granted conditional license by the NSAC after missing the drug testing deadline.
With that said, it means the UFC 141 main event can go ahead as planned.
This article is
What is the duplicate article?
Why is this article offensive?
Where is this article plagiarized from?
Why is this article poorly edited?