Manchester City vs. Stoke City: Complete Preview, Live Stream and Schedule
December 18, 2011
Clive Brunskill/Getty Images
The weekly string of David vs. Goliath matchups in the English Premier League will continue when Manchester City welcomes Stoke City to the Etihad Stadium on Wednesday.
The "noisy neighbors" reasserted themselves atop the table with a 1-0 win over Arsenal less than a week removed from their first loss of the season, a 2-1 shocker to Chelsea at Stamford Bridge.
The Potters, currently sitting at eighth in the Premiership, haven't been too shabby of late either, winning each of their last four league fixtures.
City last met Stoke in May, with Robert Mancini's side emerging victorious first in the FA Cup final and then in an EPL match just three days later.
Where: Etihad Stadium, Manchester, England
When: Wednesday, December 21st at 2:45 p.m. EST
Watch: Fox Soccer Plus, Sportsnet World, ESPN + , ESPN + Andina, ESPN Venezuela, SuperSport 3, Abu Dhabi Sports, ESPN Latin America North, Canal+ Fútbol / HD, J Sports 2, SuperSport 3 Africa, SuperSport 3 Nigeria, SuperSport 10, SuperSport Internet 3, Canal+ Sport 1, Viasat Xtra Premier League 2, Digi Sport 2 Romania, Tring Sport 2, Sky Calcio 10
Live Stream: FoxSoccer.tv
Player to Watch for Manchester City: Mario Balotelli
You could pick any one of a handful of players, between the likes of David Silva, Sergio Aguero and Edin Dezko, and be left with someone who had a significant impact on the outcome.
But if you really want to be entertained watching a City match, keep your eyes on Mario Balotelli. The mercurial striker, at times Super Mario and others Mad Mario, was all over the pitch when these two sides last met in league play, notching six shots on goal and drawing four fouls while giving back two of his own.
Expect him to wreak plenty more havoc against the Potters' back line this time around.
Player to Watch for Stoke City: Jonathan Walters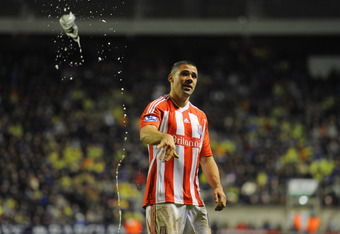 Michael Regan/Getty Images
Jonathan Walters is the very embodiment of Tony Pulis' squad—he looks mean, he plays mean and he's surprisingly effective on the pitch. Walters leads the Potters with four goals, four assists and about 33,945 steely glares of intimidation.
If Stoke are to have any shot at earning points against the EPL's best, they'll need Walters to lay down the letter of the law against the pretty boys from Manchester.
Key Matchup: David Silva vs. Stoke's Rearguard
Shaun Botterill/Getty Images
Behind the glitz, glamor and glory soaked up by City's strikers is David Silva, the man in the midfield who makes life so brilliantly easy for Balotelli, Dzeko and Aguero.
Stoke, though, will allow no such ease of movement if its back line can help it. The Potters are well-known for their physicality on the pitch, especially when it comes to obstructing glitzy, glamorous attacks like City's. If Silva wants to fiddle about on the pitch, he may first want to consult with Stoke's thuggish defenders, who certainly might have a suggestion or two as to where the Spaniard should stick the ball.
What They're Saying
Being the new kid on the big-money blocks has had as many perils as perks for Man City. The Citizens have drawn plenty of ire during their rise to the top of the Premiership, with the likes of Arsene Wenger and Ashley Young expressing their frustrations with Mancini's men.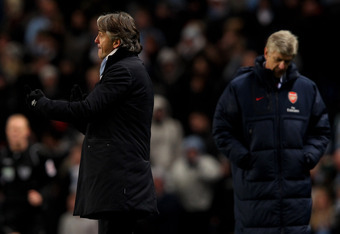 Alex Livesey/Getty Images
Wenger, the long-time Arsenal boss whose side lost to Sheikh Manour's side on Sunday, has expressed his frustrations with City poaching some of his best players in recent years, with Samir Nasri and Gael Clichy following in the footsteps of Emmanuel Adebayor and Kolo Toure:
"At the end of the day when you sell a player, you cannot complain after because at some stage you say 'yes we let him go' and you have to do the right thing for the club, but it is always painful to lose players at 23 or 24 years old.

"The financial difference between us and teams like Manchester City has become too big to hope to keep the players for eight, nine or 10 years. Okay, we lost Thierry Henry, Patrick Vieira, other players before, but they had played for eight or nine years at the club."
Meanwhile, Young, the star winger who left Aston Villa for Manchester United over the summer, told The Daily Mirror that he's satisfied to have snubbed the Citizens for the Red Devils:
"As soon as I heard about Manchester United there was no other club for me.

"It's Manchester United. They are the biggest club in the world, and I think if you ask anyone who they want to play for the majority will say: 'Man United'."
Apparently, money buys envy as much as happiness these days.
For those of you who enjoy watching Mad Mario with Man City, keep an eye on Stoke, who have extended a trial offer to his younger brother, Enoch. Said Potters academy coach Dave Kevan of the younger Balotelli to the Stoke Sentinel:
"He's been with training with us for a while and it was good to give him a run out. He's a good boy but a little bit raw at the moment. We will just have to see how things go."
What's that? A Balotelli being "raw"? How unusual...
Prediction: Manchester City 1, Stoke City 0
Lost amidst the hullabaloo about City's tremendous attack is the stout play of their defence this season. In fact, the Citizens have yet to surrender more than two goals in any match in any competition so far this season. 
The Potters are certainly fearless enough to keep City from running roughshod over them. Whether they can penetrate City's airtight rearguard is another story entirely.