WWE TLC Preview and Predictions
December 18, 2011
Gallo Images/Getty Images
WWE TLC comes to you live from the First Mariner arena in Baltimore, MD, in what will be a
a star-studded event and lineup of superstars. Heading into the final pay-per-view of 2011, so
many unanswered questions remain going into the WWE Royal Rumble in January as we all
know that usually starts to setup matches for WrestleMania 28 next March.
So as we take a look at the card for the show Sunday night, I must admit it really has me fired up over the great lineup of matches. Let's take a look at the matches. I will give you my opinion as I hope to hear yours as well. Here is a look of tonight's lineup.
Randy Orton versus Wade Barrett: I can see Wade Barrett pulling of a victory against Randy Orton in this tables match, mainly because it seems the last few weeks Barrett has been a few steps ahead of Orton and this would be a major victory for Barrett if he could pull it off in Baltimore.
Randy Orton has been dominant for so long. Will we finally see someone else take a bigger role? My pick: Wade Barrett
The United States Championship will be on the line at TLC with Dolph Ziggler defending the title
against Zack Ryder. It's about time for Ziggler to drop the title. He's had it way too long and Ryder is a crowd and Internet favorite all around the world.
I can see Ryder finally winning the U.S. title since John Cena gave us his WWE title match so that Zack Ryder could get this match against Ziggler at TLC. My Pick: Zack Ryder by a landslide!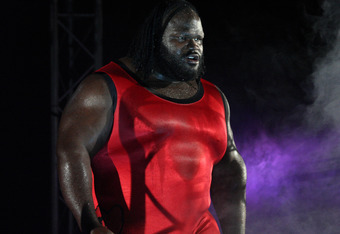 Gallo Images/Getty Images
The Intercontinental Championship will also be on the line when youth faces experience in Cody Rhodes facing off against Booker T. This rivalry has gotten strong the last few weeks and I personally am glad to see Booker T return to action. Booker is a great announcer, but he's a better wrestler.
I could see Booker T teaching Cody a few old school lessons and taking the title maybe up until the Royal Rumble. My Pick: Booker T
The Ladder match with the sledgehammer implications is the match I'm most looking forward. HHH will take on once best friend Kevin Nash in what I think is going to be a bloody battle with two guys who have nothing to lose. Both are legends in the wrestling world.
They're here to settle a battle and it's going to be interesting to see how this one plays out I'm looking for Triple H to get the win but anything can happen so I'm leaving the 50/50 possibility of Nash walking out as a winner too. My Pick: Triple H
The epic battle of the World Heavyweight Championship couldn't be more heavyweight than the contenders tonight between Big Show and the champ Mark Henry in a chairs match. This feud has come down to a bitter battle at TLC and will be the end of the line for Mark Henry as the World Heavyweight Champion.
Big Show has had the edge against Henry for the past couple of weeks. Henry has either tried to get out of the match with Big Show or do something so bad even going as far as hitting a camera man on WWE Smackdown last week with a steel chair to make Show even more mad then he already is. I'm looking for a great contest but a big blow to Mark Henry. I think Big will take the World Title tonight. My Pick: Big Show
Finally, the WWE Title is on the line between CM Punk, Alberto Del Rio and The Miz in a triple threat TLC match in what promises to be a great match. CM Punk comes in as champion and has the edge as far as the crowd goes he is a favorite. But you have to know that Del Rio and Miz will team up on Punk. Can they co-exist or will there ego's get in the way and give CM Punk a chance to capitalize and win and retain title? CM Punk gets my nod to retain the WWE Championship and continue on a roll to Wrestlemania 28. My Pick: CM Punk
WWE TLC will be Live on PPV Sunday night December 18, 2011 at 8 p.m. from Baltimore, Maryland, at the First Mariner Arena don't miss the final PPV of 2011 in what promises to be a great event with Tables, Ladders and Chairs thrown into the mix. I'm sure it's going to be crazy.