10 Reasons Virginia Basketball Is Not a Lock for the NCAA Tournament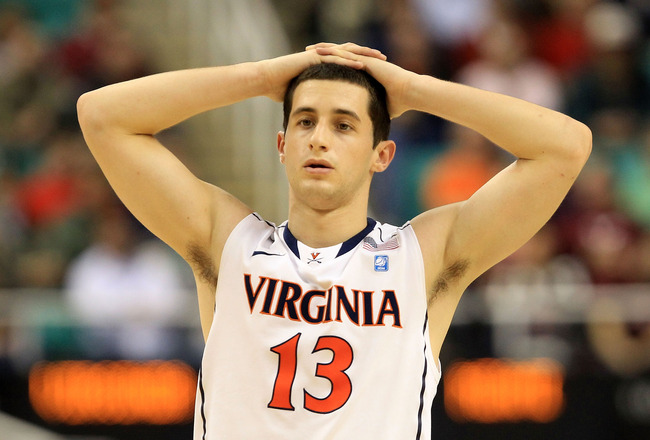 Streeter Lecka/Getty Images
Oh what a difference a game makes.
Virginia basketball fans were rolling after a 70-38 systematic destruction of Georgia Tech on the road.
Following the carnage in college hoops to teams like Syracuse, Duke, Baylor, Illinois and many others, Virginia looked like it might be heading towards a top ten ranking with a victory against arch-rival Virginia Tech.
Instead, the Cavaliers laid one of the worst eggs imaginable in a 47-45 disaster that led to far more questions than answers.
Virginia fans expected the team to be different without starting center Assane Sene, but Sene's anemic offense cannot fully explain a performance where the Cavaliers shot 1-of-14 from beyond the arc and 14-of-22 at the line.
Now Virginia is 15-3 and still holding on to their top 25 ranking. However, several flaws have been exposed that appear to be more than just a fluke occurrence.
Despite the best start in nearly three decades, Virginia is not a lock to make the Big Dance and here are ten reasons why the Cavalier fans could be blue by season's end.
Sammy Zeglinski Has Lost His Mojo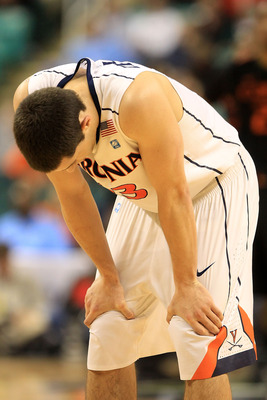 Streeter Lecka/Getty Images
As a senior with years of experience, Virginia relies on Sammy Zeglinski in clutch situations.
The guard has hit countless daggers for the Cavaliers, including a few circus shots last year in Virginia's victory over Virginia Tech at home.
Yet the ACC season has brought a cold spell to the Philadelphia product that has everyone concerned.
Prior to the start of ACC play, Zeglinski had scored in double figures six times and made at least three three-pointers seven times. In fact, he was 29-of-66 in the first 14 games of the season.
However, since then he is 4-of-24, missing some wide open shots and completely throwing Virginia off their rhythm. While Zeglinski continues to try and get back into a rhythm, he is missing shots with such force that it is leading to fast breaks on the other side.
Virginia cannot expect to be successful with one player producing, and Zeglinski should expect open looks with Mike Scott in the paint. If he cannot convert these opportunities than Virginia is asking for disaster.
In Virginia's two ACC losses, Zeglinski is a combined 0-for-15 from the floor. They have lost both games by a combined five points.
If there is one particular reason why—you're staring at him.
Joe Harris Has Lost His Nerve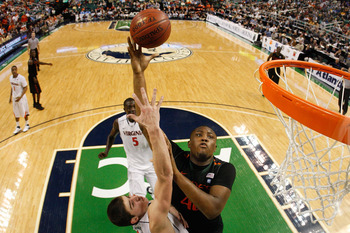 Streeter Lecka/Getty Images
Lost in the downfall of Sammy Zeglinski's shooting touch is the disappearing act of sophomore wing player Joe Harris.
The Washington state product is one of only two recruits left from coach Tony Bennett's infamous "Six Shooters" class of 2010.
While Harris has shown the most promise, he has clearly seemed more hesitant to take the three-point shot.
Harris is the second leading scorer on the team and has hit double figures in all but three games this season. He also has 10 points or more in three of the four ACC games this season.
However, Harris has been unwilling to shoot the three-point shot, something that he made 65-of-156 times last season.
Now on one hand this is a good thing. Harris needed to improve his overall game and attack the basket, which he is finally doing.
Five of Harris' eight shots against the Hokies came from inside the arc.
However, if Virginia is going to kick out the shot, Harris is the most likely candidate to knock it down from behind the arc.
His shooting stretches the defense. Although he is getting to the paint, without a three-point threat he is meeting a lot of defensive bodies and getting pummeled.
Harris has only taken 11 free throws in the ACC, and he has missed five of them. That simply will not cut it for a potential leader of this team.
When a player like Mike Scott is struggling, Harris has to step up and so far he has not shown the ability, or necessarily the drive, to take over games.
He may be young but if he does not learn this soon, Virginia's season may be in peril.
Mike Scott Is Human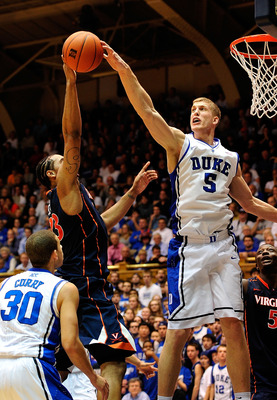 Grant Halverson/Getty Images
Mike Scott has been a great player this season. He may have proven to be the ACC Player of the Year.
Yet Scott cannot don the Superman cape every single night and expect to pull off miracles.
Don't get me wrong, the fifth-year senior has saved Virginia from losing games that would have crippled the momentum of their season.
Against Seattle, Virginia's defense broke down, but Scott lit it up for a career-high 33 points.
In the Miami game, Scott had 23 of Virginia's 52 points to win by one over the Hurricanes.
He even took over the Michigan game halfway through the second half to give Virginia its biggest victory of the season with 18 points.
However, Scott could not save the day on Sunday against the Hokies.
Perhaps he was poisoned by krypton, but Scott looked shaky in the final minutes, turning the ball over and missing shots throughout that are normally automatic.
Now to be fair, Virginia Tech was not going to let him win.
The Hokies doubled Scott all night long and when his cast of characters continued to let him down he was truly out of options.
Scott cannot take teams on by himself and if he does not bring his "A" performance someone has to bail him out.
Against Georgia Tech, Virginia's "other guys" gave Scott enough offense to help him find a rhythm later on in the game.
If they cannot, then the Virginia Tech game will be repeated time and time again.
Florida State and North Carolina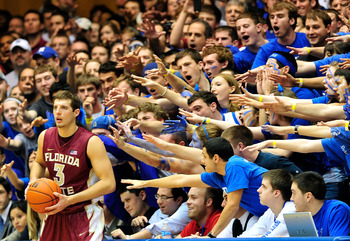 Grant Halverson/Getty Images
The ACC may not be what it used to be, but it still has some good teams and Virginia will be seeing them.
Sure, the Cavaliers only had to play Duke once and unfortunately for them it was on the road. They played well but lost 61-58. As a result, a chance at a quality win slipped away, and a loss was added to the record.
Moral victory or not, if a team slumps those losses can add up.
Virginia still has to play North Carolina, a team with so many big bodies up front that the lack of depth will absolutely punish the Cavaliers.
Virginia could beat anyone in the ACC, but the Tar Heels are by far their toughest match-up with the size and speed they possess.
Oh yeah, they also have to play them twice.
The Cavaliers must also play Florida State twice, arguably the hottest team in the country after taking down both Duke and North Carolina.
The Seminoles might win the ACC and their defense is suffocating.
In all, Virginia plays five teams twice. One of them, Virginia Tech, they already lost to. The other two, previously mentioned are a combined 29-9 and Maryland has been slowly improving under first-year head coach Mark Turgeon. Granted, Clemson has been hit-or-miss, but they do have the ability to scare a few teams.
The Cavaliers drew probably the toughest ACC draw and although that means they can pick up quality wins it also means they need to address these other concerns quickly.
Eight Scholarship Players
Grant Halverson/Getty Images
Virginia may like to play slow, but now they will really have to take their foot off the gas.
With only eight scholarship players left, the Cavaliers played three players over 36 minutes.
The result was a tired team that looked unable to capitalize on the momentum they were starting to generate with three minutes to go.
Playing the pack-line defense is tough. The point is to wear out the opponent but it can be tiring for the defense as well, especially if they make a couple miracle shots like Virginia Tech did on Sunday.
Nothing will deflate a team more than missing shots and working hard on defense only to give up a basket. Without the depth to bring a spark on defense, Virginia will be more susceptible to runs now that their senior center is out for virtually the entire regular season.
It also means that Virginia has three players on the roster above 6'6". If the big men get into any foul trouble, the Cavaliers are in big trouble.
Freshman Darion Atkins and sophomore Akil Mitchell are talented, but both are inexperienced. In a system like the pack-line, that can be critical.
Their baptism by fire will define Virginia's season from here out.
Lack of "Winning Foundation"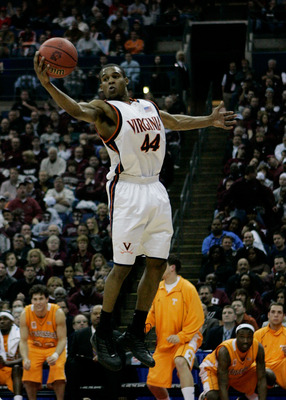 Gregory Shamus/Getty Images
Let's face it, in college sports you typically win and then you become good.
There is a reason why the programs at the top stay on top, everything builds on success.
Teams can enter arenas with swagger because they have the experience and talent to back it up. They have played in close games and are used to playing against the best their opponents have to offer.
Champions do not sneak up on their opposition.
Well Virginia has done well mentally this season dealing with those hurdles. They have found ways to win despite not playing their best.
The three lead seniors have been instrumental in making big plays when needed and junior Jontel Evans has not been far behind.
Still, the Cavaliers have not been to any postseason since 2008 and not been to the NCAA tournament since 2007.
In 2008-09, Virginia won ten games the entire season.
The Cavaliers have not experienced success, and adversity can eventually break any team.
Virginia has had to overcome a great deal, losing both KT Harrell and James Johnson as transfers and Sene's injury.
At what point do the Cavaliers risk reaching the breaking point?
They have already won as many games this season as all of last year, just how big a jump can they make?
Early Momentum Means Little in March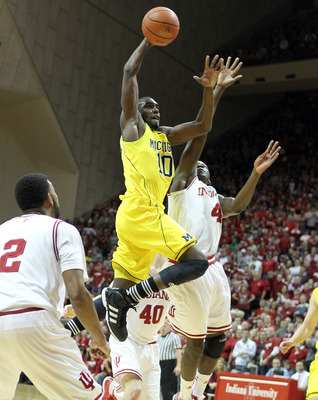 Andy Lyons/Getty Images
We all know that what you do at the end of the season is far more important than what you did early.
If you are going to throw in a few clunkers, you better do it early because the NCAA Selection Committee can be brutal.
As much as they talk about the "body of work", those last ten games will impact seeding tremendously.
We live in a "what have you done for me lately" world and with the over-saturation of sports media, you better believe that your last impression is the biggest.
Virginia will play most of those last ten games without Assane Sene and will play all four UNC/Florida State games during that stretch.
The Cavaliers must take advantage of the next three games and the Wake Forest home game to try and reach the magic number of ACC games necessary to make the Big Dance.
Virginia must also hope that Michigan, LSU and Oregon keep winning to help their overall RPI and Strength of Schedule.
In sports, perception is reality. Virginia does not play a pretty game of basketball and the marketing people certainly want to avoid 47-45 games.
The Cavaliers need to put their best foot forward instead of shooting it off.
Jontel Evans Has to Make Shots to Match His Speed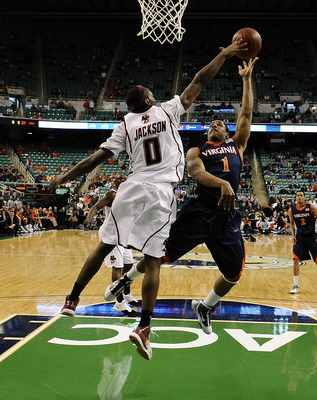 Jeff Zelevansky/Getty Images
Jontel Evans is a guy you have to like if you're a Virginia fan.
He plays hard every second on the court, trying to generate steals and pressure the ball-handler.
He runs the offense smoothly and rarely turns it over. Heck, his speed can get him to the basket fairly quickly and he is not afraid to take punishment from the defender.
What he cannot do is score.
Evans, despite doing the hard part of getting to the lane effectively, has missed more lay-ups than even he would care to admit.
Against Duke, Evans had a couple of "gimmes" that proved to be the difference.
His short stature makes getting his shot off difficult, forcing him into tough floaters.
Even on fast breaks, Evans has been constantly blocked or fouled on his attempts.
Against Virginia Tech, the junior went 4-of-12 from the field and 1-of-5 at the line.
In four ACC games he is shooting just 10-of-33.
While no one is asking Evans to be a go-to scorer he has to be able to contribute something to the overall effort, especially if he is going to make the moves inside to the paint.
Without the height to finish at the basket or to find open players in the lane, Evans has become an enigma on offense. His speed can only go so far, his touch is what will win the race and despite his best efforts, the touch is not there.
Virginia Tech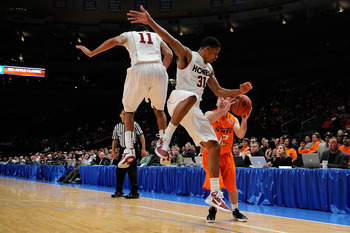 Patrick McDermott/Getty Images
Last year, Virginia Tech was in a familiar situation. The Hokies were on the bubble, waiting to hear their name called for the NCAA tournament.
To everyone's shock, coach Seth Greenberg never got that call and the Hokies were on the outside while some CAA at-large named VCU got in to the outrage of all the ESPN sports pundits.
Virginia Tech can blame the Rams all they want, but no team caused them more consternation that season than Virginia.
The Cavaliers swept the Hokies last season despite being the lesser team. In the first game, Mike Scott helped Virginia avoid a collapse by making critical free throws on the road to seal the ACC victory.
In the second game, without Scott, Virginia made some miracle shots, by Zeglinski and Evans, to shock everyone with the victory.
Those bad losses cost Virginia Tech their ticket to dance.
In a bit of reverse karma, the only team without an ACC victory shocked the Cavaliers with a similar strategy. Despite tremendous defense, the Hokies found ways to make shots late in the shot clock and demoralize the Cavaliers.
They did just enough and Virginia made just enough mistakes to lose.
That game, of course, was in Charlottesville. How will the Cavaliers fare in Cassell Coliseum in the rematch?
Now granted, Virginia has played well on the road this season and can certainly win in Blacksburg. Despite all the terrible offensive numbers, the Cavaliers still only lost by two on Sunday.
However, if they did get swept, you better believe the NCAA selection committee will keep that in mind. If it costs Virginia a spot in the Big Dance, the Hokies will have sweet revenge.
Rebounding Is Not the Strength It Once Was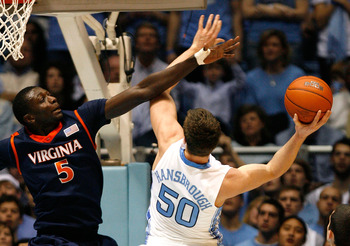 Kevin C. Cox/Getty Images
Entering the game, Virginia had one of the best rebounding teams in the country.
The pack-line defense gave them the bodies around the basket to only average seven second-chance points all season for their opponents.
Yet, the loss of Assane Sene in the paint was evident in Virginia losing those 50/50 balls they used to be getting.
Balls that Sene's long frame used to deflect into turnovers were now staying in the Hokie possession.
When Virginia Tech took the lead going into halftime, it began with a possession where two errant passes by the Hokies deflected off of Virginia and back to a Virginia Tech player. As a result, they kept possession and nailed a three-pointer moments before the shot clock expired.
Darion Atkins and Akil Mitchell are good big men, but they do not have the 7 footer's height to jump up and get the ball like Sene did.
Even Scott had trouble corralling the ball against Virginia Tech with their defense swarming him every possession.
While Virginia still out-rebounded the Hokies, as they have nearly every opponent this season, there does seem to be cause for concern.
With a bad offense, the Cavaliers have to limit possessions for their opponents. Failure to do so leads to scrambling defenses and easier points.
Virginia's height is now diminished, not just in the starting unit, but every successive unit that comes out because the depth chart is shifted.
Virginia can still rebound but the importance on crashing the glass has become even more imperative.
Keep Reading