Iona Gaels Squeak out 7th Road Win at Vermont, W&M Next
December 17, 2011
When you are playing a nine-game road trip that will take you from the Rocky Mountains to the Appalachians to the Green Mountains, sometimes you have to fight like cats and dogs to win the close games.
That is what the Iona College Gaels (9-2) men's basketball team did Saturday to hold onto a 73-72 win over the Vermont Catamounts (4-7) in Burlington. 
Mike Glover and Lamont Jones both had 16 points for Iona. Glover had seven rebounds and ended up on his back in the second half but still played 36 minutes. "Momo" Jones added four assists and two steals as he increasingly contributes to the Gael offense.
Point guard Scott Machado, who leads the NCAA in assists per game at 10.9, scored 14 points. Machado was limited to four assists on the afternoon by a Vermont defense determined to shutdown his passing lanes, but on occasion left the lane open for drives to the basket.
Sean Armand started at the 3 spot in place of Kyle Smyth who did not play in the game. Armand scored 10 points in 31 minutes of playing time—one of his longest stretches of the year. The sophomore small forward is the best three-point shooter for the Gaels, averaging 48 percent, but was held to two beyond the arc versus Vermont..
Other solid contributions came from Canadian Randy Dezouvre who had four rebounds and eight points playing 24 minutes, and Ra'Shad James with eight points in 24 minutes.
The Catamounts played Iona tough but could not make a shot in the final minute with the chance to pull ahead. The were led by Four McGlynn who had 19 points. Both Luke Apfeld and Matt Glass had 14 and Brandon Bald had 11 of the four Catamounts in double figure scoring.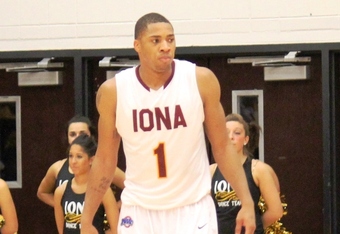 Vermont shut down much of the Gaels playmaking, limiting Iona to 13 assists. Iona had an edge in rebounding 37-27 which led to a 10-2 second half edge for the Gaels in second-chance points.
The Catamounts challenged Iona's uptempo full-court pressure, starting with an 11-point run to start the game. Inside plays by Glover and Machado led Iona back to taking the 17-16 lead with 12;27 left in the half. Matt Glass of Vermont gave his team a 43-37 lead at the half with a three-pointer from center court.
The second half saw seven lead changes as the Gaels matched each of the Catamount runs. With 9:49 left, Lamont Jones gave Iona a 59-58 lead on a three-point jumper. A moment later, Matt Glass scored on a layup to give Vermont back the lead 60-59.
With 6:46 left Machado gave Iona back the lead 64-63 making a driving layup and completing the three-point play with a free throw. After Randy Dezouvre gave Iona a 68-65 lead with two free throws, UVM's Brendan bald made a three to tie the game at 68 all.
After a timeout and a missed Dezouvre shot, Mike Glover grabbed a rebound and put back the shot to give Iona a 70-68 lead. Lamont Jones then added a three to the Gaels a five-point lead with 2:07 left.
With 47 seconds left, Vermont's Sandro Carissimo made a two-point jumper to make it a one-point game.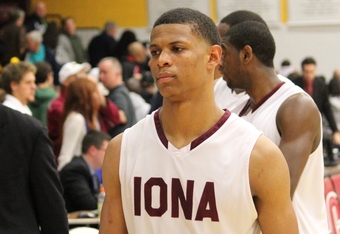 On the following play Machado lost the ball, giving Vermont a chance to tie or go ahead. Matt Glass missed a three-pointer but Brian Voekel of the Cats took the rebound. Off consecutive inbound plays, Voekel missed shots and the Gaels held on for the 73-72 win, just barely.
In other Metro Atlantic Conference action on Saturday, Rider (2-10) defeated UMBC, New Hampshire (3-4) outpointed Marist (4-5), and Long Island (6-6) beat St. Peter's 82-80.
The Gaels next play Wednesday at William & Mary looking for their 10th win of the season. The William & Mary Tribe is 2-8 with a game at Missouri on Sunday.This will be the last time Iona will likely have to board a plane until the postseason.
Ken Kraetzer covers Iona basketball and West Point football for WVOX 1460 in New Rochelle NY and Sons of the American legion radio.  Follow him on Twitter: Sal50nyradio.