Kris Humphries: Syracuse Crunch Hockey's Interest in NBA Star Is a Joke
December 17, 2011
Pascal Le Segretain/Getty Images
Kris Humphries wouldn't be known if it weren't for Kim Kardashian. Instead of just being another player who averages 5.6 points and 4.6 rebounds in his career, Humphries is continuously on the front page of tabloids.
But that "marriage" ended so it's time to move on to being a normal NBA player that averages 5.6 points in their career, right? Wrong.
Syracuse Crunch of the American Hockey League reached out to Humphries and offered him a position with the club.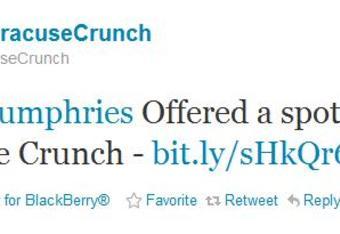 Really? Could his off-court life get any weirder?
Does he even have experience with the game of hockey? Apparently just being from Minnesota can result in garnering a position with a real-life club.
"We would welcome Kris Humphries to Syracuse, where unlike Hollywood there are no paparazzi within hundreds of miles and he could reclaim his privacy and self-esteem," said Syracuse Crunch General Manager Vance Lederman. "Being from Minnesota, Humphries will surely enjoy the hockey and feel right at home in the cold, gray, dismal weather we experience this time of year in Central New York."
Is this another joke? Are we experiencing another hoax?
That would be like a Canadian Football League team calling me and offering me a position just because I'm from Western Pennsylvania.
It must be nice.
Just like some people suggested with Humphries and Kardashian's "marriage" this may be strictly for publicity.
When was the last time we heard about the Crunch?
Exactly.
Humphries, a seven-year NBA veteran, averaged 10 points and 10 rebounds last season—the best numbers of his career.
Maybe he was feeling extremely confident because of being with someone like Kim, but I think he should attempt to duplicate his double-double numbers from a season ago.
Please stick to basketball, Kris. Get away from the extravaganzas and stick to the game you have improved on in the past three seasons.