Alabama vs. LSU Rematch: The Statistics Tell It All
December 16, 2011
Streeter Lecka/Getty Images
I have been doing a good bit of writing lately about the BCS National Championship Game. First, I remarked about how the BCS had more than just the Alabama-LSU rematch that could be considered flaws.
Then, I remarked how the Alabama-LSU rematch was the game we needed even if it wasn't the game we wanted.
Now, I want to focus on the game itself. While the Tigers won 9-6 in overtime due to four missed field goals by Alabama, the statistics tell us a different story.
1) A comparison of quarterbacks
Alabama does not have the luxury of a two-quarterback system like LSU has. A.J. McCarron is the sole QB that Alabama relies on to get the job done. LSU, on the other hand, has two QBs: Jarrett Lee and Jordan Jefferson.
Combining the stats for both Lee and Jefferson gives you 9 of 17 for 91 yards and two interceptions.
McCarron alone accounted for 16 of 28 for 199 yards and only one interception. McCarron also doubled the amount of passing yards of both LSU's QBs combined and had a better completion rate (57 percent) than the two QBs combined (53 percent).
Now, Jefferson is a much better running QB than McCarron is, but if I had the choice between my QB putting up 43 rushing yards and 67 passing yards or 199 passing yards, I'm taking the passing yards any day.
So, in terms of their respective QBs and their statistics, I give the edge to Alabama.
2) A comparison of the backfield
This is one area in which LSU does have better statistics than Alabama. LSU was able to gain 148 rushing yards on Alabama, while the Tide only managed 98 yards against LSU. Michael Ford carried the ball 11 times for 72 yards (6.5 yards per carry), and Jordan Jefferson carried the ball 11 times as well for 43 yards (3.9 yards per carry). 
Alabama did not fare as well. Trent Richardson got the ball 23 times and carried for 89 yards (3.9 yards per carry), and Eddie Lacy carried the ball five times for 19 yards (3.8 yards per carry).
The fact that LSU has a much better run game than Alabama gives them a bit more variety within their playbook in terms of play calling. But, one thing Alabama is known for is shutting down one aspect of your offense, forcing you to rely on another.
I give the edge in the backfield to LSU, but their lack of passing won't help if Alabama is able to shut down Jefferson and Ford's rushing attack.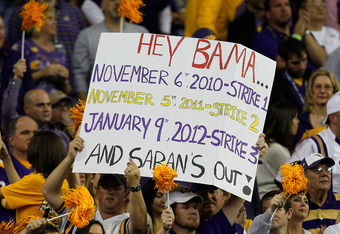 Kevin C. Cox/Getty Images
3) A comparison of receivers
Alabama accounted for 199 passing yards, while LSU only gained 91. Both teams gave up two interceptions. But, comparing the receivers shows a domination by Alabama.
Maze and Richardson both had over 50 receiving yards on the night, while LSU's two top receivers, Russell Shepard and Chase Clement, accounted for 39 yards and 19 yards respectively.
The fact that Alabama was able to move the ball more effectively on LSU, in terms of passing rather than rushing, enables Alabama to spread the defense and open up the run game more.
I give the passing game edge to Alabama due to their 199 passing yards exploiting the openings in the LSU secondary.
4) A comparison of special teams
Okay. The big topic of the first game between LSU and Alabama: Four field goals were missed by the Tide. Three of them were missed in the regular game, which, if they had gone through the uprights, would have made the score 15-6.
LSU did have a good punting team as well, booming one punt for 73 yards. But, since kickoff returns were not an effective part of the night, we cannot do a good comparison of them.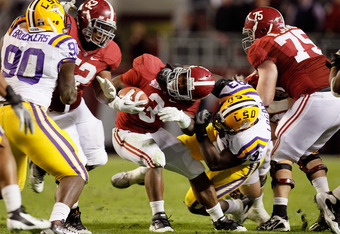 Kevin C. Cox/Getty Images
This may come as a shock, but I am giving the special teams edge to Alabama, and here's why:
LSU blocked one field goal because Nick Saban sent in his short-yard kicker in for a long-distance kick. But, when a team misses three field goals, it obviously means they had the chance to try. LSU only attempted two during regulation play the entire night.
5) Final comparison: Ability to drive the ball
Alabama's worst start for a drive was on their own 4-yard-line. They drove the ball 79 yards in nine plays and got a field goal.
LSU's worst start for a drive was on their own 1-yard-line. They went eight yards and were forced to punt.
The drive mentioned above for Alabama was their best. LSU's best drive started on their own 24-yard-line. They went 74 yards in 11 plays and got a field goal out of it.
The outcomes for Alabama's 10 drives were as follows: three missed field goals, two punts, two interceptions, two good field goals and the end of the regulation.
LSU's outcomes for their 10 drives were as follows: six punts, two made field goals and two interceptions.
On their 10 drives, LSU got into Alabama territory four times. Alabama got into LSU's territory five out of 10 drives. LSU was unable to get onto Alabama's side of the 50 until less than four minutes left in the first half. Alabama's first four drives all got into LSU territory.
The edge, in terms of driving capability, goes to Alabama.
Final Comparison

In terms of statistics, Alabama edges LSU 4-1. This is strictly my opinion, and some may not consider these to be good comparisons, but statistically, Alabama was the winner of the game. Unfortunately, it is the scoreboard that matters, and the four missed field goals did Alabama in.