Who Doesn't Love Sidney Crosby?
December 31, 2008
Before Sidney Crosby even played in a professional hockey game, he was appointed the "golden child" of the NHL.
He was given comparisons to Wayne Gretzky and was expected to be the savior of the league following an embarrassing lockout.
The NHL put all its eggs in one basket with an all-Crosby, all-the-time marketing machine.
And why wouldn't they?
In the NHL's and the media's eyes, they saw a good-looking, polite, young Canadian hockey player who scored inthe juniors at a rate only comparable to the greats of the past.
More importantly, they thought they saw the next Wayne Gretzky.
Too bad they were wrong.
Crosby would become a great hockey player, an All-Star, one of the best players in the league. But he was in many ways no different than any other superstars that had already been in the league.
However, if you weren't more than a casual hockey fan, the media bonanza created by the NHL and the media for Crosby would lead one to believe otherwise.
Crosby isn't even hands down the best player on his team. In fact, Evgeni Malkin is consistently a much more dangerous threat when he's on the ice.
Even worse is that Crosby is a less than classy player. He bickers with referees and is a notorious diver. I know Penguins fans will come up with some b.s. excuse, but it is undeniable that Crosby takes dives whenever he can.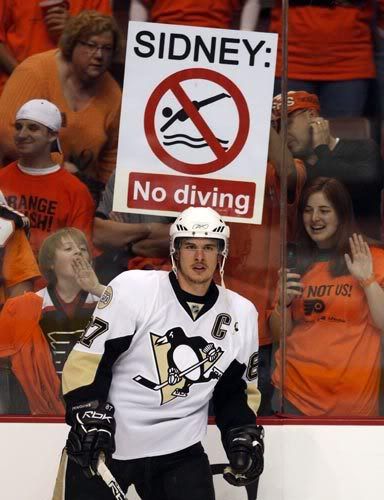 The best evidence was last year's playoffs where he made a mockery of hockey flopping onto the ice whenever he was given the slightest contact. To makes matters worse, the Penguins capitalized off these unwarranted opportunities on the power play.
Sean Avery has his antics, but Sidney Crosby has his own. A perfect example showed in a game against the Atlanta Thrashers this season, where Crosby, while in a scuffle infront of the Thrashers net, continuously punched an Atlanta player in his ass/balls region.
It was a pitiful display, but the completely unbiased Canadien personalities on TSN thought it was funny. If that was any other player in the NHL, something would be s
aid about it.
A matter of fact, a perfect example of this is the much hated Sean Avery. Avery and Crosby both share something in common—they both take dives. But only one of them has been suspended for it.  Only one of them has been sounded off on by the media.
Something's wrong with that. Crosby is held to a double standard, regardless of how he behaves he can do no wrong.
The sad thing is, I think he acts like he knows this.
No other league uses nearly all their resources marketing one player. The only league that even comes close to doing so is the NBA with LeBron James, but that pales in comparison because a large portion of LeBron's marketing is through Nike.
There are other star players in the NHL worthy of being mentioned. Does Crosby deserve recognition? Of course, he's a great hockey player, but his dominate 'Gretzky-like" greatness is a figment of the media's imagination.
He's portrayed as the best player in a league where clearly he is not. That title goes to Alexander Ovechkin, who is not only one of the most prolific goal scorers ever to play the game but also plays a more complete game. He's just as creative as Crosby, covers his own end defensively, but is also a fierce physical player. Something Crosby absolutely is not.
Also, Ovechkin didn't have the luxury of being surrounded by other talent the past few seasons. Whereas Crosby has had Malkin and Marian Hossa, Ovechkin has always been the primary threat for the Capitals since he came over from the Russian Super League.
Not to mention that Ovechkin has much more personality than Crosby, and is the most exciting hockey player to watch in the league.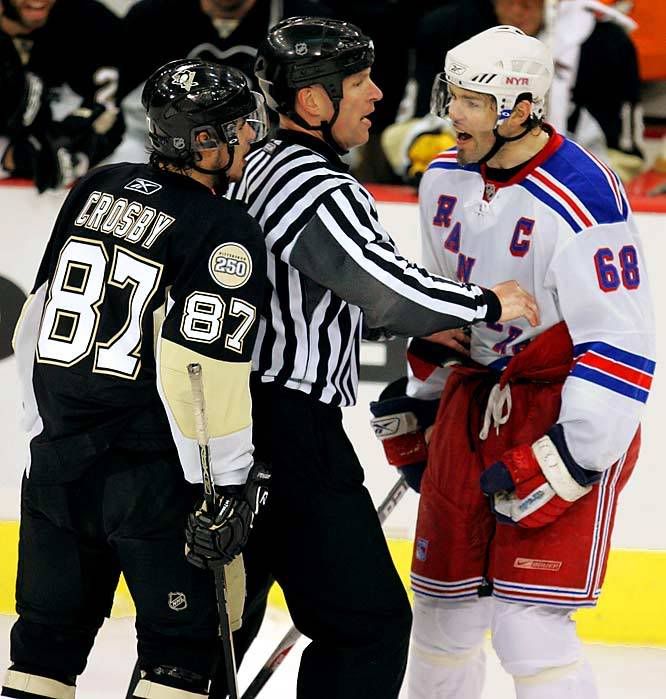 But then again, the NHL has other stars that should also be marketed. How about Phil Kessel or Mike Richards? What about Joe Thornton, Ryan Getzlaf, or Anze Kopitar? What about Henrik Lundqvist?
The NHL's use of Crosby as the face of the "new" NHL is despicable and in the long run will only weaken the league's image. There are nearly a thousand other hockey players in the NHL whose names aren't Sidney Crosby.
But don't tell that to the NHL—and heaven forbid the hockey writers talk about anyone besides the great Sid The Kid.
But hey, at least the NHL's marketing campaign has been affective. Crosby has nearly two-thirds more All-Star votes than Alexander Ovechkin, who truly is the best player in the NHL. For what other reason would Crosby have so many more votes than him?