Antonio Brown: Scouting the Development of the Pittsburgh Steelers WR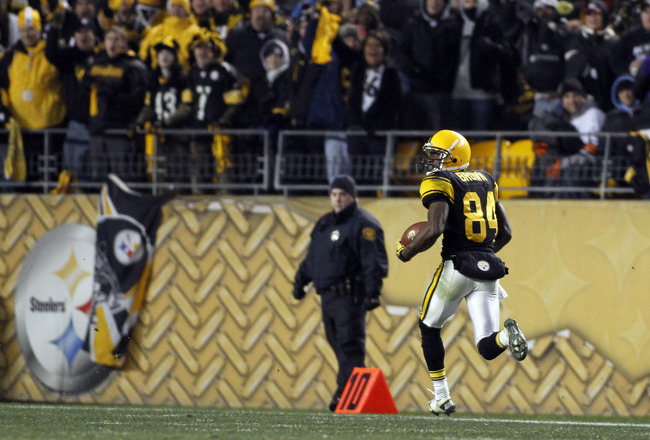 Justin K. Aller/Getty Images
Before the beginning of the season, and the beginning of the offseason, I ranked the Pittsburgh Steelers receiving corp as the second-best group in the league. Since then I have lauded them for their depth and congruency.
Therefore, it's fairly safe to say that I am a fan.
Injuries to key members of this team's group of receivers, like those to Hines Ward, Emmanuel Sanders and Jericho Cotchery, have allowed the least-heralded—outside of Arnaz Battle, who is a special-teamer—member to emerge as a star.
Second-year player and former sixth-round pick out of Central Michigan University Antonio Brown is second on the team in receiving yards this year, with 925—behind only Mike Wallace.
Brown showed flashes on both offense and on special teams last year, including a touchdown against the Tennessee Titans and huge reception against the Baltimore Ravens in the playoffs.
However, his game has gone to another level now that he is receiving more opportunities as a starter.
Last year Brown was really used only to spread the field or on quick-screen plays.
This year he has shown a much better repertoire of routes and greater intelligence. Here is what the tape says on Brown this year.
Release/Route Running:
In this play Brown is matched up against a very good press corner in Brandon Flowers at the top of the screen.
No.1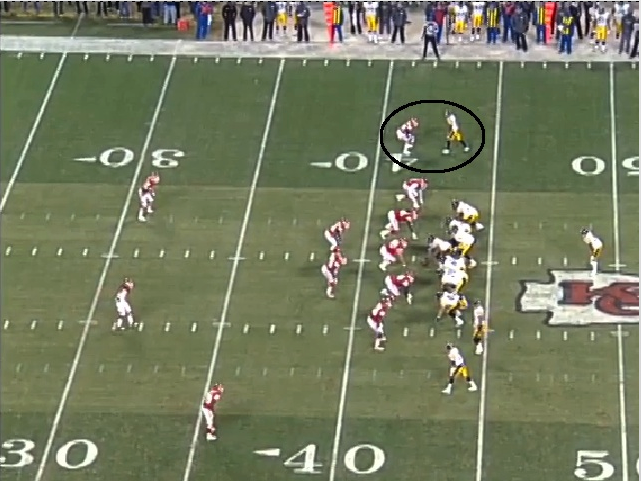 Brown's first step is pivotal here as he looks to run a go route down the sideline. Flowers initially looks to gain outside position as he is expecting safety help over the top.
No.2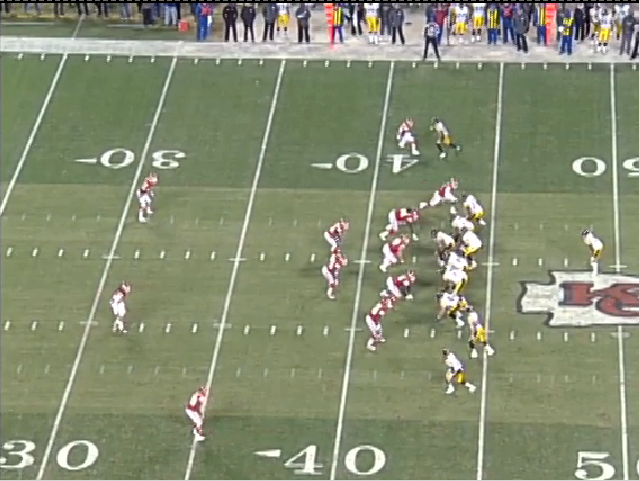 In the second image, Brown begins his route with a hard step inside with his left foot and sells the slant route by turning his shoulders. Although Flowers has inside position initially, he reacts to Brown's feign inside, which gives Brown a clear lane to run the go route and put the corner in no-man's land.
No.3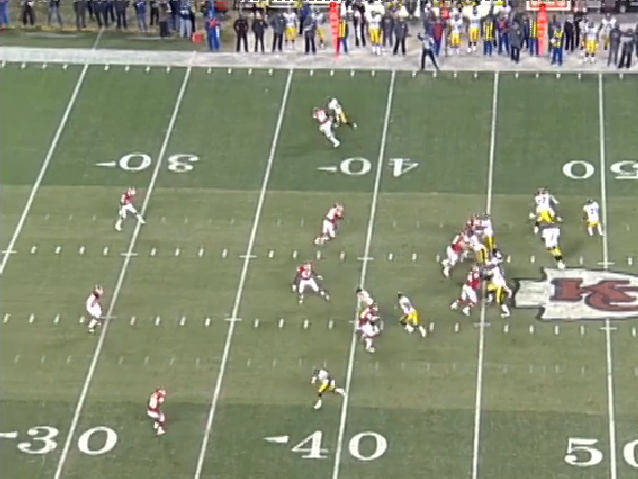 Once Brown has set up his route, it is a simple foot race with Flowers that he is never going to lose. As Flowers desperately tries to keep up with him, Brown has already turned his head to locate the football.
*Image three shows us that Ben Roethlisberger is staring directly at the safety to Brown's side, which is also pivotal for Brown's eventually coming free.
No.4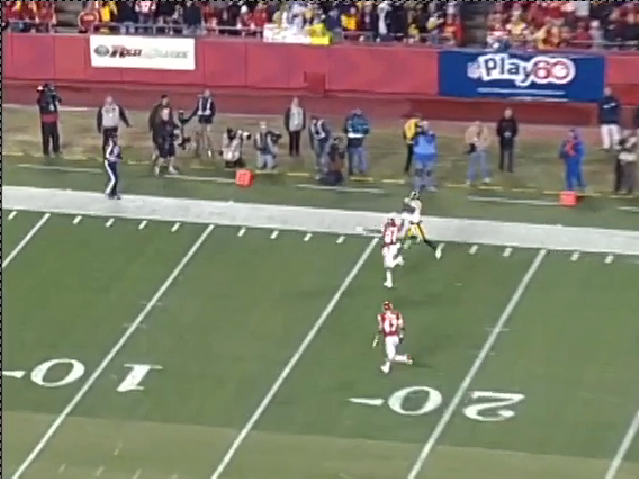 Importantly, Brown reaches the ball at it's highest point to make the reception over the trailing Flowers, who was taken out of the play by a combination of Brown's speed and route running.
Play Recognition:
Understanding and reacting to what opposing secondaries are trying to do to you as a receiver is something that many professionals struggle with. Ultimately, some never learn how to adjust.
Fortunately for the Steelers, that is not the case with Antonio Brown.
No.1
This play against the Cincinnati Bengals shows the defense in a Cover 2 look with man coverage underneath.
Brown was sent in motion prior to the snap and was followed by Kelly Jennings. This let Brown know that the defense was in man coverage, or at least showing it.
Brown's route is a seven-yard curl. That route fits the Cover 2 defense, something that is made obvious as the play develops.
No.2
The circled coverage underneath is aggressively taking away any short or intermediate routes. Brown's cornerback instantly jumps the seven-yard curl route. Instead of looking to come back to the ball, Brown understands where the soft spot of the coverage is over the middle.
No.3
Instead of staying in his route, Brown never stops his feet and uses the cornerback's aggression against him, moving into the middle of the field.
Ben Roethlisberger has an easy window to throw into because the defender is sliding away from Brown.
*Because Heath Miller is in the area, it would not have made sense for this route to be what Brown was originally meant to run. Therefore, it is obvious that this was an adjustment made by the young receiver.
No.4
With Miller in the perfect position to block the one defender that could have caught Brown, Brown's speed and agility allow him to turn a potential coverage sack into a 45-yard gain down the sideline.
It is easy to see Antonio Brown's speed, agility and ability to catch the ball, whether it be over the middle, down the field or in traffic.
The things that are really separating the 23-year-old receiver apart from his peers right now are the things that he has had to work on off the field.
Brown is said to be the hardest working player on the Steelers roster, which is reflected on the field. His route running is consistent and precise, while his intelligence is born out of an obvious willingness to study the game.
Tweeting @Cianaf
This article is
What is the duplicate article?
Why is this article offensive?
Where is this article plagiarized from?
Why is this article poorly edited?

Pittsburgh Steelers: Like this team?