Orange Bowl 2012: West Virginia Mountaineers Outfavored, Not Outgunned
December 28, 2011
Al Messerschmidt/Getty Images
I don't know about the rest of you, but I'm excited—nay, elated—for the Orange Bowl.  All of my thoughts and energy as a West Virginia fan are focused solely on that game and nothing else.  Conference migration, pending lawsuits, court rulings, Vegas odds-setters, Watkins' numbers vs. Bailey's numbers—burn it all.   
It's not only a headache, but a derivative of being a member of the Big East conference and having the reputation of a team that plays down to the level of its competition. 
It's something that I—we—should be used to by now.  We're underdogs, it's just that simple. 
Never mind that Geno Smith had a record-setting year or that Tavon Austin is an AP All-American or that Dana Holgorsen is only one of two coaches to head to a BCS game in his first year ever as a head coach.  It's all as peripheral as any of the aforementioned issues clouding an otherwise bright and burnished picture.
West Virginia simply needs to live in the moment, as do its fans.  It's hard, especially given our history in BCS bowls.  We would love to mass message every Clemson fan from Martinsburg to Atlanta, reminding them of the outcomes at the 2006 Sugar Bowl and the 2008 Fiesta Bowl, but we won't. 
Indeed, as prior BCS bowl performance indicates, West Virginia plays better as the underdog.  
Is there some overt mysticism at work here?  Some kind of shift in universal balance in accordance with West Virginia's geographic position?  Maybe the first couch ever to be burned has, in some Michael J. Fox-ian way, traveled down the space/time continuum and altered crucial Mountaineer sporting events. 
While any of these could be possible, I think it has more to do with West Virginia simply playing big during big games against big opponents. 
Georgia and Oklahoma can certainly attest to this, and I'd bet good money that Les Miles has plenty of good things to say about the Mountaineers after LSU's trip to Morgantown in September. 
Of course, there is a flip side and that is that West Virginia, time and time again, has dropped games to clearly inferior teams.  Case in point: Syracuse.  On paper, the disparity between West Virginia and Syracuse was about as extreme as it gets.  Yet Syracuse looked like the BCS team that night, and West Virginia looked looked like the basement-dweller, losing 49-24. 
With Clemson, West Virginia finds itself matching up as evenly as it gets.  Both teams hit rough skids at different points of the season and still managed to blaze paths to a post-New Year's bowl. 
Watkins and Boyd may win the favor of the media over Smith and Bailey, but West Virginia outranks Clemson in passing yards and PPG.  That, and the fact that Geno Smith threw for a career-high 463 against LSU, and that West Virginia is one of only two teams in the nation with a pair of 1,000 yard receivers, give credence to West Virginia being a more efficient passing team than Clemson. 
There's a myriad of other mind-numbing aspects that I could mill through.  Strength of schedule, point margins, third-down conversion percentage, average stadium attendance, etc., etc.  What really, truly matters is that Clemson and West Virginia match up well, with Clemson getting the advantage.
For this as well, there are a number of contrived and biased things we could conjure up.  Not the least of which is that West Virginia is simply a lightning rod for the beleaguered Big East conference, which draws the ire of any and all personalities in the world of college football.  The reality is, West Virginia is an underdog and will have to walk onto SunLife field as such.  
At the very least, enjoy the moment.  West Virginia is playing on an enormous stage in one of the five biggest bowl games in all of college football.  If that isn't enough, however (in which case you're like me), keep in mind that Geno Smith is a gamer.  He thrives in pressure situations and his top two options on offense consist of arguably the best receiver in Mountaineer history and the No. 2 all-purpose player in the nation.
Then, to top it all off, there's West Virginia's tendency to outclass their opponents on the BCS stage.  Is it magic?  Is it the Delorean-inspired burning couch?  I think it's something based off a far simpler design.  I'll credit the resonant energy from the state itself.  There is a "never say die" attitude synonymous with West Virginia and its people, and this maxim is oft applied on the football field.
I will also credit the head man himself.  In his first year, Dana Holgorsen has been phenomenal.  Forget about the BCS game for a second and just appreciate the enormous weight he shouldered during the torrent of battling rumors, being promoted and having to familiarize himself with a staff, a team and a town in such a small window of time. 
Now you can savor the fact that he has West Virginia in the BCS game that everyone expected him to help us arrive at.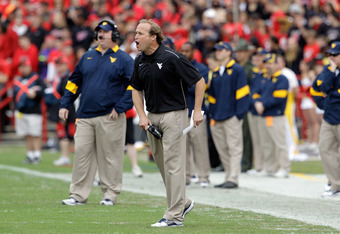 Rob Carr/Getty Images
For all the hype that Dana Holgorsen generated arriving in Morgantown, no one could have foreseen how the last three games of his inaugural season would have played out, but they were far and away the most important of his young career.  There's now a grittiness to this Mountaineer team going into the Orange Bowl that the guys in Vegas won't factor into their odds.
Perhaps it was this toughness, this resiliency that was the final piece needed to become a complete team.
To all the doubters, I say thank you.  Thank you for picking Clemson and putting West Virginia's back against the wall.  Thank you for yet again saying that West Virginia has rolled up to the big show outclassed and outgunned. 
In the end, it's all just more musket wadding.