PGA Tour: Stop Promoting Bad Courses, Holes and Golfers
December 16, 2011
Craig Jones/Getty Images
I am a golf fanatic whose eyes melt into the TV nearly every week watching tournaments.  I'm up early in the morning watching European Tour events, and I'm up late watching events in China in addition to the PGA Tour.  It's fortunate that golf rarely interferes with my other sporting interests.
Despite my love for the sport, there are a few things I could do without.  I label them all as gimmicks in a loose sense.  They include awful holes that get heavily promoted, terrible courses, Pro-Am coverage and Chris Berman.  All of these really test my patience when watching the sport.
Let's begin with the 16th hole, par three at TPC Scottsdale.  It is known for its stadium setting as stands completely encircle it.  Fans get drunk and scream in what is not a traditional golf atmosphere.  That isn't what actually bothers me.  
The problem is that the hole is abysmal.  It belongs on a cheap municipal course, although I've seen better par threes on municipal courses.  That course is terrible in general, and I'd really like to see the event moved.  Stop promoting the worst hole of a bad golf course.  It's not fooling me.
Now we address the famous par three 17th at TPC Sawgrass.  The course itself gets over-hyped, but I consider it a good venue overall.  Unfortunately, the worst hole gets the most publicity.  The island green was created as a byproduct of excavation done in constructing the rest of the course.  
Think about how simple the design is: Hit the green or you're in the water. It's not rocket science.  I don't see any appeal in watching pros hit wedges and hoping for someone to hit a bad shot.  It is the least strategic shot on the course—spare me, please!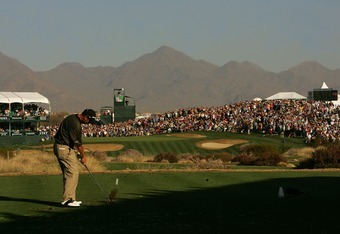 Stephen Dunn/Getty Images
Two other courses in Florida bore me.  TPC Blue Monster is not a good course.  Every hole is either a pinched fairway in the landing zone or water on one side.  A little variety would do.  Bay Hill has the same problem with little variety; some holes look like copies of others on the course.
Please stop telling people how great these courses are so they can overcharge for a round.
The Pebble Beach Pro-Am coverage is absolutely atrocious.  You are barely aware that three courses are being used.  Furthermore, you are subjected to mostly watching celebrities hack it around. I spend enough time waiting behind people hitting bad shots, and I hit enough of them myself.  I do not need to see that on TV. 
The Alfred Dunhill Links Pro-Am shows all three courses and spends very little time with celebrity players.  Take a cue and copy their coverage.
Chris Berman should not be involved with covering golf or playing golf.  At Pebble Beach they mentioned he was a 15 handicap.  After seeing him hit a shot, if he's a 15 handicap, I might win the Masters this year.
Worse than his golf game is his coverage during the U.S. Open.  He decides to create competitions within the tournament.  For instance, he compiled the scores of the Spanish and Swedish golfers, making it into a competition.  He also declared the "Battle of the Bubbas."  This was a competition between Bubba Watson and Bubba Dickerson.  The mute button gets heavy use with Berman around.
Promote the good courses, the great holes, don't show celebrities and keep Berman away.