Oklahoma Football: Will the Sooners End Season on a High Note?
December 16, 2011
Ed Zurga/Getty Images
There is little doubt that the 2011 Oklahoma football team is at the top of the list of biggest disappointments for the season.
This is to be expected when the preseason top-ranked squad finishes fourth in its conference and has dropped out of the top ten in the standings.
Getting 'pantsed' in prime time on national TV against in-state rival Oklahoma Sate with a conference championship and BCS bowl on the line sure didn't help.
This Sooner squad is just a shell of the powerful team that man-handled Florida State, Texas, Kansas State and Texas A&M earlier in the season. 
As injuries have mounted on the offensive side of the ball, a team that was averaging 45 points a game has managed to score a combined total of 36 points in their last two. Seven of those came in garbage time against OSU when they were down 44-3.
Defensively, despite showing flashes of dominance at times, the Sooners have never lived up to the billing that had some believing this could be one of Venables' best. They have continued a season-long tendency towards giving up huge plays and are no longer the ball-hawking squad they once were.
Heading into the Insight Bowl, they will definitely have to do without the services of receiver Jazz Reynolds and running back Brandon Williams on offense.
Defensive end Ronnell Lewis should be ready to go physically, but who knows if he will show up mentally. He missed the Oklahoma State game after being suspended for failing to go to classes and is rumored to be leaning towards leaving for the NFL a year early.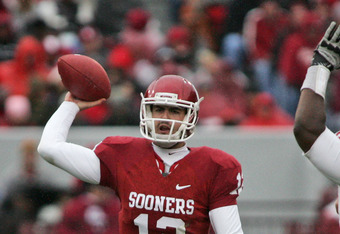 Brett Deering/Getty Images
In Stillwater, quarterback Landry Jones had his worst game since his freshman season in Lincoln. He hasn't thrown a touchdown pass since Ryan Broyles ended his Sooner career with a freak knee injury against A&M.
Now, there is the distinct possibility that the Sooners could finish the year unranked, as a season-ending loss to the 7-5 Iowa Hawkeyes from the Big 10 would surely do.
Many Sooner fans have buried their heads in the sand, believing that an Insight Bowl loss to Iowa is impossible. Obviously, these fans are not thinking with their heads.
They are entering a game they are disappointed to be in, against an opponent they do not really want to play. That is a bad combination for a team, a recipe for disaster.
Even wounded and depleted, the Sooners still have the talent to beat up the Hawkeyes.
The question fans of the team in Crimson and Cream should be asking is, do they have the heart?
If this Oklahoma team does not dig deep and find the intestinal fortitude necessary to overcome the obstacles and disappointment they face, this will be a very long off season for all of Sooner nation.