2011 Mid Offseason Review: The Kansas City Royals and Their Needs
December 16, 2011
Ed Zurga/Getty Images
This offseason may seem quiet so far for the Royals. No, they haven't been on a spending spree like the Marlins or giving out lucrative contracts as the Angels have. Thankfully we haven't seen horrific signings either (aka Jose Guillen). The Royals though have made some intriguing moves so far, though it may seem quiet on the forefront. Here are some of the moves that Kansas City has made so far:
11/07/11—Kansas City acquires LHP Jonathan Sanchez and RHP Ryan Verdugo for OF Melky Cabrera
11/11/11—Kansas City signs 16-year-old Venezuelan LHP Alejandro Viloria
11/15/11—Kansas City signs LHP Tommy Hottovy (30 year old minor leaguer; has been in the Red Sox's system his whole career)
11/23/11—Kansas City re-signs LHP Bruce Chen to a 2-year, $9 million deal.
11/29/11—The Royals agree to terms with RHP Jonathan Broxton on a 1-year, $4 million deal.
11/30/11—Former second round pick SS Jeff Bianchi designated for assignment (The Cubs have since claimed him off waivers)
12/08/11—IF Yamacio Navarro is traded to the Pirates for RHP Brooks Pounders (Second round pick in 2009 draft, 21 years old) and IF Diego Goris (Three years in Pirates System playing in Dominican Summer League).
12/13/11—Kansas City agrees to minor league deals with RHP Juan Guiterrez, C Max Ramirez and OF Greg Golson.
There are a couple of other minor league signings here and there, such as the claiming and releasing of Aaron Laffey. That being said, the primary goal of this offseason was to improve our starting pitching.
The everyday lineup is set for the foreseeable future (assuming Cain gets his shot at CF) and you have an army of arms in the bullpen now that you've added Broxton into the mix.
Though the bullpen is stocked well, the Royals are still looking for a situational left-handed reliever to help out Tim Collins (currently the only LHP in the bullpen). They are also looking for a utility IF.
Though I agree that those are needs for the Royals, I still have to believe that the main goal of upgrading your starting pitching has not been accomplished. In retrospect to the end of last year, you have only added one starter, that being Sanchez. Though I love the trade and think that he is a improvement over Jeff Francis, Jonathan Sanchez is in the end taking Francis' spot from last year.
And by resigning Chen you are looking at a very similar rotation to the end of last year. Let's take a quick look at a potential rotation for next year.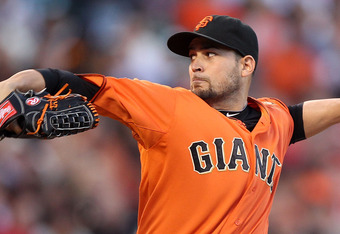 Jed Jacobsohn/Getty Images
Locks in the Rotation:
Jonathan Sanchez (4-7, 4.26 ERA in 101.1 IP, 9.1 K/9, 1.441 WHIP)
Luke Hochevar (11-11, 4.68 ERA in 198 IP, 5.8 K/9, 1.283 WHIP)
Bruce Chen (12-8, 3.77 ERA in 155 IP, 5.6 K/9, 1.303 WHIP)
Probables:
Danny Duffy (4-8, 5.64 ERA in 105.1 IP, 7.4 K/9, 1.614 WHIP)
Felipe Paulino (4-6, 4.11 ERA in 124.2 IP, 8.6 K/9, 1.372 WHIP)
Possibly in the mix:
Luis Mendoza (1.23 ERA in 14.2 MLB IP; 12-5, 2.18 ERA in 144.1 IP in AAA)
Aaron Crow (4-4, 2.76 ERA in 62 IP, 9.4 K/9, 1.387 WHIP)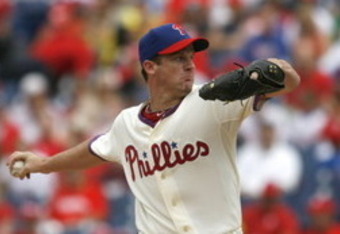 It's not bad…..but it's not great either. At this point, it's above-average and I have this fear that GMDM believes that his rotation issues are settled by just bringing back Chen and acquiring Sanchez. Though the Royals have been the subject of rumors with pitchers (such as Gio Gonzalez), it seems that we're more than likely going to have to be content with what we have…again.
Which is a shame for me, because although I do believe that our rotation is only above-average at best right now, I also believe that this rotation has potential to become better than an above-average rotation. I also believe that the way you get there is by getting a veteran pitcher with experience leading a staff and pitching in the playoffs.
I believe that the Royals (without hindering the "process") can and should go out and get another starting pitcher on the market on a one or two-year deal. Though some of the bigger names are off the market right now, there are still two names that I would be willing to personally drive up to Kansas City to get them signed:
1) Roy Oswalt—9-10, 3.69 ERA in 139 IP, 6 K/9, 1.338 WHIP with Philadelphia
I know that he's coming off an injury plagued year with his back acting up, but I believe that if he's fully healthy, you are getting a player who still has No. 1 starter potential. From 2001-2008, he won at least 14 games each year and he would've won at least 14 in 2010 had he not pitched half of the year for an terrible Astros team (finished 2010 13-13 with an 2.76 ERA and a 8.4 K/9).
From 2004-2010, Oswalt averaged at least 215 innings a season while averaging an 3.48 K/BB ratio. But the thing he would bring the Royals is a pitcher who has been the leader of multiple pitching staffs in the past. I think the reward far outweighs the risk for Oswalt.
2) Joe Saunders—12-13, 3.69 ERA in 212 IP, 4.6 K/9, 1.307 WHIP with Arizona
He's started opening day for the Angels, been successful in the American League and after being traded to one of the worst teams in the National League he helped lead them to the postseason. He's also only 30 years old.
Saunders isn't flashy, but he's a guy with four different pitches and is very efficient. According the ESPN's Inside Edge, Saunders threw three or less pitches 68 percent last year while only 19 percent of his plate appearances went to three-ball counts.
He would be a good compliment to Sanchez, Hochevar and Chen at the front of a rotation as he would provide stability and a pitcher with experience in leading a young pitching staff (and team) to the playoffs.
I would be willing to sign Oswalt to a two-year deal for somewhere in the range of $18-$20 million or Saunders to a one or two-year deal (1-year, $9 million/2-years $17.5 or $18 million). Both of these pitchers would be beneficial signings that not only will help your ballclub now, but they also would give you good trade chips down the road if needed. 
I might add that the Royals do indeed have plenty of money to spend on one of these two or any other starter they might want to add. The Royals were last in spending last year as the Royals' payroll was only $35,712,400 last year, or around $6.2 million less than the Tampa Bay Rays.
In total (according to Cot's Baseball Contracts), the Royals' total payroll ended up being $38,176,000. You can take a look at the spreadsheet yourself here. That payroll includes the $11 million saved last year when Gil Meche retired and decided not to collect the payment of the last year of his contract.
Basically, the Royals have a lot of financial freedom right now. I realize that big reason why we have a small payroll is because the young guys are starting to break through. Translate that to inexpensive players. We do need flexibility to keep these guys like Hosmer, Perez, Gordon, etc...I get that.
But at some point you have to take risk to improve your big league ballclub. The Broxton signing is a perfect example of that. If he's healthy, that is a steal and adds flexibility to the team. You can trade him if you're out of the race at the trade deadline, or you can move Soria and put Broxton in the closer's role.
I commend GMDM for sticking to the process, and in all honesty, I truly believe the process will be successful. But now is the time to go out and get a guy that can help your team win now while at the same time keeping the prospects in your system. Take a chance this offseason GMDM and improve your team.