Oregon Football: The Top 5 Plays of LaMichael James' Career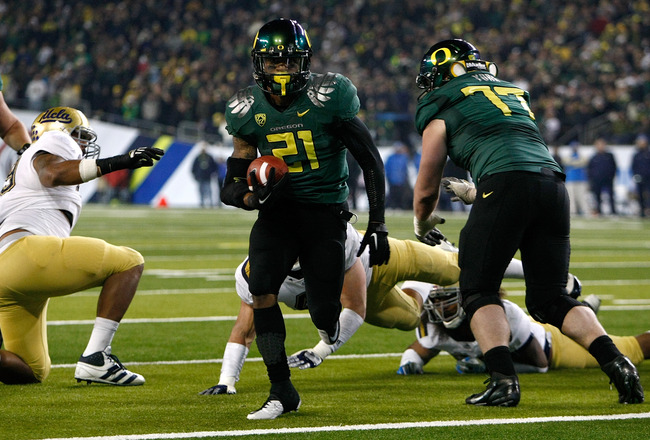 Jonathan Ferrey/Getty Images
While LaMichael James has yet to confirm that he is leaving after the Rose Bowl to peruse playing in the NFL, Oregon Fans need to cherish the Rose Bowl because it will likely be the last time we see one of the greats in Oregon history.
James has done an outstanding job since starting for the Ducks and is the only player in Pac-12 history to post three 1,500 yard seasons.
With the end likely near in the Rose Bowl, here is a look back at the top five plays since James put on a Ducks uniform.
No. 5: 2010 vs Stanford
One thing the Ducks will miss is the fact that LaMichael James could hit the hole faster than most backs in the nation.
While this run appears to be well blocked and easy on James, look at the small crease he attacks and how quickly he gets through it as he puts the final nail in Stanford.
Fast forward to 1:10 to see it unfold.
No. 4: 2011 vs Missouri State
While it was against Missouri State, take a look at the speed and vision as LaMichael James breaks off his longest run of his career.
No. 3: 2009 vs USC
When the Ducks were on the road to a conference title in 2009, they unseated USC at home. James is known for his outstanding conditioning that could help wear down teams.
Fast forward to 3:07 and watch James continue to push and not give up on this run.
No. 2: 2010 vs Tennesee
Last year, the Ducks went on the road to take on Tennessee. After falling behind early, the Ducks continued to try and establish the run game when James ripped off this huge run against the Vols.
No. 1: 2009 vs UCLA
In his first year as starter, LaMichael James had an outstanding season. When the Ducks headed to UCLA for a road game, Oregon found themselves on their own one yard line before James pulled off this run.
Fast forward to 3:25 to check it out or enjoy the entire countdown from his freshmen season.
Keep Reading

Oregon Ducks Football: Like this team?