Gift Ideas for the Major College Football Coach in Your Life
December 15, 2011
Ezra Shaw/Getty Images
With the shopping and gift-giving season upon us, you can never be too careful when considering what to get that special person in your life, even if they seemingly have it all. For that very reason, I've taken the liberty of assembling a handy guide to make all of our lives easier when searching the aisles for that perfect gift for generally imperfect college football coaches.
Kevin C. Cox/Getty Images
To the man making millions a year like Saban is, it really is all about the personal touch. He can buy anything he'd want, so consider the Blu-ray version of Flipper to help Mr. Rammer Jammer himself remember the good ol' days at Joe Robbie. If that seems too mean-spirited, you can always just go with lifts, right?
Bob Stoops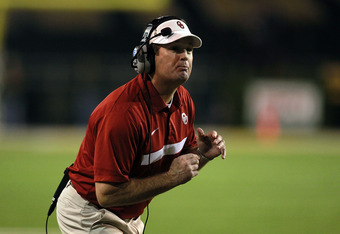 Ronald Martinez/Getty Images
Nobody knows better than our pal Bob how scary it can get at night sometimes. Even though it seems beneath, you just know he'll love his new nightlight, and hey, it's Sooner-themed and travel size—great for the road!
Les Miles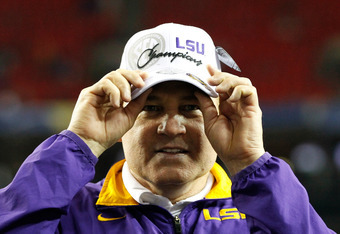 Kevin C. Cox/Getty Images
He already has the shoes and hat he needs, so I'd be willing to shell out premium coin if somebody could fashion an adult version of the always popular toddler leash to help Les avoid rogue players running out of the tunnel beside him or even just to keep him running to the right sideline. You can never be too careful.
Chip Kelly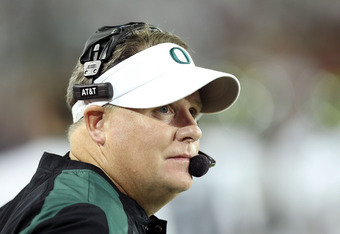 Christian Petersen/Getty Images
Sometimes after big wins, you just want privacy during your postgame interview and those damn kids keep insisting on being loud and happy in your personal space. With Chip Kelly's new portable, midfield gazebo, all problems are solved—coach and reporter have their space, and spazzed-out onlookers get their precious Today show moment. Oh, and no checks accepted—cash only.
Mike Leach
Jamie Squire/Getty Images
By now, the pirate stuff is probably played out, and with Leach moving to Pullman, he's probably looking for a new aggressive culture to tap into. I have no idea which direction Leach should look in, but if he's gone as far as he can with the sword, it may be time for some football comparisons to the almighty blowgun. Why? I have no idea, but Mike Leach with a blowgun terrifies me.
Mack Brown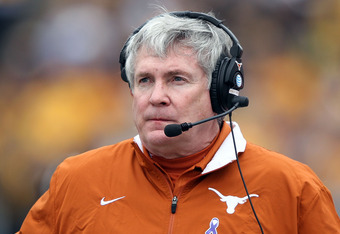 Jamie Squire/Getty Images
This one stumped me—how do you gift-wrap the ability to recruit and develop a competent quarterback?
Bo Pelini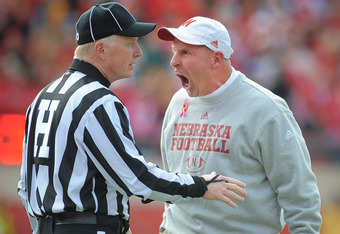 Eric Francis/Getty Images
Watching Pelini during a big game against a ranked team trying to make sense of Taylor Martinez's attempts at throwing the ball downfield has become too much to ignore. He's frustrated, we're frustrated—something clearly must be done. It always seems healthier, just in general, to embrace certain flaws rather than try to fix them.

For this, it's time for Pelini to embrace Martinez's throwing motion and help him to perfect whatever it is he's trying to do...with an authentic javelin. I anticipate tears of joy.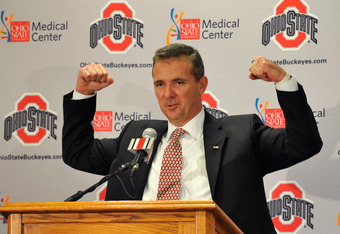 Jamie Sabau/Getty Images
Nobody wants the Buckeyes to go through the troubles they've seen this past year, and to ensure a fresh start, it's imperative that they do things the right way in Columbus…with a Deluxe Home Tattoo Kit! No more sneaking around, no more shady dealings—it's all out in the open now! Also, you should note that any time you give Meyer a gift, be sure to request a gift receipt—he's been known to change his mind about how enthusiastic he feels towards pretty much anything.
Mike Gundy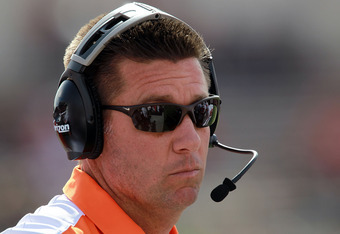 Ronald Martinez/Getty Images
Fact: Some people have rhythm and some people don't. Follow-up fact: Mike Gundy has rhythm and deserves a trunk filled with every dance video game that exists. Hell, T. Boone could probably even spring for the full Dance Dance Revolution machine, can't he?
Steve Spurrier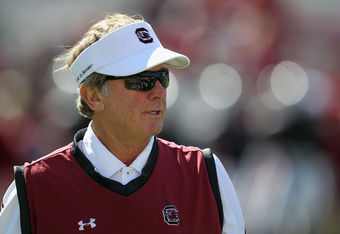 Streeter Lecka/Getty Images
There's no slowing Spurrier—he's 66 and still has the drive of a newly-hired head coach. For the man that's always in the film room, on the practice fields or on the road recruiting, the Old Ball Coach is practically begging for some time off to take up a new hobby. Maybe this'll convince him to give golf a shot.
Brian Kelly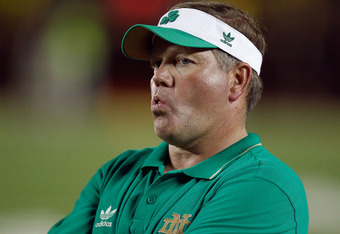 Gregory Shamus/Getty Images
It's always boots with Kelly. Always boots. He loves boots. Seriously, just ask him. Loves the boots. If he insists he has enough classy Southwestern footwear, though, it couldn't hurt to wrap a nice throw pillow for Kelly to scream into any time he needs to let out some old-fashioned BK rage. I think we can all agree that the birdie adds a nice, calm touch.
Dan Rubenstein co-hosts The Solid Verbal college football podcast and can be followed on Twitter here.