2011 MLB Free Agency: Grading the LA Dodgers' Offseason Moves so Far
December 15, 2011
Denis Poroy/Getty Images
A couple weeks ago, I published a slideshow listing 10 free agents the Dodgers should pursue. It was like a teacher (granted, one without any credentials) making suggestions to the student before they turn in their final paper. Red underline here, cross that word out, maybe add a paragraph about this, etc. Judging by the actions of Ned Colletti and the front office since it was posted, one thing is abundantly clear: Ned doesn't read my articles!
As disappointing as that fact is, it pales in comparison to the disappointment I feel when looking at the transactions that have actually taken place. Today, instead of making suggestions, I will be giving a letter-grade to each of the Dodgers' offseason moves. In the words of Bay Area rapper-gone-white-girl-monger, Ya Boy:
It could get uglier than Tyrone Hill.
11/3 – Signed Juan Rivera to a one-year/$4.5 million contract
One team's trash is another team's cleanup hitter. After the Dodgers acquired the 33-year-old outfielder from the Blue Jays, he experienced a resurgence of sorts, bopping the ball all over the yard for a .739 OPS. That's right, he's barely playable on defense and had to go on a 62-game semi-tear to get his season SLG up to .382.
I'm of the opinion that $4.5 million ($8 million over two years if his team option is exercised) is too much money to give to a guy without a discernible baseball skill. But, that's just me.
Grade: D

11/15 – Signed Mark Ellis to a two-year/$8.75 million contract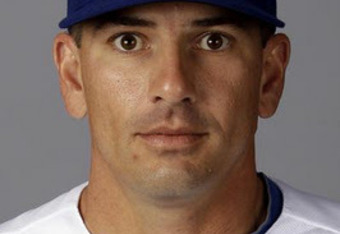 I've been over this already. Instead of beating a dead horse, I'll just add a couple of names to the list of people I'd rather give $8.75 million to:
The writing staff of Whitney, the inventor of cheese on a stick from Hotdog on a Stick, Cheese Wagstaff, Cheese from Gone Baby Gone and Method Man.
Grade: D+

11/15 – Signed Matt Treanor to a one-year/$850,000 contract
No real qualms with this signing. Why, you ask? Here's an allegory.
Treanor will bring little to the dinner table besides his catcher's gear when he reports to spring training in February. And he will probably try to do that slick move where he pulls the tablecloth out from underneath all the dishes. Only, he will fail and all the food and dishes will go flying everywhere. But, it will turn out that the food was takeout KFC, so the floor couldn't really do any damage. And you were using paper plates and plastic forks, so nothing broke and no one required stitches.
It will be in bad taste and a maybe even a little shocking, but in the end, everyone gets a cheap laugh.
Grade: (This was taken pass/fail) Pass—by way of teacher bribe.

11/18 – Extended Matt Kemp to an eight-year/$160 million contract
Grade: A-

11/30 – Signed Adam Kennedy to a one-year/$800,000 contract
I challenge someone to come up with a legitimate reason for this signing. Even a funny one would suffice. I've got nothing.
He accrued a WAR of 0.1 last season. Cue, Jay from 40-Year-Old Virgin.
"Extrapolate that!"
That means that 35-year-old, .632 OPS-having Adam Kennedy will be paid $8 million for every win above a replacement player he was worth in 2011. Bravo, Ned.
Grade: F

12/2 – Signed Chris Capuano to a two-year/$10 million contract
Knowing they would non-tender Hong-Chih Kuo, Colletti rushed to sign another left-hander with multiple Tommy John surgeries under his belt.
Capuano did start 31 games last season and managed to battle through six innings in 20 of those outings. Unfortunately, he made it into the eighth inning only twice. I suppose a team can do worse than a left-handed fourth starter at $5 million per year.
Grade: C

12/5 – Signed Jerry Hairston Jr. to a two-year/$6 million contract
Something about the Hairstons has always rubbed me the wrong way, but this could be the most sensible free-agent signing the Dodgers have made. He plays nearly every position, gets on base more than 80 percent of the roster and can (hopefully) still run a little.
He'll take over the utility infielder spot vacated by Jamey Carroll.
Grade: B-

12/8 – Signed Aaron Harang to a two-year/$12 million contract
He's been on the disabled list in each of the last four seasons, though none of the injuries found his elbow or shoulder. In 2011, his walk rate was the highest since his rookie season and his strikeout rate was his third lowest.
Not a ton of value here, it would seem. Is it worth $6 million per season to have a poor man's Brad Penny? Hopefully he'll have a good season-and-a-half and the Dodgers can flip him for something at next year's trade deadline. It's probably worth noting that I could have written that sentence under any name on this list who signed a two-year deal.
Grade: C

12/12 – Signed Tony Gwynn Jr. to a two-year/$2 million contract
Good value here. I'll gladly put a guy on my roster that can play all three outfield spots and run the bases. I just heard about this signing today and I have to admit that it was a pleasant surprise. Aside from Kemp, this is my favorite Dodger transaction of the offseason.
That. Is. Sad.
Grade: A-
 Other Moves
- Traded Dana Eveland to the Baltimore Orioles for minor leaguers.
- Signed Wil Ledezma to a minor league contract.
Grade: Who cares?
Proposition Joe might refer to Dodgers' current situation as "a crisis of leadership." I understand that. I've heard the excuses, the claims that they don't have a ton of money to spend right now. And I get that all of these deals are more loaded on the back end than a Kim Kardashian and Tahiry lovechild. Still, it raises the question:
If the Dodgers could afford to sign seven new 30-something journeymen, couldn't they have pooled the money from, say, four of those guys and gone after someone who could make an impact? Is it really better to gamble on Chris Capuano (and his two elbow surgeries) and Aaron Harang (and his four consecutive seasons that included a stint on the DL) than it is to gamble on a potential stud, like Roy Oswalt? I'd say, no.

But, alas, it makes no difference, because as you know, Mr. Colletti doesn't read my articles.