MLB Rumors: Prince Fielder, Not Yu Darvish, Should Be the Chicago Cubs' Priority
December 15, 2011
Jonathan Daniel/Getty Images
With rumors circulating about the Chicago Cubs as the likeliest landing spot for free-agent first baseman Prince Fielder, the team should be focused on signing the Milwaukee Brewers' slugger rather than focusing on making an offer for Japanese pitching phenom Yu Darvish.
Fielder presents a much greater opportunity for what the Cubs need, which is why it is much more important for them to land him compared to a pitcher solely built on potential.
On Wednesday night, the Cubs made an undisclosed offer for the 25-year-old Japanese right-handed pitcher. Darvish does present a huge opportunity to improve the Cubs pitching staff, but is he the right move for a ballclub that is clearly being careful with its spending?
Let's break down the situation.
What Fielder Brings to the Cubs
What Fielder brings to the Cubs is a powerful left-handed bat and also a piece that the offense can build around for years to come. While the Cubs do have Starlin Castro, the young star shortstop has proven that he doesn't have the power that the Cubs need, especially considering the loss of both Aramis Ramirez and Carlos Pena.
The division isn't theirs just yet, but the addition of Prince would allow the Cubs to move in the right direction while their division rivals head in the wrong one.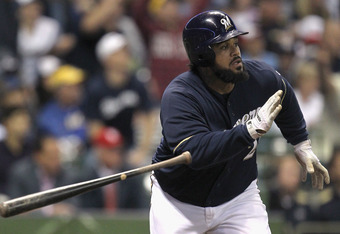 Jonathan Daniel/Getty Images
Fielder is only 27 years old and has been consistent over the course of his seven-year career (not including his short stint in 2005). 
Ever since his breakout year in 2007 when he hit 50 home runs, Fielder has never had fewer than 30. He also registered over 100 RBI in four of his last five seasons, and has been walked over 100 times in his last three seasons.
While Fielder doesn't present a guarantee, what he does bring is a vote of confidence. The Cubs are aware of what he can do, as they have had to deal with his power over the last seven years. Fielder has proven himself as a MLB star, and that is what the Cubs need to go in the right direction.
What Darvish Brings to the Cubs
If the Cubs were to sign Darvish, they would be getting an extremely talented pitcher who would be following in the steps of the Boston Red Sox' Daisuke Matsuzaka.
Darvish is only 25 years old and has been a pitching sensation for quite some time. Darvish has been at the pro level in Japan since he was 18 years old. In his seven-year career, he has put together a record of 93-38. His career ERA is 1.99 and he is coming off of a career-best season, posting a record of 18-6 with a 1.44 ERA.
With Darvish, the Cubs would have a chance to add a young, talented piece to their rotation—and that is certainly attractive for a team that isn't really set after its ace, Matt Garza.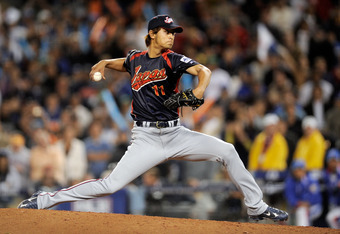 Kevork Djansezian/Getty Images
If Darvish is able to translate well to the major league level, there is no doubt that he could be one of the best pitchers in the entire league.
Cost
The one issue between Darvish and Fielder is that Fielder will likely cost more. 
It has been said that the Cubs intend on offering the powerful lefty a short-term contract, but with just as much money on the table. Neither side has tipped its hand in the negotiations to date, but it's been pretty clear that Fielder and his agent Scott Boras are looking for "Albert Pujols" years.
If the Cubs do intend on paying Fielder close to Pujols money, but over a shorter amount of time, they could be looking at something close to $30 million a year. Many believe Fielder would be best to take the Cubs' offer, including Comcast Sportsnet's David Kaplan. 
Darvish, on the other hand, could be looking at something more like what Matsuzaka got. The Red Sox gave him $64 million on a six-year deal, while he also entered the league at 25 years old. The most important question is how much the Cubs are willing to spend.
It remains to be seen what the Cubs offered Darvish, but with teams like the New York Yankees, Texas Rangers and Toronto Blue Jays getting in on the deal, one would have to assume that the Cubs made a major push for the pitcher.
\Why Fielder over Darvish
The reason the Cubs are better off spending whatever money they intend to spend on Fielder is because of the risk. All the Cubs have done during the Jim Hendry era is take risks, and unfortunately, those never panned out.
Could Darvish be a sensation? Sure, he may even end up becoming the greatest pitcher in the league. Still, the Cubs have risked way too much over the years to take on another potential disaster. With Fielder, at least they know what they are getting. 
When the Cubs signed Kosuke Fukudome back in December of 2007, many had high expectations for the Japanese star. Sure, Fukudome was 30 years old when the Cubs signed him, but still they measured him based on potential from what he showed at the Japanese level.
In Japan, Fukudome was good for at least 20 home runs and easily batted over .300 when healthy, but with the Cubs, he failed to eclipse 14 home runs or a batting average of .280.
Same could be said for Matsuzaka.
While Matsuzaka got off to a great start in his first two seasons, posting a combined record of 33-15, his last three years have been nothing close to success.
From 2009-11, Matsuzaka had an overall record of 16-15. His ERA hasn't been great as of late either. Although he posted a 2.90 ERA in 2008, he has a career average of 4.25. While injuries have been a factor in his demise, it possibly could  just be the transition of pitching in the MLB from the Japanese game, which plays 18 fewer games a season.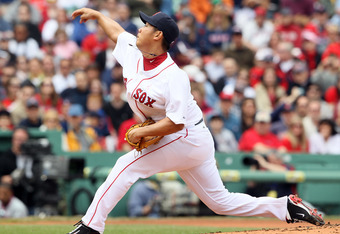 Elsa/Getty Images
With Fielder, the Cubs know they are signing a guy who has proven himself over seven seasons in the Show. He has been a force in the National League and it is the type of bat the Cubs have been looking for since the Sammy Sosa era.
Fielder also presents a greater opportunity since he is an everyday player. To get the most of your money, it would be better spent on a guy who will be contributing to every game. With Darvish, the Cubs would be paying for his services every five games or so.
While there is a lot more potential upside to Darvish than Fielder, that upside just doesn't seem to be enough if those costs hinder the potential signing of Fielder.
If the Cubs want to sign both, then by all means Theo, go ahead. If it is going to be only one, then Fielder is the right guy.
Jeff Chase is a Featured Columnist for the Chicago Cubs and Arizona State Football.